How to Cross Things Off Your Wedding To-Do List this Holiday Season
The holidays may not seem like the right time to get a jump on your wedding to-do list, but these next few weeks are actually kind of perfect for getting your planning on! Whether you're at the airport waiting for your plane to arrive or snuggled by the fireplace with your nearest and dearest, here are some tips for wedding planning during the holidays
Wedding Planning Tasks You Can Cross Off During Holiday Season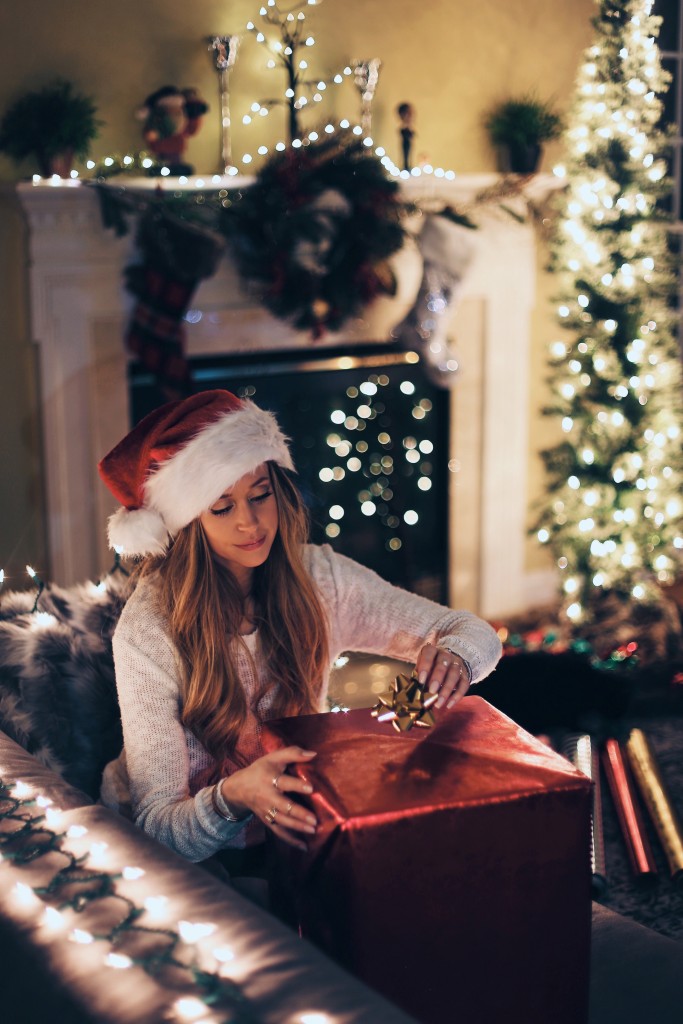 1. Start the vendor search.
While some vendors may not be as easily accessible during this time of year, if you just recently got engaged, take advantage of all the downtime you'll have to start researching florists, photographer, and more. Unless you already have some word-of-mouth recommendations, you're going to need to set aside a few hours to browse real weddings for inspiration, read all the reviews couples have posted, and check out multiple vendors' websites. Pour yourself a cup of hot chocolate (or wine) and allow yourself to get lost on the web while you don't have many other responsibilities to tend to.
While you have a captive audience, talk to your parents, fiancé, and in-laws about who they want to invite to the wedding. Ask everyone to let you know who is non-negotiable and who is on the B-list. It's easier to compile all the names and addresses when you're all in one place. Also, as everyone in your family is gathering addresses for their holiday cards and you're seeing distant relatives at holiday gatherings, remember to ask for any missing addresses on your list!
3. Discuss the budget.
If your parents (or in-laws) have offered to pay for all or most of the wedding, but you haven't really talked about the details of the budget, there's no better time than now. Sit down with whoever is footing the bill and make a spreadsheet full of the specifics. It's always better to have conversations about money face-to-face to make sure everyone is on the same page.
4. Go through old family photos.
Whether you want to display your relatives' wedding photos at your wedding or want to use (mostly embarrassing) childhood photos as your table numbers, your parents probably still have most of those photos tucked away somewhere. Round up all of the old family albums and miscellaneous photos lying around the house, and then setup shop at the kitchen table. It's a fun activity that everyone will want to get in on.
5. Take advantage of those holiday sales.
If you think those after-Christmas sales are limited to buying that bag you've been eyeing (but didn't get from Santa), think again! When you're wedding planning, any bargains you can get your hands on is a good deal. Look for things you can include in your welcome bags, gifts you can give to your wedding party, cool votives for your cocktail hour or a cute topper for your cake. Now is a great time to purchase all those random little things if you hope to stick to your budget…the small ticket items add up quickly!
6. Schedule a hair and makeup trial.
You'll probably be attending a few holiday parties over the next few weeks, so why not use them as an excuse to test out a couple of different wedding-worthy looks? Whether you contact potential hair and makeup artists or attempt a few DIY styles, it's best to give any possible bridal beauty details a test-run before you decide to rock them on the big day. Plus, you'll get more bang for your buck if you can wear your new 'do to a party rather than on a random Tuesday night after work.
7. Write your thank you notes.
Whether you recently got engaged or you only have a few more months of planning left, chances are, you have some thank you notes to send out. If you've been procrastinating writing those last few notes (or addressing your save-the-dates), make time over the holidays to take care of business. This is an easy task to take care of as you're baking batches of cookies or listening to some festive tunes.
Get more wedding tips on Loverly:
How to Field Your Family's Wedding Questions This Holiday Season (Without Losing It)
How to Announce Your Engagement on Social Media (Without Going Overboard)