10 Ways to Make the Most of Your Wedding Hashtag
Long gone are the days of disposable cameras sitting on the reception tables! Today's couples are all about crowd-sourcing their wedding photos on platforms like Instagram and Facebook using the oh-so-popular #weddinghashtag.
If you're planning to incorporate this tech-savvy trend into your big day, here are ten things you need to remember.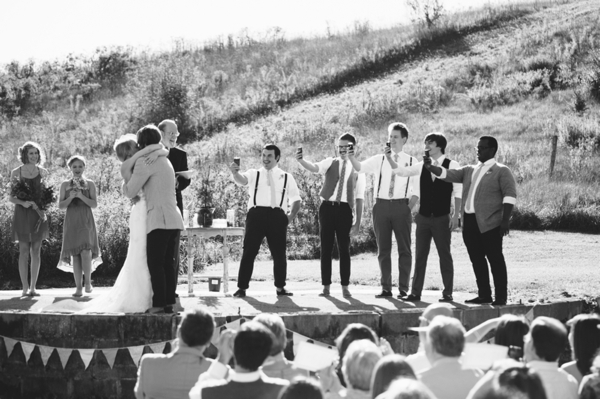 1. Keep it simple. If your hashtag is too long or super confusing, guests might not be as diligent about using it (or they may get it wrong). Instead of choosing #KateandJayWedinMay2015, shorten it to #KandJWedinMay. If you're wondering whether your hashtag is too long, don't hesitate to ask friends or family.
2. Stick to one hashtag. If you give guests two or more hashtags to use, you run the risk of them only using one… (or none!) There's no need to have 5 versions of a similar hashtag…
3. Make sure to capitalize when needed. To help ensure guests correctly read and use your hashtag, don't forget to capitalize each word. For example, #JoeandMorganAlways reads differently than #joeandmorganalways. (read it again…)
4. Tell guests early. If you want your guests to really go to town with the hashtag, make sure to tell them about it early on. If you include the hashtag in your save the date and on your wedding website, they won't be hearing about it for the first time as you're walking down the aisle.
5. Use one cohesive hashtag for all the wedding events. If you use the same hashtag for the engagement party, bridal shower, bachelor party, bachelorette, and wedding, you'll have all your photos stored in one place. Because, who really wants to look through 8 different hashtags to find that one picture you loved…
6. Make sure the hashtag hasn't been used before. You'd hate to look at your wedding hashtag and see pictures of someone else's cake… To avoid confusion, try to pick a hashtag that's never been used before. As a rule of thumb, if there are 5 or more photos currently tagged with the hashtag, it might be best to go back to the drawing board.
7. Be specific about the type of photos you want people to post. If you want guests to document your whole wedding weekend from their flight to the post-wedding brunch, just ask! The same goes if you don't want guests to post during certain parts of the day, like at your ceremony, perhaps. Include guidelines on your website, programs, or signs to make things clear.
8. Don't forget to add the hashtag on your signage! Help guests remember the hashtag throughout the night by incorporating it in your wedding program, on the menu, and throughout the reception with well-placed signs.
9. Ask your photobooth vendor if they can include your wedding hashtag. If you opt for a digital photobooth that emails the photos to your guests, you can often request that there be a share button that makes it super easy to post on social media sites with the hashtag. If you don't have a digital photobooth, ask your vendor if you can get the hashtag printed on the bottom of every photo.
10. Don't forget to show the love to your guests! After the wedding is over, go back and comment on or like the photos your guests posted. They'll feel extra special hearing from you, and taking a minute or two to look back through the posts will be a fun date night activity for you and your new spouse!
Ready to get social at your wedding? Here are some more helpful hints:
Eight Ways to Create the Best Wedding Hashtag Ever
11 Social Media Dos and Don'ts to Keep in Mind for the Big Day