How to Survive the Final Stretch of Wedding Planning (While Staying Sane)
After counting down the months for what feels like forever, you're finally able to start counting the days to your wedding! This is when everything gets crazy exciting…and crazy busy. But just because you're planning a wedding doesn't mean you need to abandon the rest of your life and your sanity. To keep the final stretch of wedding planning from being totally overwhelming, we're here with a few tips to keep your life on track.

Photo by Brittany Putnam via Lover.ly
1. Take a few days off work before the big day. Hopefully you've been saving up vacation days! Taking at least two or three days before your wedding can seriously relieve some anxieties. You'll have plenty of time to go for your final fitting, put the final touches on any remaining DIYs, pack for your honeymoon, and de-stress before walking down the aisle.
2. Hand tasks over to your wedding vendors. Need to get the favors and cake knife to your venue? See if your wedding planner can do it. Worrying about dinnerware? Quickly connect with the caterer and let their team handle it. Anything a vendor can take on, they should — it's their job, after all!
3. Delegate! You don't have to — and shouldn't — be the only one doing everything to prep. Split the to-do list with your partner; sk your future mother-in-law to make confirmation calls with all your vendors; enlist your brother's help with delivering details to the venue and other vendors. When you divide and conquer, everyone will have more time to relax.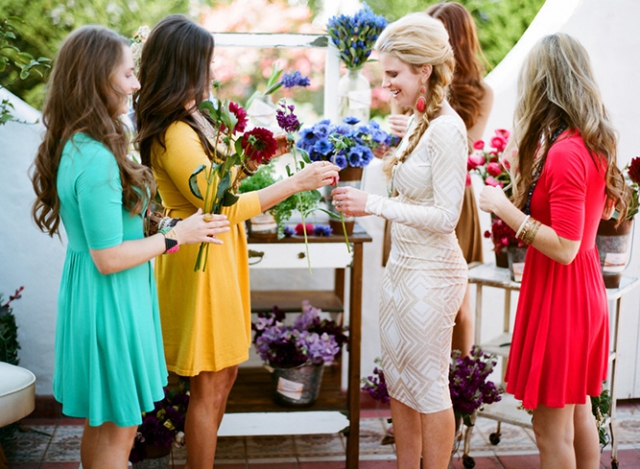 Photo by Lane Dittoe on Bridal Musings via Lover.ly
4. Team up. Organizing escort cards and packing up welcome bags feels much less like a chore when you tackle the tasks with your wedding party (and perhaps with a bottle of wine?). Plus, you'll get some much-needed friend time in the process.
5. Use your lunch break. Running errands (from picking up your programs to getting your nails done) in the evening totally eats up your free time and only adds to the stress. Save your sanity by eating a quick lunch at your desk and running quick errands during your break. You'll feel productive all day long!
6. Go on a date with your spouse-to-be. Rather than talking over last-minute wedding details during TV commercials, make a date of it! Head to your favorite restaurant or another special place to discuss details. It'll feel like an intimate outing instead of another wedding planning sesh.
The biggest way to save your sanity: Don't procrastinate! The more things you put off, the more you'll have to do at the last minute. By handling one or two tasks each day leading up to the wedding, you'll free yourself up for some necessary relaxation before the big day.
Get more serious stress-busting tips , stat:
How to De-Stress — And Sleep! — the Night Before Your Wedding
10 Ways to Keep The Romance Alive as You Plan Your Wedding