9 Ways to Save Some Serious Money on Your Wedding Venue
Booking a wedding venue will definitely take a big bite out of your wedding budget, but it doesn't have to put you in the red. There are plenty of ways to have the wedding of your dreams on a tight budget! Read on for nine ways to save money on your wedding venue.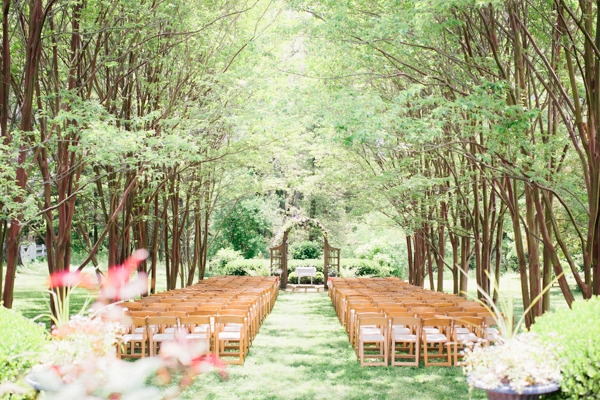 Photo by Voleur de Bijoux on Southern Weddings via Lover.ly
1. Book your wedding on an off day, time or season. Hosting your wedding on a Saturday evening in June at a gorgeous seaside hotel will cost you a pretty penny, but consider booking on a Friday night or Sunday afternoon and you'll save loads of cash. Better yet, book in the off-season or have a brunch or lunch wedding for even more savings.
2. Have your ceremony in a public park or other city-owned venue. If you've found your dream venue but can't afford to book it for the whole duration of your ceremony and reception, considering saying your "I dos" in a nearby park and then moving to your reception venue. Many venues charge by the hour, so you'll save at least an hour or two by hosting your ceremony off-site.
3. Have a city hall or courthouse wedding and a low-key meal at a restaurant post-ceremony. If you're open to hosting a smaller wedding, considering tying the knot in a sophisticated city hall ceremony then moving with your guests to your favorite restaurant for a celebratory meal. You can reserve the whole restaurant, a room, or just a few tables depending on the size of your party. (Still want a rockin' dance party? Tell your friends to meet you at your favorite bar or club for the after-party later in the evening!)
4. Borrow a venue. If your friend, parent, or parent's friend has a beautiful home or family farm, consider asking to borrow it for your wedding. Most will be happy to share it as a wedding gift, and you'll save big bucks on a venue rental. Note that you'll likely need to rent portable toilets if your guest list is long, and plates, glasses, dishes and other rentals will be required.
5. Consider hosting your wedding at an association hall. Local legions and association halls are charming, offbeat, and cost-effective for weddings. They're not often booked up months (or years!) in advance the way traditional wedding venues are, and can be very affordable to rent. Bonus: Many association halls feature beautiful antique details and historic architecture.
6. Marry outside the city. Live in Manhattan but can't afford a wedding at the Plaza? No problem! Consider tying the knot upstate and turn your big day into a relaxing destination wedding weekend.
7. Choose a BYOB venue. Many traditional wedding venues require marrying couples to pay set prices for alcohol — which can be astronomical. Marry at a venue that allows you to bring in your own beer, wine, and liquor, and save money by purchasing in bulk from local breweries and vineyards.
8. Book an all-inclusive venue. Choosing an all-inclusive venue can sometimes be a big cost-saver (and time-saver!) but be sure you do your homework before putting down a deposit. Price out what your all-inclusive venue is offering and find out how much it would cost to pay for all of those goods and services separately. Sometimes you'll get a great deal on an all-inclusive, but beware of venues that unfairly bump up their prices.
9. Don't host your wedding at a "blank canvas" venue. An industrial loft space may seem like the perfect wedding venue, but be forewarned: Any "blank canvas" space — meaning a venue devoid of any tables, chairs, or even a kitchen — can take you from just-under-budget to OMG-we're-in-debt very quickly. Open spaces with tons of character are beautiful, but you will have to rent just about every piece of furniture and decor required to host a comfortable wedding.
Want to read more? We've got tips for choosing the perfect place:
11 Questions You Need to Ask Before Booking a Venue
4 Reasons to Choose a Venue That's UNDER Budget
7 Wedding Venue Red Flags You Shouldn't Ignore
Planning a wedding? Get the step-by-step wedding planning guide.