The Art of Giving an Off-Registry Wedding Gift
The wedding registry is a glorious thing. It makes it real easy to buy the bride and groom a gift they'll actually like and possibly use. But what if you want to get creative and go off-book? That's totally cool too. It's a fun way to give your bestie and her beau a special, unexpected gift. Sometimes those one-of-a-kind, not requested items might actually end up being the couple's absolute favorite gift from their wedding. Not sure how to go about purchasing a killer gift that's not on the wedding wishlist? Here are a few guidelines for giving, when going off-registry.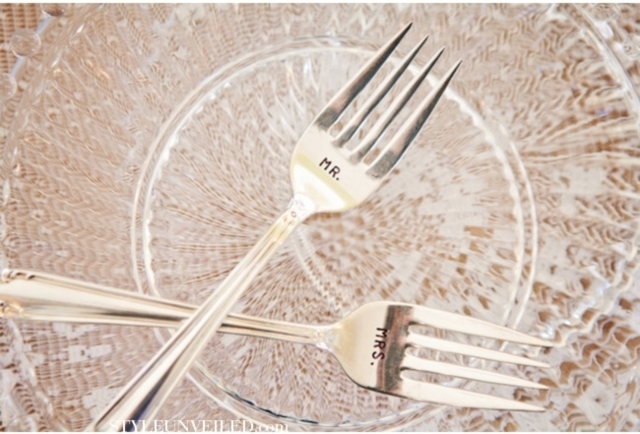 Photo by Cheryl Joy Photography 
1
Hone in on their hobbies. 
Sure, the couple probably needs a blender for their beloved breakfast smoothies or those satisfying summer cocktails. But let someone else get that expected gift. You have bigger ideas, don't you? If you know the to-be-weds like the back of your hand, a more personal present will speak volumes about your relationship with the couple. Just make sure the gift speaks to their style, taste, and personalities. Do they live for champagne? Send a bottle of bubbly to their hotel room during the honeymoon (adding some strawberries will certainly class things up). Do they spend every free moment planning their next trip? Get them some nice leather luggage tags for their suitcases. As long as your thoughtful gift is REALLY awesome (and isn't just some random item you picked up), the couple will definitely feel the love.
Often times, when couples are registering, they are thinking about what they need or what they should be signing up for, not what they actually want. So consider doing that for them! Use your relationship with the to-be-weds as a guide so your gift is considered creative, not weird. Did you and the bride study abroad in Spain together? Pick up a few bottles of Spanish wine and create a special stash for those special moments — anniversaries, birthdays, major milestones. They'll appreciate the thought and you'll be helping them build up their wine collection…it's a win-win, really. If you and the groom grew up going to concerts together? Find a record player, like this portable turntable from Target, and pair it with some vinyl records of your favorite bands. When going off-registry, it's important to get creative (that's the whole point, after all), but make sure your gift isn't too far out there; some context is key.
3
Focus on their big day.
If you've already given the couple lots of creative gifts that encapsulate your history with them, consider shifting your focus over to their relationship. Think about where they met. Was it at THE bar at their college? Get them a set of beer mugs from the place. If they met at a museum, schedule a private, after-hours tour. Did they bond over ice cream? Get them a top-notch ice cream mixer and supplement it with a cookbook from their favorite shop and some mixes. Are their invitations seriously stunning? Turn them into a work of art by framing a complete suite for their new home. Or is their wedding venue beyond breathtaking? Find a local artist who will draw their venue in all its glory. A sentimental statement like this will really be something they can cherish and carry with them for the rest of their lives.
4
Think about the couple.
With all this being said, this isn't your day. While you may think it's awesome that you want to give the couple something exciting and fun and super creative, if the lovebirds spent the time building a registry, they probably really do want that weird brown-ish throw pillow. And at the end of the day, you really just want to make the newlyweds happy, right? So if you're thinking of going off-registry, maybe pair your fun present with something small from their wedding wishlist. Or, give that more personal gift as an engagement or shower present, and then give them the "boring" registry gift for their big day.