How to Make the Most of Your Winter Wedding
If you're dreaming of walking down the aisle in a winter wonderland, you're not alone. From hot chocolate bars to cozy cover-ups, here are winter wedding ideas to make the most of the cold weather.
Unique Winter Wedding Ideas
1. Take advantage of those flurries! There's something so romantic about snow, so why not put those magical flakes to work? They will enhance ANY winter wedding (and just imagine how great your photos will be).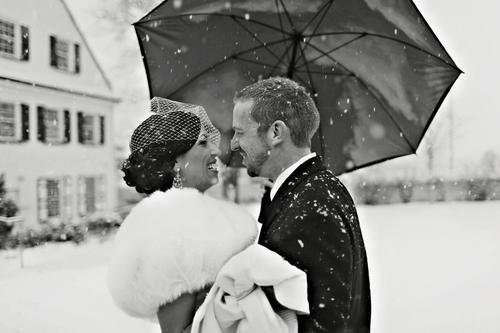 Photo by Alison Conklin 
2. Serve up some ooey gooey s'mores. Warm up your cold weather wedding with this childhood favorite! Make a DIY bar so your guests can roast their own marshmallows and build their treat themselves.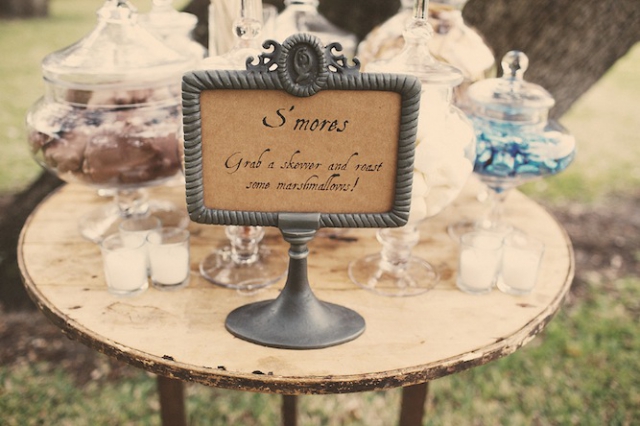 Photo by: Claire Eliza 
3. Put a little pinecone love into your decor. The pinecone is an iconic symbol of the season, so find ways to work them into everything from your tablescapes to your bouquet.
4. Throw on something cozy. Whether you opt for real or faux, a cozy coverup really completes any big day look. It adds a touch of grace and glamour to your gorgeous gown while keeping you oh-so-warm.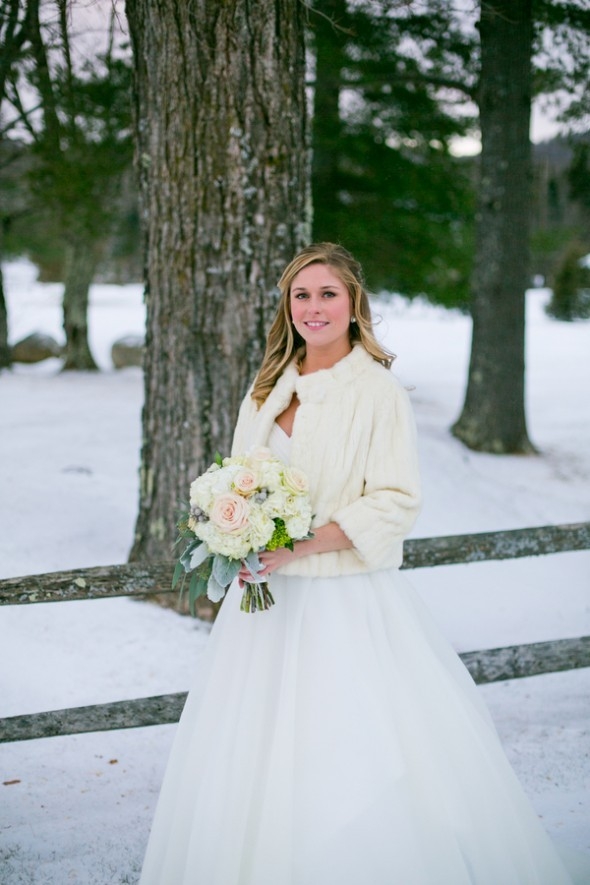 Photo by: Ampersand Wedding Photography 
5. Plan for an earlier start time. Keep in mind that the sun sets much earlier during the winter, so you might want to get the party started on the earlier side.
6. Serve warming cocktails! From hot chocolate to hot toddies, a signature cocktail that will warm up your guests is guaranteed to be a hit. Consider adding Bailey's to some coffee, spiking the hot chocolate with tequila (and a hint of cinnamon) or garnishing a vodka and cranberry cocktail with crushed candy canes.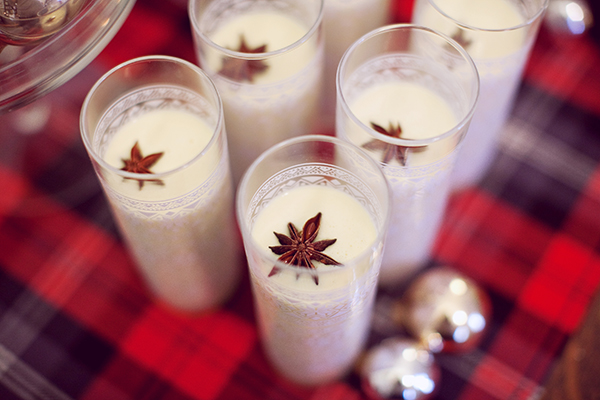 Photo by: Jodi Miller Photography 
7. Take on the smells of winter. During winter, the air is crisp and everything feels so fresh. Bring those aromas into your wedding with touches of pine, peppermint, and cinnamon. You can incorporate the real thing by relying on live trees or you can recreate those lovely scents with candles, centerpieces, and other small details (like adding a sprig of pine needles to your napkins).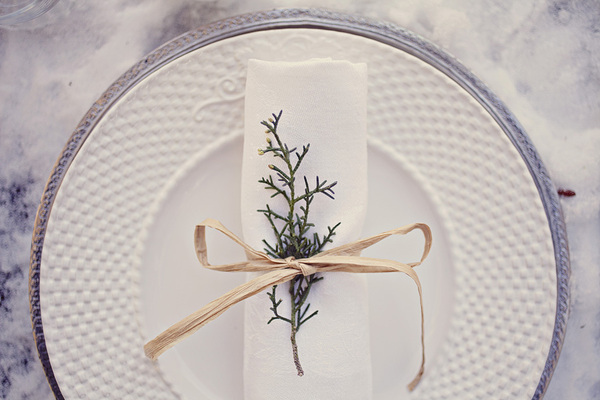 Photo by: Carly Mitchell Photography 
8. It's just another excuse to cuddle close. Baby, it's cold outside…so snuggle up close with your new spouse in all your photos! And, once you're indoors, the candlelit room will really make everyone feel cozy.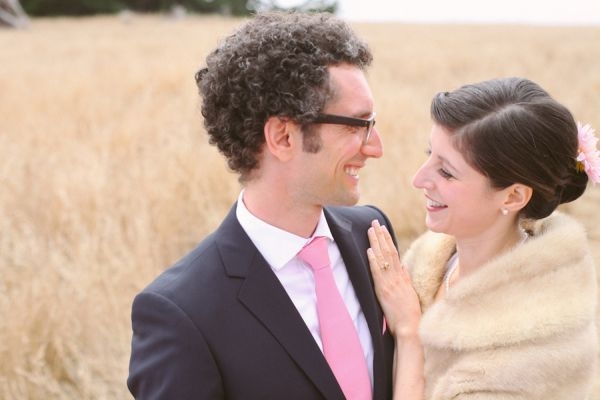 Photo by: Deborah Huber Photography 
9. Make a roaring fire. Whether you light up the fireplace or start a bonfire outdoors, a fire is a great addition to any cold-weather wedding. The warming aroma of the logs burning coupled with the heat of the flames will leave you and your guests feeling happy.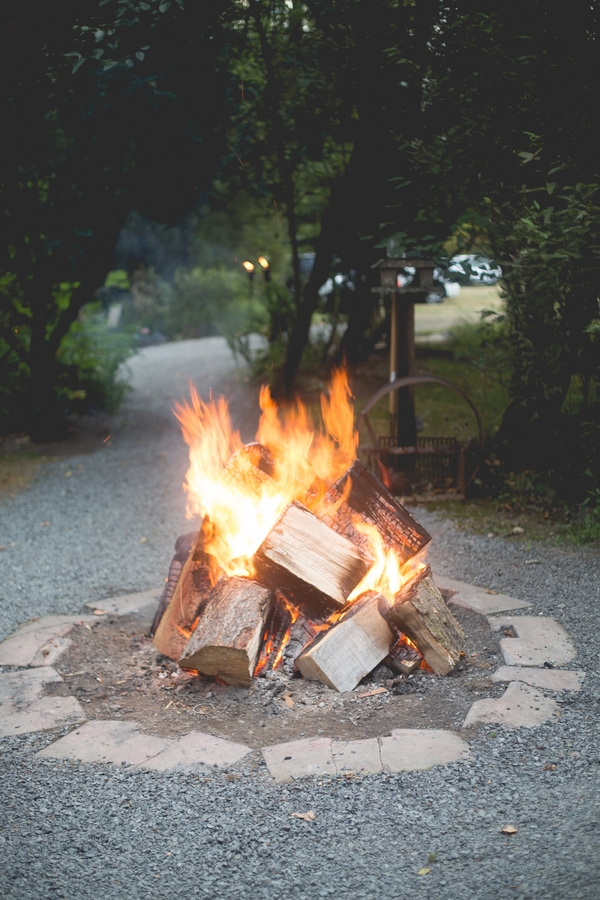 Photo by: Solie Designs 
10. Add some sparkles. A little sparkle will do wonders for your big day, capturing the frozen feeling of the season. Consider incorporating it into your decor via tabletops, favors, and even your bridesmaids.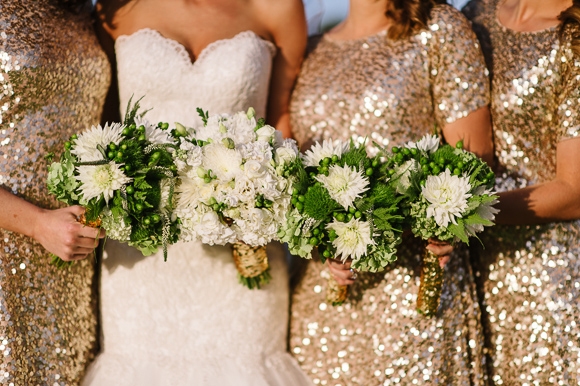 Photo by: Jerome Cole 
11. Bring on the dark, bold colors.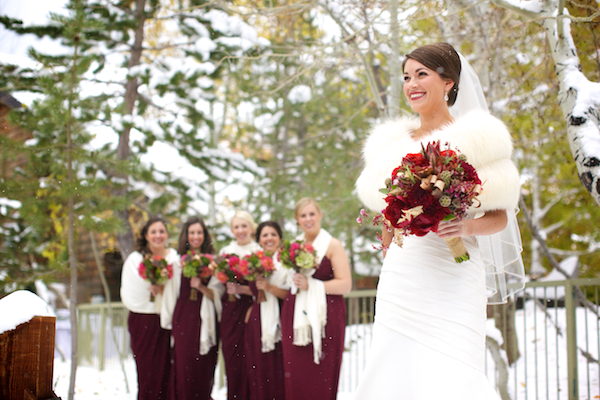 Photo by DesiresPhoto
Warm up your winter wedding with some rich reds, deep greens, and cool navys. Incorporate these hues in your flowers and your wedding party's look to make sure everyone stands out against the stark, white snow. Plus, they'll make your photos really pop!
Browse more winter wedding inspiration on Lover.ly!
12 Really Good Reasons to Have a Winter Wedding
15 Winter-Worthy December Date Ideas
6 Fridge-Worthy Holiday Card Ideas for Couples