How to Host a Non-Wedding, Wedding Party!
Most to-be-weds are familiar with the ins and outs of planning a traditional, by-the-book wedding: Send the save the dates, follow up with formal invitations, plan the ceremony, and then get ready to party at the reception. But what about those couples who've chosen a different route and eliminated the first few steps altogether? For brides and grooms who decided to elope, there's often a desire to celebrate after they've tied the knot. And why shouldn't they?! So we've come up with a handy guide for how to host a pretty rad after-wedding party that will get everyone in the mood to celebrate.
Here are 6 Elopement Celebration Ideas to Consider: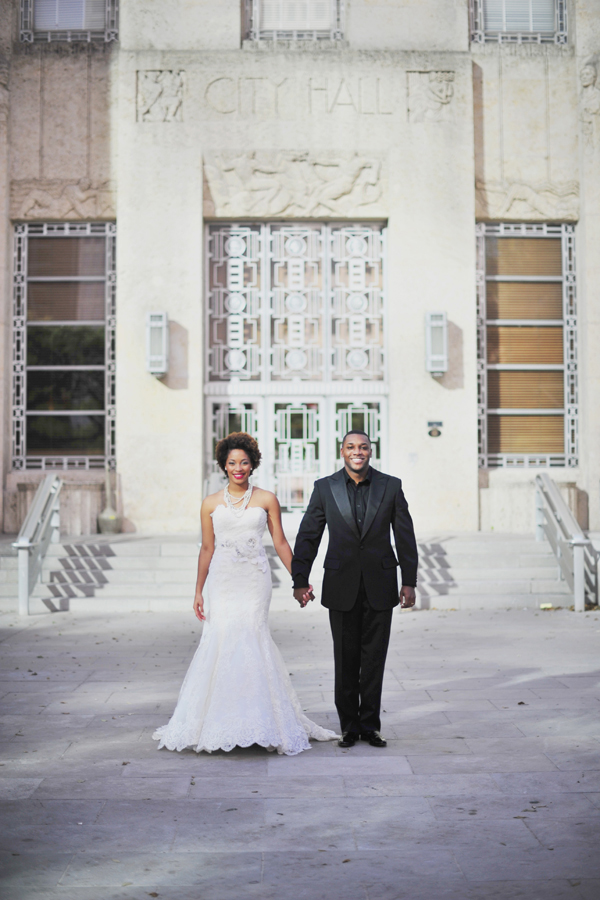 Photo by Christa Elyce Photography on Bridal Musings via Loverly
1
Begin with some kind words.
Many times, guests will have their feelings hurt because they were not invited to be there for the actual exchanging of vows. Send a save the date for the post-wedding festivities, pass along a formal wedding announcement or a party invite and include some kind and thoughtful words, like "You were there in our hearts" or something to that effect. This will signal that they are absolutely important to you, and you'd love to include them in the celebration of your nuptials. Just because your party doesn't come in a neat little package with your ceremony doesn't mean it's any less important!
2
Refer to the party as a wedding celebration.
This will signal to guests that you have already exchanged vows, and now it's time to celebrate. They will arrive knowing that dinner, drinks, and a party are on the docket for the evening, not the "I dos."
3
Feel free to wear your dress again!
How many brides have an excuse to rock their big day dress a second time? If you eloped, very few people have probably seen you wear it (even if there are photos), and your guests will definitely be excited to see how beautiful you looked on the day that you exchanged vows. Plus, wearing your special dress to the party will help this event feel different than just any old celebration!
4
Absolutely let them eat cake.
A cake is another aspect of a traditional wedding that is totally welcome at a post-wedding celebration. Include a bride and groom figurine on the top if you'd like, but get creative with the flavors (funfetti, anyone?). There are no rules that say cakes are for weddings only…so bring on the fondant, the cream filling, and all the fun designs.
If you're having a dance floor, your guests might really like and/or expect to see you and your partner share a first dance. And, chances are, you may not have commemorated your newlywed status with a dance during your elopement…so it's a win-win, really. Choose a song that's meaningful to you, and dance the night away as a married couple. Hello, photo op!
6
Remember that this party is about you!