Everything You Need to Think About Before Eloping
Does the thought of planning a wedding feel overwhelming to you? Are you on a tight budget or craving an intimate ceremony with just your partner, an officiant, and a whole lotta love? Then eloping might be the right path for you to take towards happily ever after. Forget about the pressure of planning and just enjoy your simple yet special day with your partner; you'll save yourself some money and some serious headaches. So, Loverlies, here's everything you need to think about as you plan your epic elopement.
Decide who you want to be there, and enlist them in a timely manner. Who's on your guest list? Definitely your partner. Possibly your parents. Most likely a photographer. And — depending on where you're eloping to — you may want a few close friends to serve as witnesses or maybe even as the officiant. Keep in mind that everyone you want to see when you walk down the aisle, may need some time to prepare. They'll most likely need to take time off from work, book flights, secure a passport, and make hotel accommodations. If you break the news super last-minute, they may not be able to swing it…so plan ahead!
Splurge on something special. You've found your person… now go out and find the dress, ketubah, or flower crown that makes your heart skip a beat. Who cares if nobody but you and your fiancé is around to see them in all their gorgeous glory? Just because you're going the low-key route doesn't mean you can't have your wedding cake and eat it too. An elopement is still a wedding, and a few personal touches will really make it feel like YOUR special day.
Hit City Hall before you skip town. If you're leaving the country, make sure you know the rules. Get things legally squared away stateside (as in, get your marriage license and any other necessary docs in order!) to avoid any technical, medical, or legal hiccups abroad. Even if you're staying in the country, research the marriage license process in your destination of choice. Different states have different requirements, and the last thing you want is for your elopement to be negated.
Document, document, document. You know what they say, "If it's not on Facebook, it didn't happen." Well, if you don't have an audience at your wedding… did you actually get married? While the short answer is obviously yes, if there's no photographic proof, no one will be able to share in your joy later on. So hire a photographer and videographer to stand in as their eyes and ears! Brides who have eloped, and the planners who helped them pull the no-frills ceremony off, suggest hiring a photo crew that's local to you and flying them out to document your big day. That way you can get to know them instead of rolling the dice on a stranger you've never met that just happens to be located near your ceremony site. Your family and friends (and even your future children) will appreciate being able to experience the day through photos; it'll help them feel like they were there.
Enlist local talent. No matter where you're tying the knot, you can work the local culture into your big day. Getting married at City Hall in NYC? Buy a bouquet from the street vendor around the corner. Headed to Mexico? Find a local mariachi band to serenade you after you say "I do." Just make sure you do your research to find vendors you can trust.
Prepare yourself for a broad range of reactions from others. We've talked to brides whose family and friends were offended by not being invited, and we've heard from others that they got nothing but unwavering support for their decision. Understand that no matter how much you try to anticipate how people will react, you won't actually know until it happens. So be prepared for a wide range of reactions and understand that you may need to explain your decision to some people; just don't feel like you need to justify it. Be sensitive to how your nearest and dearest are feeling (they just want to celebrate with you!), but stand your ground.
Be prepared for your own unexpected feelings. Even if eloping is 100% what you want, you may feel some weird feelings in the weeks or months after your wedding. When you see how people react (mostly the negative responses), you may start to question your decision or feel guilty. When you attend other lavish affairs, you may have pangs of regret. But you know yourself, Loverlies, so you know what you want. If an elopement feels right, follow your heart and go for it! Those immediate uneasy feelings will pass, and if at the end of the day, if you're married? Well, that's all that matters.
Don't make it all about the money. Yes, elopements are generally less expensive than traditional weddings but don't make that the point of every conversation — or explanation — regarding your decision. The bottom line should be that you're doing it because it speaks to you and your partner, your relationship, and your vision. Don't downplay your decision…celebrate it!
Don't let social media do your dirty work. We'll admit, we're split on this one. On the one hand, who wouldn't "like" a pal's blissed-out wedding photo popping up in their Facebook feed? On the other hand, finding out a friend was married — and you weren't invited or even told it was happening — can sting. So how should you handle spreading the news? Don't force Instagram to be the bad guy. Call (or email and text if appropriate) those closest to you before posting anything. And, even if you do go the social media route, you can still send a formal wedding announcement out.
Be gracious non-hosts. Even though you're choosing to have a no-frills wedding, there are still some things you should do to incorporate your family and friends. Consider hosting a reception-like party post-ceremony to make your loved ones feel included and, well, loved. Rally the troops for a photo and video viewing in your backyard (complete with projector, popcorn, and bubbly) or host an informal brunch where you raise a glass to your parents, your besties, and everyone else that loves you unconditionally. They may not have been at the wedding, but they've been there for you through everything else.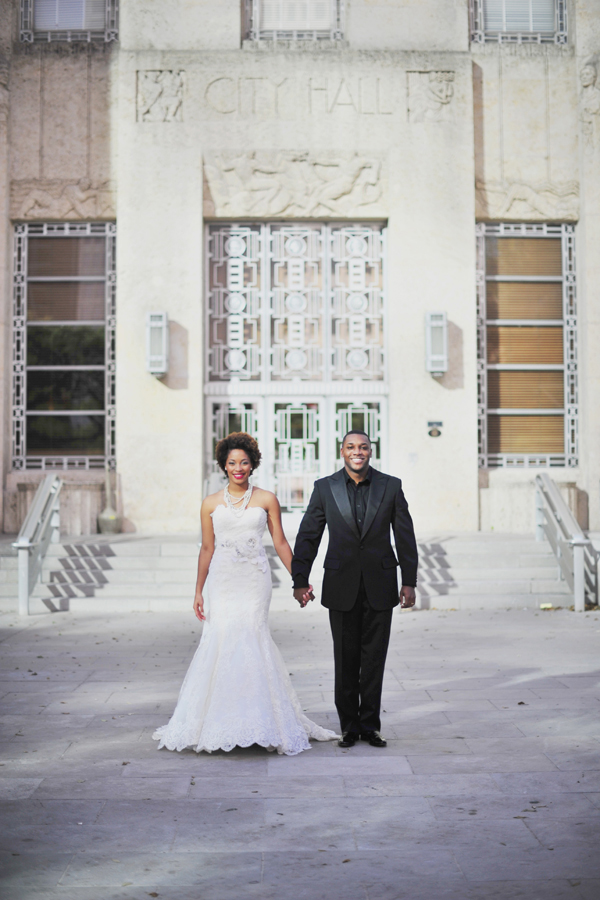 Photo by: Christa Elyce on via Lover.ly
— By Tiffany J. Davis and contributed to by Claire Aven.
Get the latest wedding tips here:
How to Make Your Destination Wedding Easy on Your Guests
Cold Feet? How to Handle Doubt Before the Big Day
Here's What You Should Actually Eat on Your Wedding Day