8 DIY Dos and Don'ts to Consider Before You Start Crafting
Do-it-yourself projects always seem like a great idea. Plus, they look impeccable and stylish on social media, websites, and magazines, right? But DIYs have their drawbacks—they can be time-consuming and expensive, and the finished product doesn't always look as good as you expected it to. So, before you start any crafty tasks, consider the following dos and don'ts.
Photo by rawpixel.com from Pexels
Do Your Research. Create a list of the things you'd like to handcraft for your wedding, then do the research to see if the projects are realistic based on your skill set . For example, is your handwriting really nice enough to calligraph all of your escort cards? And do have the materials and know how to make 150 jars of jam?
Do Some Math. How much will this DIY project cost? Would it be more affordable to buy it or to make it? Unless you're putting a serious personal spin on something, it's not worth spending more money to make it than you would spend purchasing it pre-made.
Do Plan Ahead. If possible, try to make a mock-up of the proposed DIY project before tackling the real deal. By making a sample, you'll know what's really involved, including what supplies are needed and how much time it takes.  If the finished product doesn't impress or takes forever, don't be afraid to bail the project and focus on another DIY idea.
Do Finish Everything in Advance. Don't wait until the last minute to DIY anything. Be realistic about the time it will take to start and finish each project and create a schedule that will help you complete all of your projects well in advance of the big day.
Don't Cut Corners Trying to do things the easy (or easier) way may seem like a good idea, but it's often a bad move. Using a cheaper fabric or a flimsy accessory may save you money but it'll probably look cheap. Yikes.
Don't Do DIY Projects Alone. Ask for help from your partner, your family, your partner's family, and your friends. While you may want to handle these projects yourself, the support, company, and extra hands will be a huge help. You'll get the projects done on time and you'll have fun while doing it!
Don't Take On Too Much. Trying to tackle too big of a project is never a good thing. For example, making your invitations might be a little much, especially since you'll need to deal with with wording, printing, assembly, and addressing. Creating your own place cards, favor labels, or fun signage are likely to be way more manageable tasks.
Don't Miss Out on the Fun. On the wedding day, you don't want to be worrying about the candy buffet, the favors, or the guest book, so don't take on any DIY projects that needs to be set up or overseen at the ceremony or the reception. If something DIY desperately needs to be taken care of on the big day, delegate it to a staff member at the venue or a reliable friend to make sure it gets done. You'll be glad you did!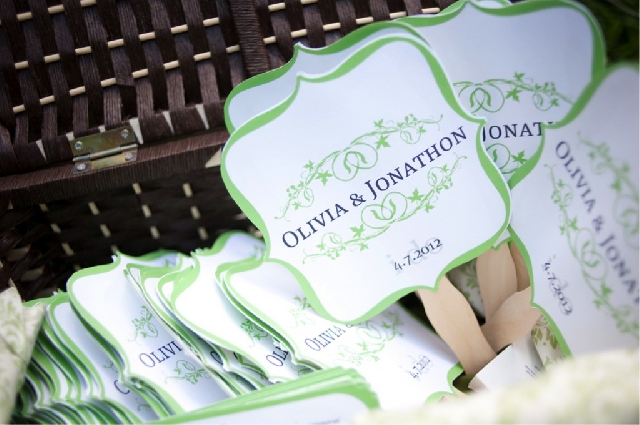 Photo by: Jenn Hopkins Photography on Every Last Detail via Lover.ly
Browse more DIY ideas on Loverly:
11 Wedding DIYs That Are the Definition of Shabby Chic
A Citrus-Kissed Wedding Bouquet How-To
8 DIY Food and Drink Bars That Are Perfect for Your Bridal Shower Brunch