5 Ways to Give Your Bridesmaids Some Say On the Big Day
Your bridesmaids will do an awful lot for you leading up to the wedding. And after planning the shower, putting together a bachelorette bash, lending a hand wherever needed, and giving you loads of love and support, don't you think your gal pals deserve a little say on the big day?
Here are five things you can let your bridesmaids choose.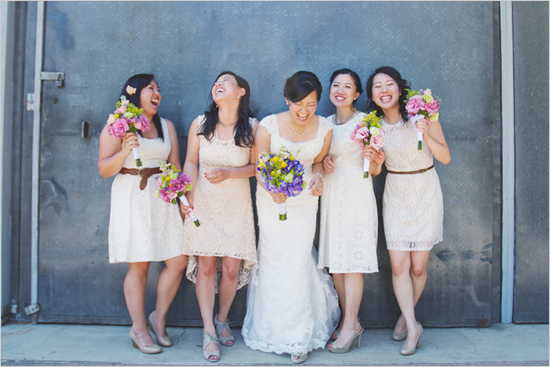 Photo via Wedding Chicks
1. Give them the chance to choose their dresses. If you're down with the mix and match bridesmaid look, let each gal pick out a dress she loves. Just make sure to give plenty of guidance, be it with the color scheme, fabric, style, or brand.
2. Ask them what blooms they'd like to carry. We love the idea of similar bouquets with slight variations based on each bridesmaid's personal style. Ask your crew to come to your floral consultation, pick five or six flowers you want to incorporate, then let each girl decide which she likes best.
3. Encourage them to accessorize. Giving your gals a say in what shoes they wear is major. You want them to be comfortable, so give them a style or color and allow them to choose their own. You can also encourage them to get creative by choosing jewelry or hair accessories.
4. Have them pick a hairstyle. Everyone's hair type and length is different, and when it comes to 'dos, one size most certainly doesn't fit all. Share some hair inspiration with your gals to give them ideas or ask the all to include a single elements, like braids, for example.
5. Let them pick where they sit. If you're not having a head table, give your pals their pick of seats. They'll enjoy the reception so much more if they're surrounded by their friends and family.