10 Ways to Throw a Wedding Shower on the Cheap
It costs more than you think to be a bridesmaid, so if you're planning a friend's shower, do yourself a favor and keep the budget small. Here are ten ways to throw a fun, memorable, and meaningful wedding shower for your bestie without breaking the bank.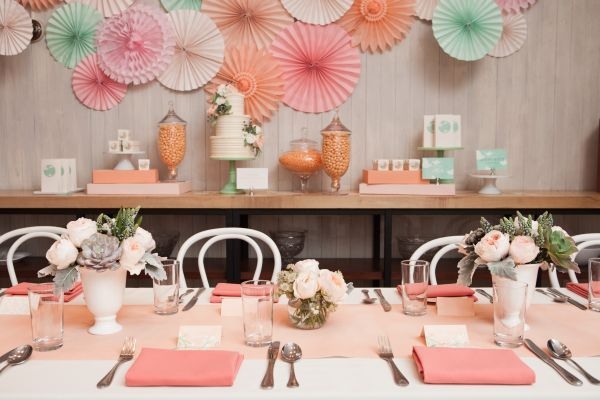 Photo by Charlie Juliet on Inspired By This via Lover.ly
1
Keep the food simple and make it yourself.
A barbecue, a spread of finger foods, or even just a selection of desserts (at a late-afternoon shower) are all great menu options for budget bridal showers. Skipping the caterer will save you big bucks, so if there's a great cook in your circle or the bride's family, enlist their help! You could also make it a potluck; ask each guest to bring a family dish along with the recipe on a recipe card for the new couple.
2
Skip the prizes, or DIY 'em.
No one really needs the little soaps or shoe-shaped paper weights often given out as prizes at bridal showers. Instead, just play the games for the fun and glory of knowing you won, or bake a few batches of chocolate chip cookies and wrap them up nicely to give away as prizes.
Instead of renting out a restaurant — which can get quite costly once you factor in the room rental, food, and waitstaff fees — borrow a friend or family member's home for the afternoon. Ask around to see if an aunt, cousin or co-worker of the bride has a big living room that can house your group.
4
Skip the fancy bakery cake.
There's no need to spend hundreds of dollars on a dressed-to-the-nines bridal shower cake! A simple confection from the bride's favorite bakery — or even a dressed-up grocery store cake! — is absolutely delicious and totally appropriate.
A bridal shower is not a formal event, so it's more than OK to send an invitation via email. Choose a stylish option from Evite or Paperless Post to give the feel of a chic party without the cost of real stationery and postage.
6
Make a signature cocktail.
 Instead of hiring bartenders or buying a large selection of bottles, make one signature cocktail and put a pitcher on every table.
7
Use household items as decorations.
House plants make great centerpieces, as do candelabras and vases full of Trader Joe's flowers. Use what you have on hand and borrow any additional items you need from friends or family members. White Christmas lights are beautiful when strung up in a backyard, and cheap items such as balloons and streamers are great for filling up space and adding color to your shower venue.
8
Combine the entertainment and favors.
Host a craft-ernoon shower and teach a flower-arranging lesson; guests can take their bouquets home as favors.
9
Make gold spray paint and glitter your BFF.
Our secret to making anything look celebratory? Cover it with gold spray paint, mist it with spray adhesive, toss on some gold glitter, and seal it with an acrylic top coat. It's our favorite way to make over a party store banner and mismatched thrift store vases.
Thinking of hiring help for your bridal shower? Put down the phone and stop writing that email. Think of a bridal shower as a birthday party with a few more games; it's a party you can absolutely plan and execute on your own with a little help from friends and family members. Ask for help sourcing decorations, making and plating food, and setting up the shower space.