5 Reasons Why It's Totally OKAY to Skip the Honeymoon
Who doesn't love (or, let's be honest, NEED) a good vacation? After the stress of planning and paying for a wedding, many couples relish the idea of taking a trip to escape, relax, and celebrate their newly minted marriage. But if that just doesn't sound appealing to your and your partner, you're not alone! While it seems like everyone you know heads off to their honeymoon as soon as they say "I do," a growing number of couples are opting to skip the trip. Here are five reasons why couples are ditching the tradition and doing things their way.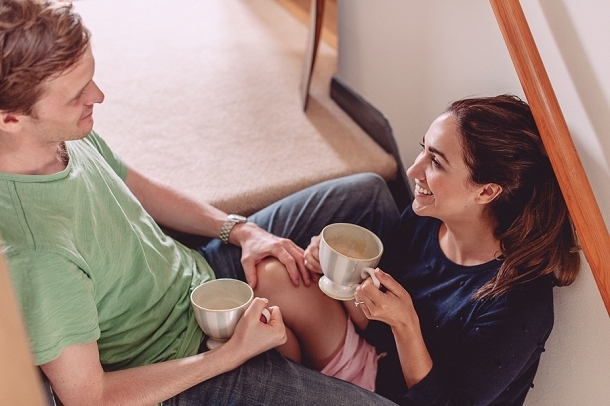 Photo by Anna Pumer Photography on b.loved via Lover.ly
1
You'd rather save money…
Trying to buy a house as soon as you tie the knot? After spending thousands of dollars on a wedding, you might find yourself wanting to save up your pennies for that downpayment. And while that tropical vacation DOES sound beyond dreamy, the idea of owning property is pretty appealing to you as well. Take any money you got from your nearest and dearest for your nuptials and put it towards your future!
2
You don't have the funds right now…
Maybe you REALLY want to go to Egypt to see the pyramids with your partner or seeing the sunset in Hawaii has been on your bucket list for years, but you just don't have the money to turn those dreams into a reality just yet. That's totally fine! There's no need to totally abandon the idea of a honeymoon, but you also don't need to rush to go on that trip (other than, like, you really want to go). Instead, plan a staycation or a mini-moon somewhere convenient. You can take a long weekend to enjoy your newlywed status without breaking the bank, and then take some time to save up for a longer trip down the line.
3
You already travel all the time…
If you travel often for work, sometimes getting on a plane just does NOT sound like fun. Even if you're headed to sun, sand, and margaritas. Or, if you and your partner were doing long-distance for a while, you might just want to skip the suitcase and start focusing on your new home together. So stay home, order in from your favorite place, and spend a few days on the couch with your partner instead. Bonus: you'll be able to bang out those thank you notes and get lost in all the wedding pics that start to surface on social media before you have to go back to real life!
4
Your wedding is already a vacation….
If you're getting hitched in Mexico or tying the knot in Italy, you may already feel like you've gotten away. With all the wedding festivities — the welcome drinks, the pre-ceremony photo shoot, the morning after brunch — you'll be able to enjoy most of what your destination location has to offer. You'll get to indulge with friends and family, drinking and eating and enjoying the local culture. You might want to build in an extra day or two after the nuptials are over to do some sightseeing with your sweetie, but after a week or so away you might just find yourself craving home…and maybe even the office.