6 Honeymoon Packing Hacks You Need to Know
Packing for your honeymoon tends to get put off on the big to-do list—especially when you're in the midst of wedding planning and are set to leave for your trip soon after your big day. So, when you finally find time to get this task completed, you want to be able to do it as quickly and efficiently as possible. To help you check off this to-do ASAP, here are six packing hacks that will seriously save you space and make your traveling hassle-free.
Use your shoes as storage
The key to a well-packed suitcase is using all the space you have efficiently. So don't forget that your shoes can be great places to pack in smaller items. You can stuff socks and underwear into your pumps, sneakers, and boots, as well as toiletries. (With the latter, your shoes will also provide a nice barrier if you have to pack fragile bottles. Bonus!)
Roll instead of fold
Take this age-old packing tip and turn your clothing into compact burritos instead of trying to make everything flat. We're not exactly sure about the physics behind this one, but experience says that rolling your items will allow you more space—which is key if you're going on a longer honeymoon or traveling somewhere with multiple climates.
Use packing cubes
To squeeze out as much space as you can, consider dividing items into packing cubes. Not only will this keep your stuff super organized—especially if you use one for bathing suits, one for t-shirts, and so on—but the cubes will fit better in your bag than just rolling your items alone.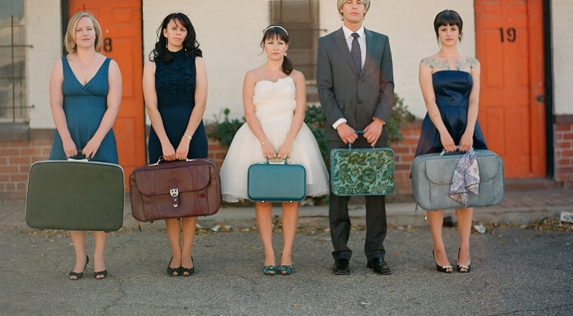 Photo by: Jill Thomas on Inspired By This via Lover.ly
Minimize beauty products
Often, toiletries and bathroom accessories take up a ton of space. (We're looking at you, blow-dryer!) So, if you can, try to minimize your products by bringing ones that can do double duty. For instance, bring bar shampoo, which can double as soap, and a tinted moisturizer with sunscreen, which can take the place of cream, foundation, and SPF.
Wear your biggest items on the plane
If you're going to a colder climate, be sure to wear your boots, jacket, and scarf during travel rather than packing those larger items. You'll save space in your suitcase and you'll be totally cozy on the plane, too.
Pack your bathing suit in your carry on
This is both a packing hack and good advice. If you pack your bathing suit in your carry on, you'll be able to enjoy your honeymoon right way: This way, if you arrive at your resort before it's time to check into your room, you can easily change in the hotel lobby bathroom and hit the beach or pool instantly. Plus, if for some reason your luggage gets delayed or lost, you don't want to have to spend the first moments of your trip bathing suit shopping.
Getting ready to get your honeymoon on, Loverlies?
7 Easy Ways to Save On Your Honeymoon
10 Under-the-Radar Honeymoon Destinations You'll Love
5 Ways to Kick Honeymoon Planning Stress to the Curb
Planning a wedding? Get your free 12-month wedding planning checklist.