5 Wedding Shower Rules That Were Made to Be Broken
Yeah, we said it. Forget all those wedding shower "rules"! If a traditional get together just doesn't suit your style, don't worry. Here are five guidelines you can totally ignore.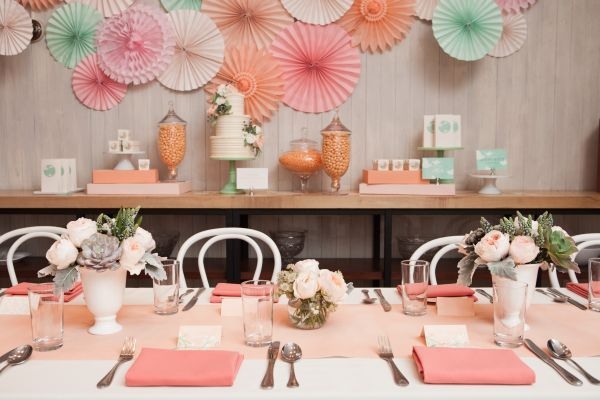 Photo by Charlie Juliet 
Rule: No boys allowed.
If this gender norm weirds you out, forget it! Co-ed wedding showers are becoming more common. Just be sure to keep it selective (that is, you don't need to invite every guest who's invited to the wedding…).
Rule: A luncheon is a must.
Not really feeling finger foods and tea sandwiches? The truth is, a wedding shower can be any kind of event you want! How about a breakfast bash at your favorite restaurant? Or a pizza party at a bowling alley? Or maybe even a trip to a winery?
Rule: You've gotta give home goods.
Wedding registries have seriously evolved over the years, and shower gifts have gone along for the ride. If you're hosting, you may consider suggesting a gift theme, like honeymoon must-haves. If you're a guest, you can look to the registry for ideas or opt for something a little more personal.
Rule: Wedding shower games are required.
No, traditional shower games are not mandatory. But if you think guests will enjoy an activity, break out some board games or a couple of decks of cards. You might also consider planning the shower around something like ice skating, or painting with wine (a pairing that's gotten pretty popular…).
Rule: You need a theme.
Remember Lillian's Paris-themed bridal shower in Bridesmaids? Yeah, that's definitely not required. While a theme can make it fun to plan the menu and decor, nobody will fault you for skipping it. Just keep the soirée sweet and simple!
Find more wedding shower ideas on Loverly:
10 Ways to Throw a Wedding Shower on the Cheap
20 Creative Wedding Shower Themes and Ideas