How to Work Seasonal Summer Fruits Into Your Wedding Menu
Some of the best fruits—strawberries, peaches, watermelon and more—peak in the summer. So, if you're having a summer wedding, don't pass up the opportunity to let these tasty fruits shine in your menu! From your appetizers all the way through dessert, there are plenty of tasty ways to serve them. Here are our favorite season summer fruit menu ideas.
APPETIZER IDEAS

Photo by Lovato Images
A cheese & fruit plate
Everyone loves a cheese plate, and a little bit of fruit balances it out perfectly. Opt for figs or grapes, which are sweet summer picks.
Fruit salad
No, we're not talking about a giant bowl of a bunch of fruits—instead, pick one fruit (like watermelon or strawberries) to play a supporting role in your leafy green salad.
Fruit kabobs
Skewers are great finger foods for cocktail hour or an early course. Add some fruit to the spread! You could do full-fruit kabobs, with berries and bananas, for example, or mix fruits with veggies and meat. How good does grilled pineapple and pork sound?
DINNER IDEAS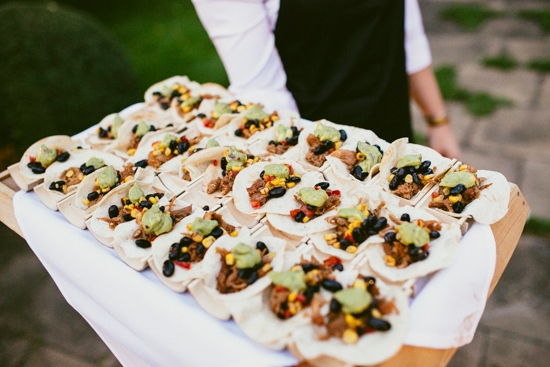 Photo by Love, Katie & Sarah 
Tacos with mango salsa
Going a more modern route with your dinner? Offer up a variety of tacos with a spread of salsa, one being an irresistible mango dip.
Turkey and cranberry sauce
This dish isn't (or shouldn't) be reserved for Thanksgiving! Serve guests turkey with a warm, spiced cranberry chutney. It's classy and hearty with a sweet twist.
Pork and peaches
Peaches taste absolutely amazing when baked or grilled, which is what makes them so tasty when paired with a pork chop or pork tenderloin.
DESSERT IDEAS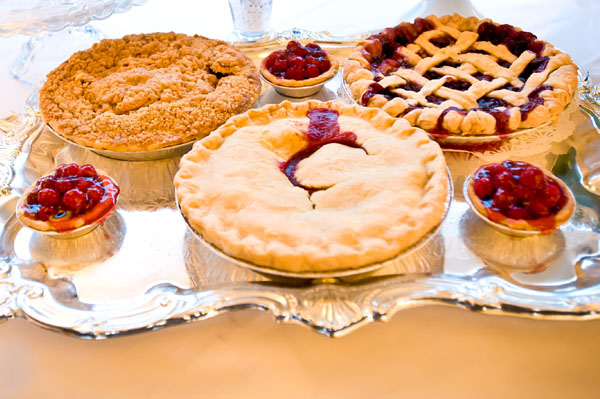 Photo by Cappy Hotchkiss
Serve pie!
With berries and cherries in season, it's easy to see why pie is the perfect dessert…
Opt for a fruit plate
With fruits this sweet, who needs pastries? Lay out a beautiful spread of watermelon, strawberries, and your other favorites.
Give your cake a flavor
A peach-flavored cake or frosting will taste just right at a midsummer event. Yum!
DRINK IDEAS

Photo by Christine Sara Photography 
Fruit-infused drinks
Stock your bar with blackberry-infused vodka or peach-flavored champagne. You'll get an easy taste of the sweet fruit (without needing to buy pounds of the stuff).
Frozen, blended drinks
Strawberry daiquiri, anyone? Take your go-to summer fruit, freeze it, blend it, and mix it with your favorite booze. Yum!
Grown-up lemonade
Lemonade is a summertime staple! Make it wedding-appropriate by adding a splash of vodka or champagne, and of course top it off with a few berries or slices of your favorite fruit.
Get more ideas on Loverly:
14 Thoughts Every Couple Has While Planning Their Wedding Menu
How to Choose the Right Cake Flavor for Your Wedding
How to Set Up a DIY Bar for Your Big Day