3 Simple Toast-Worthy Cocktails to Serve Up at Your Summer Wedding
When it comes to choosing a signature cocktail, the possibilities are pretty much endless, but a simple sip is sure to be a crowd pleaser!
Can't decide what to serve up? Try one of these simple summer cocktails, and consider giving it a creative name while you're at it. Groom's Gimlet or a Blushing Bride, anyone?
Simple Summer Cocktail Recipes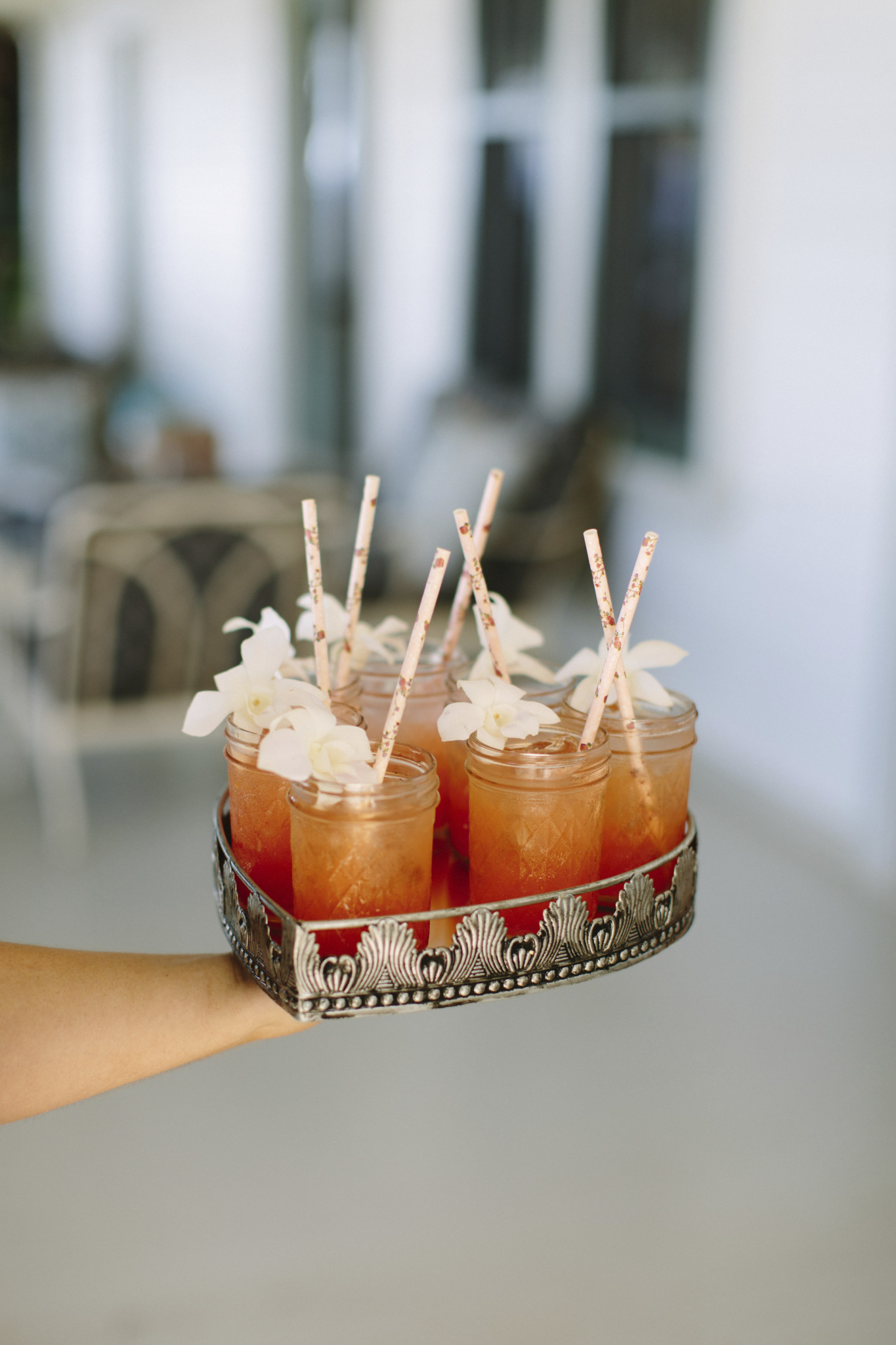 Photo by Megan Clouse Photography
1. Summer Sangria
The best part of sangria is that you can make it with almost any fruit, so feel free to improvise with a few of your faves. Plus, sangria is actually better when made with cheaper wine so it's definitely an affordable option!
This recipe makes 30 servings:
9 Nectarines
1 Pint of Strawberries
2 Oranges
4 Bottles of Sauvignon Blanc
1 Cup Cointreau
1 Bottle Sparkling Water
1 Bottle Blood Orange Soda
Instructions:
1. The day before the wedding, cut the fruit into bite-sized pieces
2. Cover the fruit with Cointreau and wine
3. Refrigerate overnight
4. Add the sparkling water and soda immediately before serving
Browse more delicious sangria recipes here >>
2. Watermelon Margarita
Watermelon is a summer all-star, and there are so many delish drink options that feature the yummy fruit. It's a super refreshing flavor for an ice-cold margarita.
This makes one serving:
1 Ounce Tequila Don Julio Blanco
2 Ounces Fresh Watermelon Juice
3/4 Ounce Sour Mix
1/2 Ounce Grand Marnier
1/2 Ounce Fresh Lime Juice
5 Ice Cubes
1 Watermelon Slice
Instructions:
1. Mix Tequila Don Julio Blanco, sour mix, fresh watermelon juice, Grand Marnier, fresh lime juice and ice in a cocktail shaker
2. Shake well
3. Pour contents into a martini glass
4. Garnish the edge with a watermelon slice
Browse more watermelon cocktails here >>
3. Champagne Punch
Champagne is a celebration staple, so it makes perfect sense to mix it into your cocktail of choice. This punch is totally perfect for raising a glass!
This makes two servings:
3 Tablespoons Grenadine
3 Tablespoons Cointreau
2 Tablespoons Brandy
1 3/4 Cups Champagne
Raspberries, strawberries or other seasonal fruit of your choice
Instructions:
1. Fill a small ice bucket halfway with ice
2. Pour Grenadine, Cointreau, Brandy and Champagne over the ice
3. Gently stir
4. Ladle into 2 wide-mouthed stemmed glasses
5. Garnish with seasonal fruit of your choice
Browse more champagne cocktails here >>
Cheers!
Find more summer wedding ideas here:
8 Tips For Keeping Guests Cool and Comfy at Your Summer "I Dos"
5 Refreshing Foods to Serve Up at Any Summer Soirée
5 Wedding Color Palettes Inspired By Your Favorite Summer Treats