How to Save Some Serious Money on Your Wedding Dessert
Cake has long been a wedding reception staple, but with many guests opting to continue the dance party instead of sitting down for a slice and more and more couples choosing to skip cake-cutting all together, is it worth working that three-tiered beauty into your budget? Whether you're sticking with cake or opting for an alternative, we've got eight tips that'll help you save a bundle when serving up dessert.
Photo by Toa Heftiba on Unsplash
1. Get to know cake pricing. What many couples learn during planning is that most cakes are priced per slice. Instead of planning on a slice for each of your 125 guests, remember that many people will choose not to indulge – you can safely plan for 25 fewer slices than guests you have attending.
2. Consider the labor. Another important thing to note is that cakes are priced by labor, and not just ingredients. Steer clear of frilly designs or complicated construction to keep costs down.
3. Party in the front. For pictures and presentation, opt to have a beautiful, small cake on display. You can cut into this creation for pictures and for the first slice with your spouse. Meanwhile, in the kitchen, have large sheet cakes that can be quickly sliced and served to your guests.
4. Try pies. Cake pricing getting too complicated? Opt for pies instead! Super on-trend for 2015, these pastries can be especially cost-effective when choosing delicious, in-season ingredients.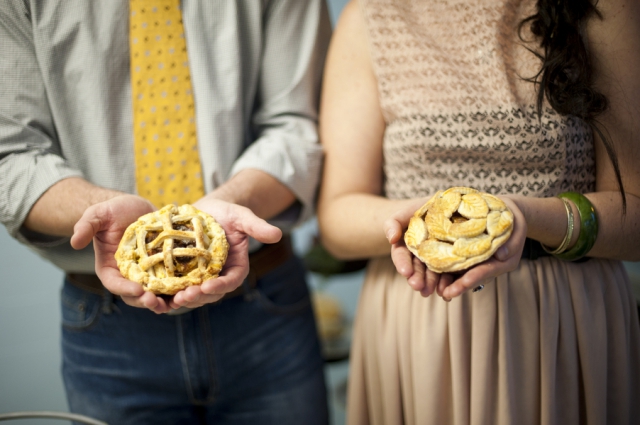 5. Cupcakes. Popular at weddings for years now, cupcakes can be a great alternative to a 6-tier cake. As an insider tip, choose to serve full-sized cupcakes as opposed to mini. Full-sized usually translates to full-serving, meaning guests will fill up on just one, whereas anyone can take down 5 mini cupcakes thereby seriously upping your costs.
6. Make it potluck. Got a family full of bakers? Or a couple of BFFs who seriously know their way around the kitchen? See if they'd be willing to whip up some wedding desserts in lieu of traditional gifts. You'll save some cash and your desserts will have the sweetest personal touch!
7. Order up. Many restaurants and pastry shops have catering options that extend to dessert. To avoid stress, and to keep costs down, trust in their assortment and order a pre-made platter of cookies and treats to go.
With all of these options, your guests and your budget will be getting down all night!
Find more sweet dessert ideas and inspiration:
5 Tips for a Custom Wedding Dessert Bar