Yes, This Real Wedding Story Starts at the Dog Park
We love a good love story! And we're guessing you do, too… That's why every Wednesday, we're bringing you real life "I dos" that are sure to inspire (and give you a peek into couples' planning experiences). Want to share your happily ever after? Submit your wedding here! #realweddingwednesday
Who would've guessed that a casual walk to the neighborhood dog park would be the start of… well, forever?!
While their pups played, Dan and Jess got lost in conversation, and soon enough, the sun was setting and they were the only people (and dogs) left in the park. Before parting ways, Dan asked Jess for her number and suggested a date that Friday night. She said yes. And just a few years later she found herself saying yes again…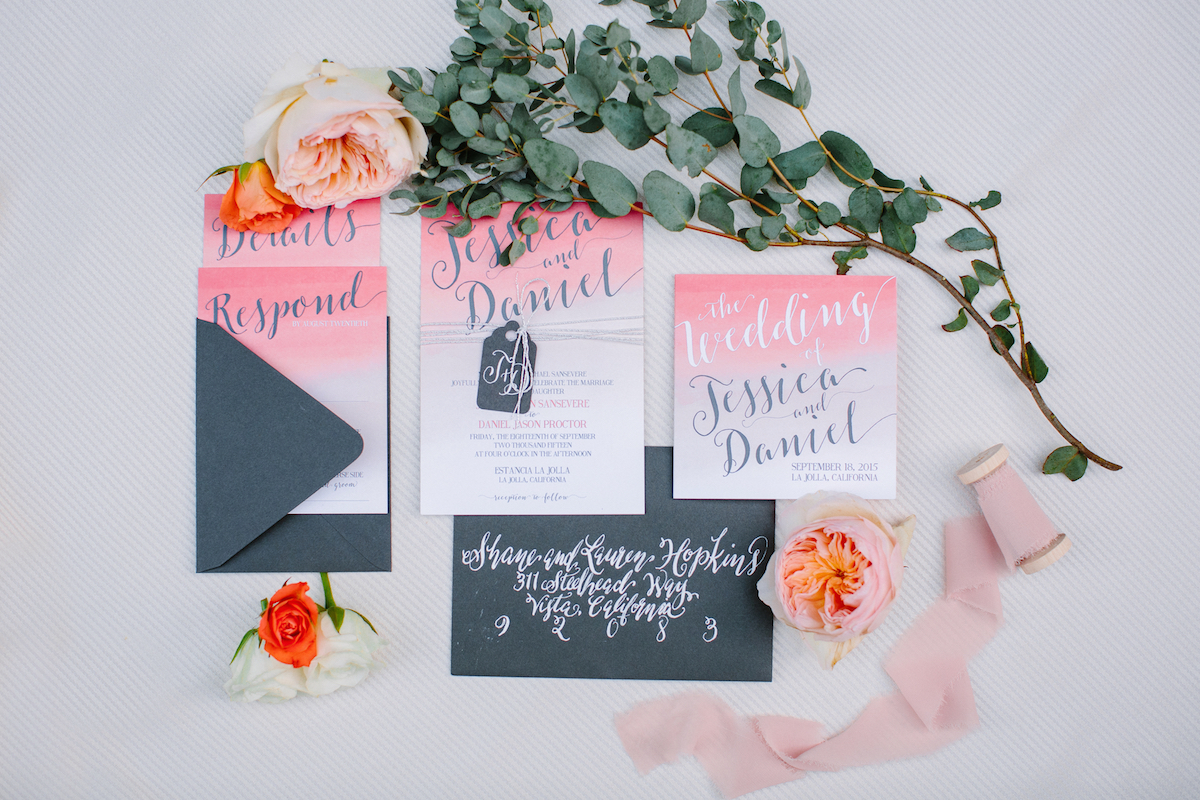 So, how and when did the proposal go down?
It was late February and since we're in San Diego, the weather was perfect. I'm a photographer and over the 2+ years we had been together, we never seemed to find time to take photos with my professional equipment. So, that Saturday, Dan suggested we break out the tripod and head down to Del Mar for a mini family session complete with our golden retriever. After the photos, the plan was to enjoy a stroll on the beach, but we never made it that far…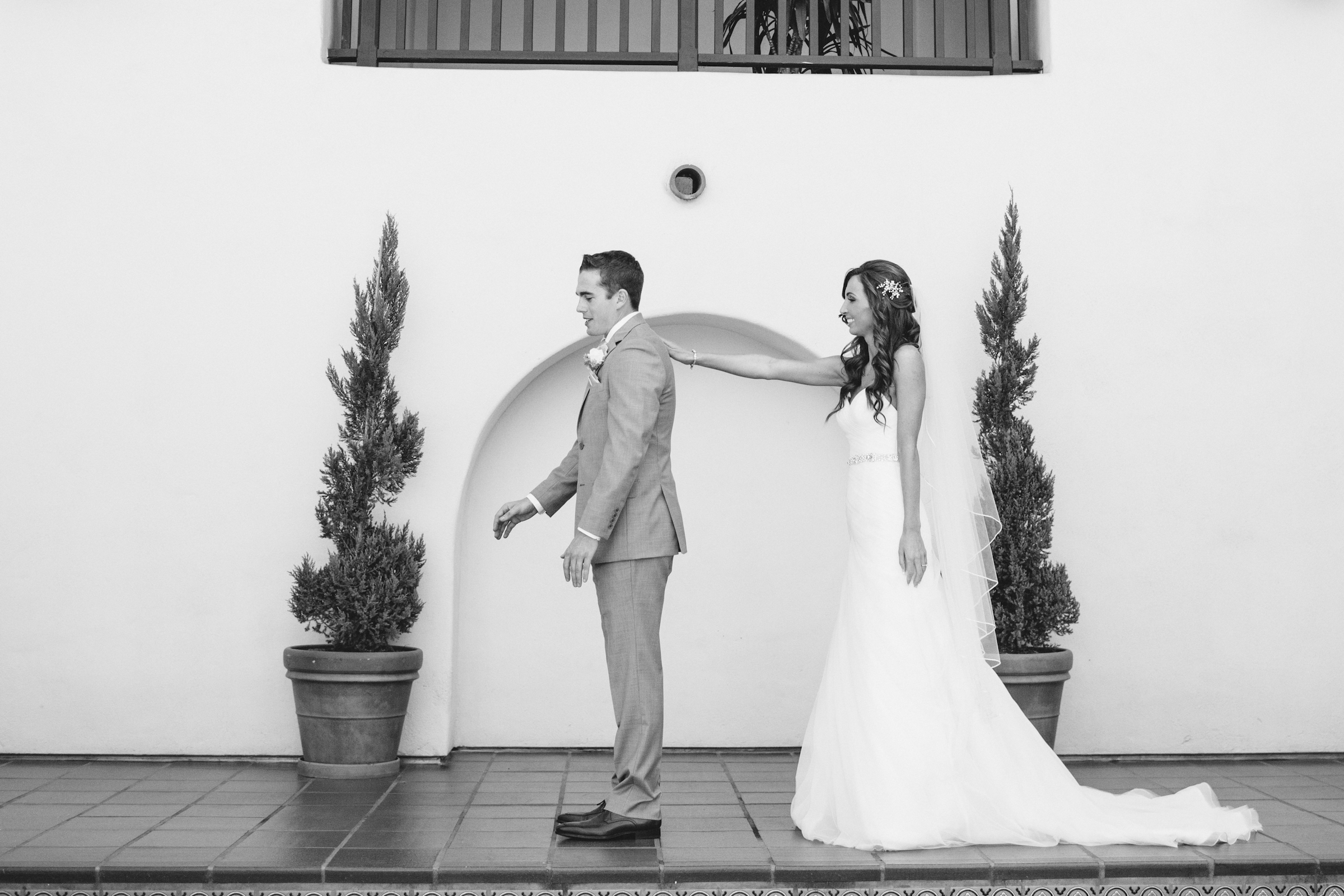 We set up the camera at a park overlooking the ocean, and between the wind and the dog getting distracted, we had to reset the timer several times before finally getting a usable image. I asked if Dan thought we should try any other spots before I unhooked the camera from the tripod, but he replied with a simple no. One twist to start and loosen the camera shoe and I hear, "Maybe we should take one more picture." I look up and he's on one knee reaching into his pocket. I hit the trigger on the camera, let go and walk over to Dan (hoping that I had not loosened the camera enough that it falls off, but also not caring if it did in my state of shock). He opens the ring box and asks, "Will you marry me?" I hear the shutter go off and said "yes, yes, YES!"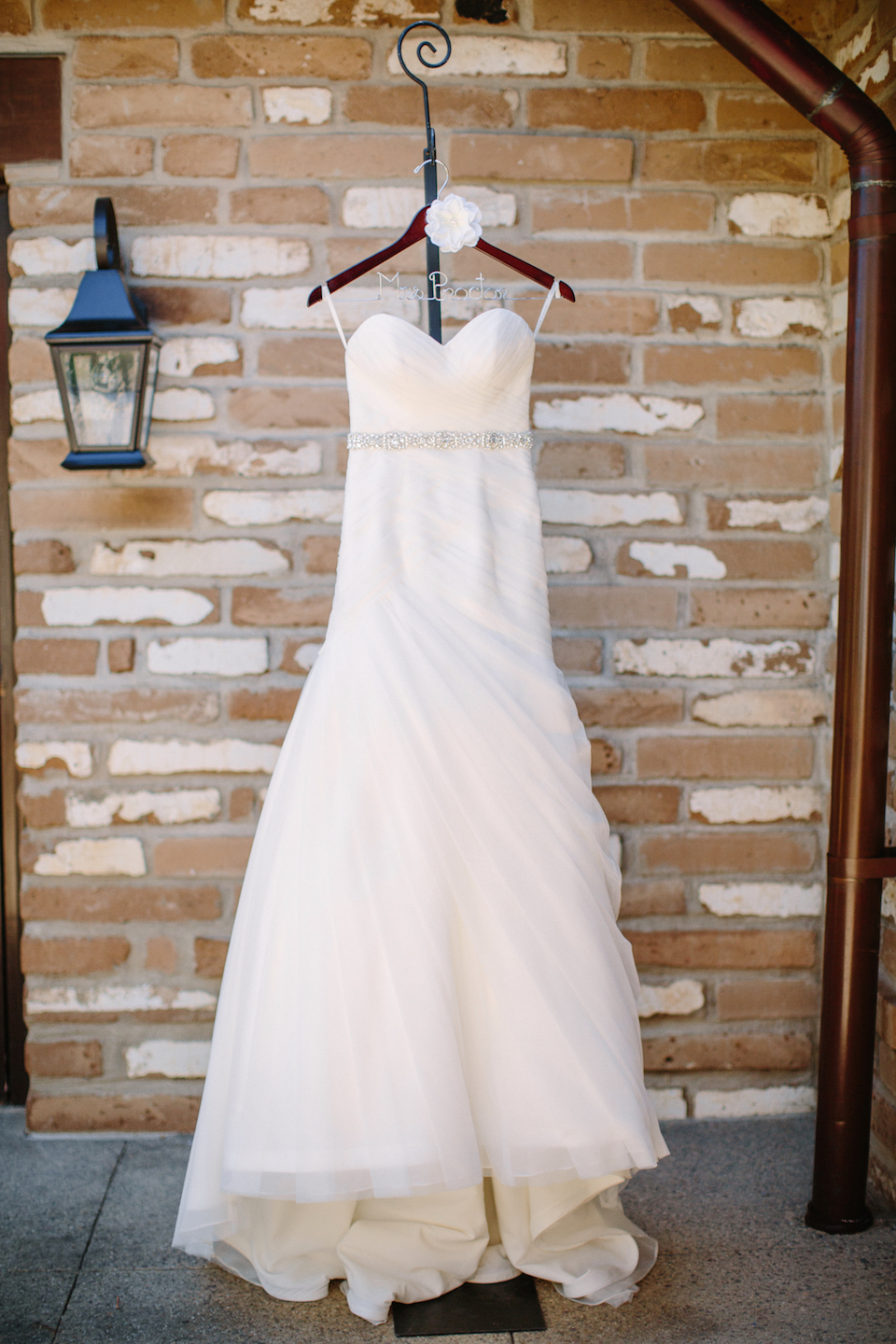 I had no idea if the picture taken in that moment was on frame or even in focus, but after several kisses and a long embrace, we went back to the camera to look at what was captured. As fate would have it, the picture came out and it is a photo I will treasure forever.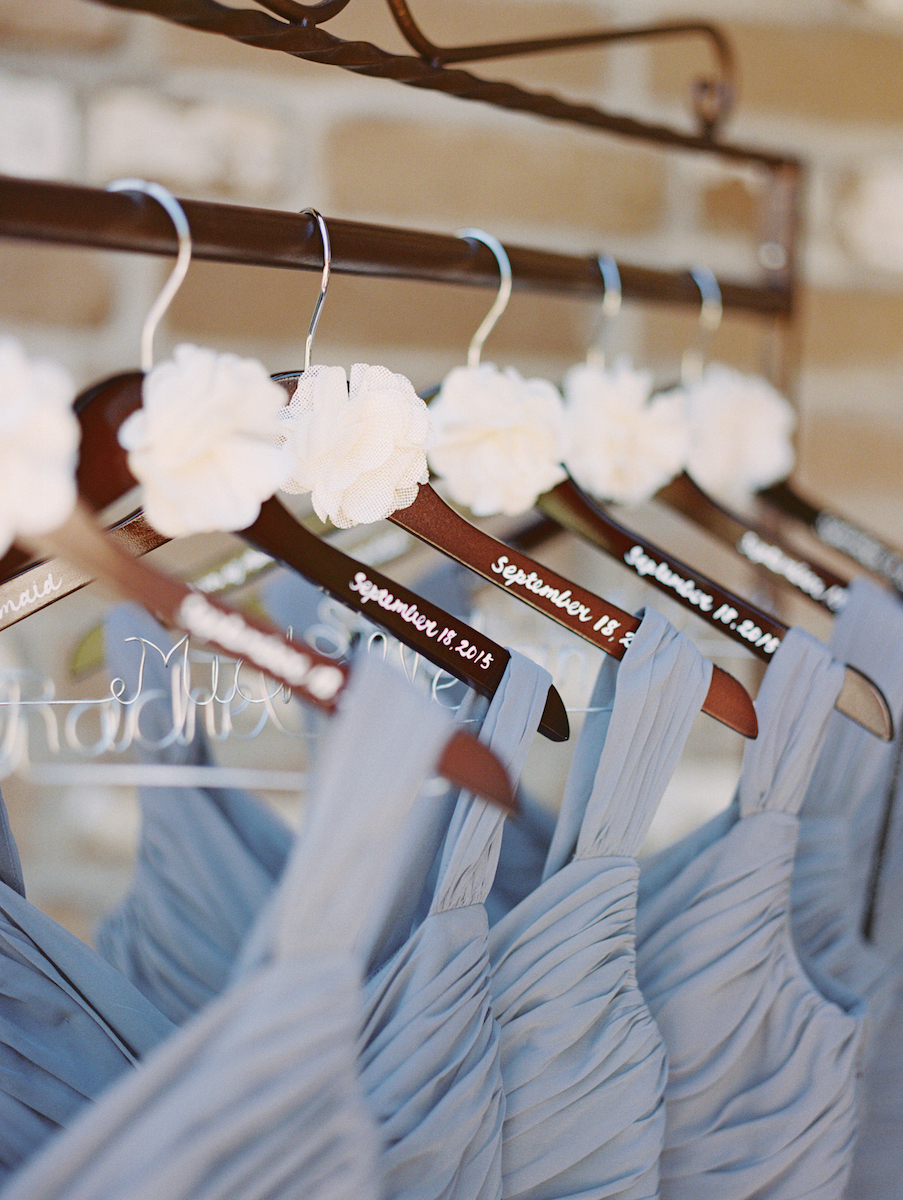 When it came to the wedding, what was your vision? And how did you create your dream big day?
Overall, we were going for a romantic feel that complimented the style of our venue. My maiden name is of Italian origin and the ceremony space was located in a garden backed by gorgeous Olive and Cypress Trees. We tried to incorporate Tuscan countryside elements by using Tuscan Bistro styled chairs for the reception, as well as wood box floral centerpieces. Lots of loose greenery in our floral elements helped tie in the outdoor gardens, and it helped stretch our budget, too!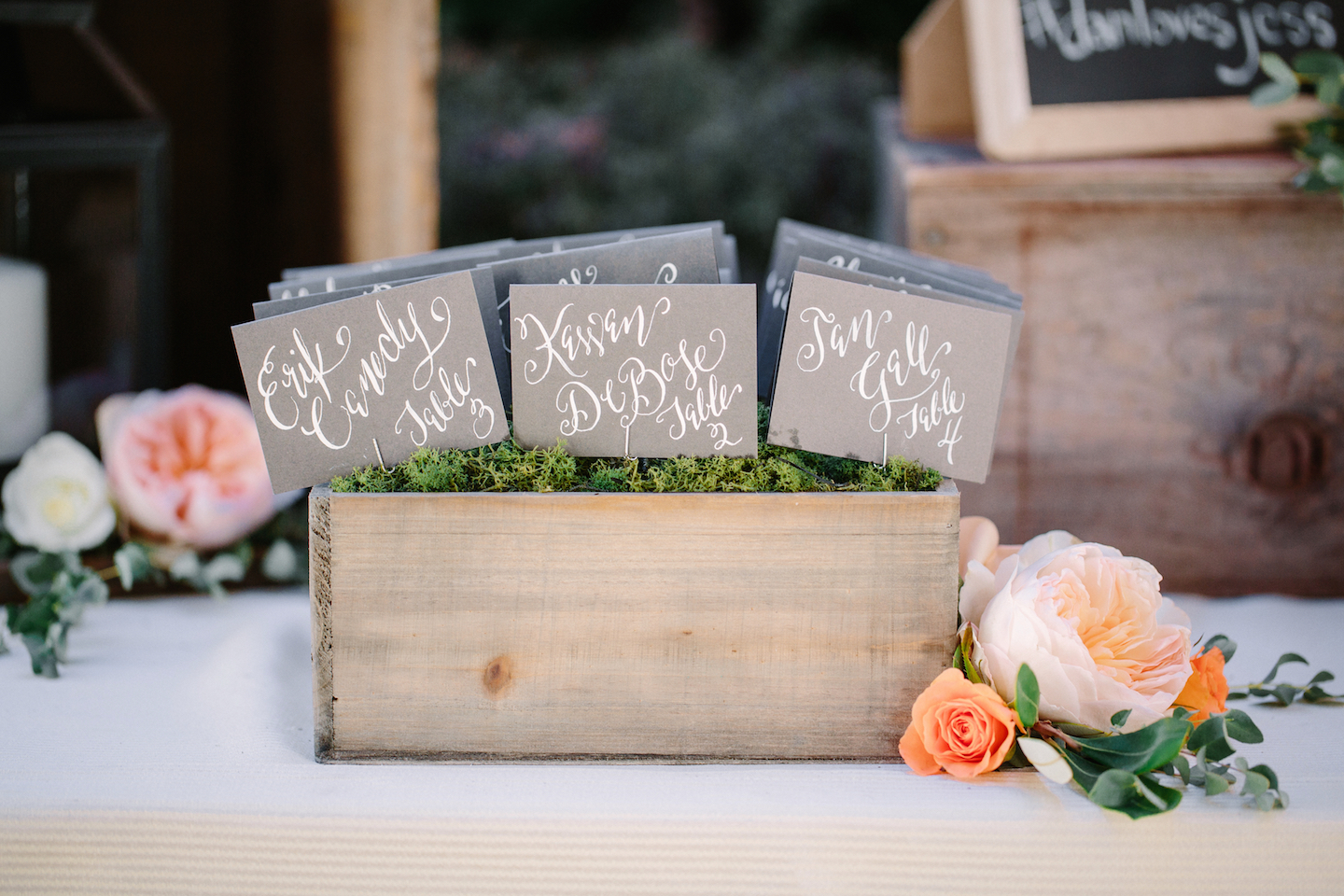 Being an artist, I knew there were items we could DIY to add a special touch and also save some money. I have always loved the beautiful look of calligraphy, so I figured this would be a great time to (literally) try my hand at it for the invitations. While it took a LONG time to do, I was incredibly happy with the response from our guests and the loose calligraphy style became incorporated throughout our wedding stationery (which I also designed myself)!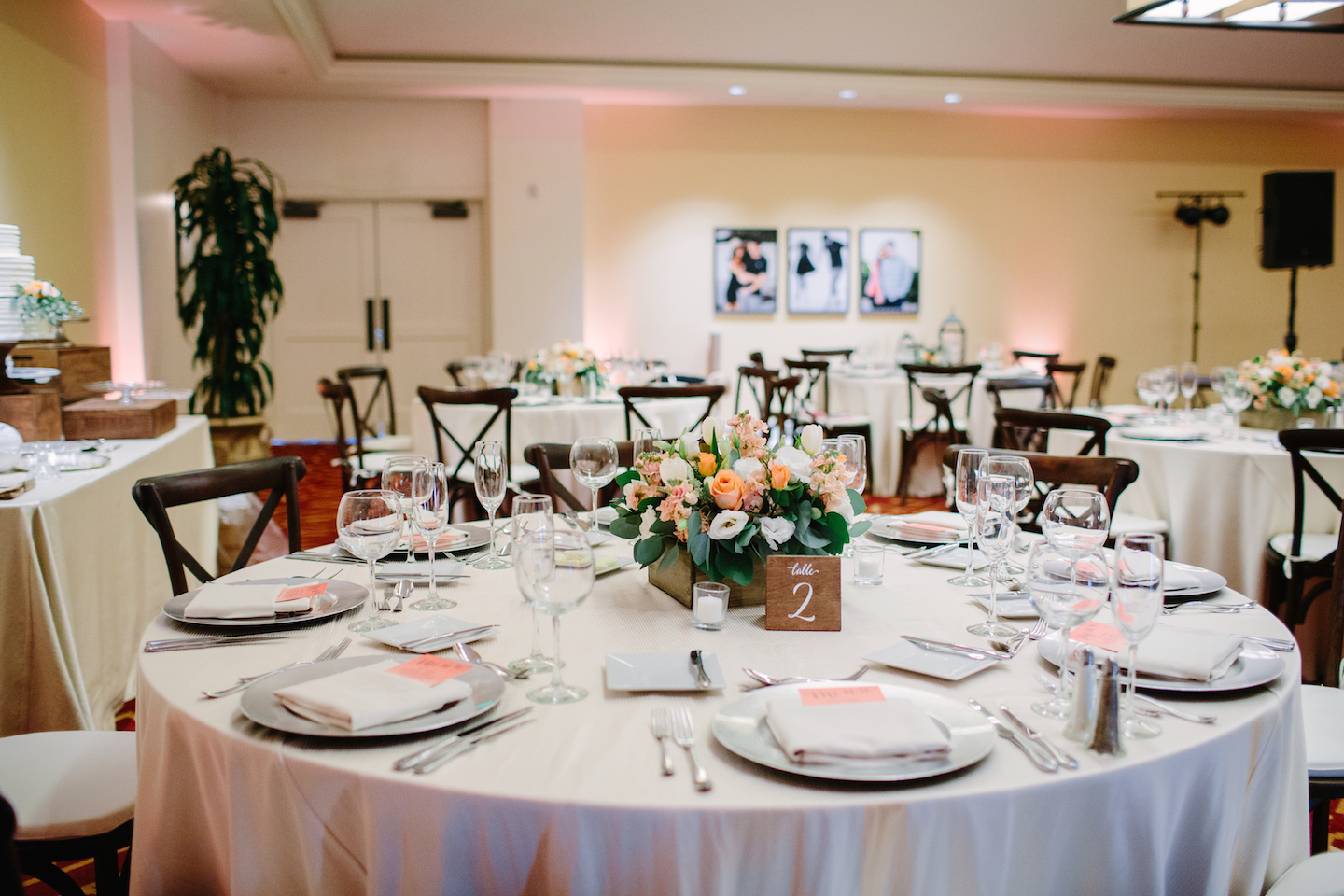 What came as the biggest shock while wedding planning? Anything you really weren't expecting?
I didn't realize how difficult it was going to be for us to balance our own expectations and vision for our wedding, while still pleasing our families and incorporating their opinions. This was even more challenging since my family was not local, but wanted to be involved. We wanted everyone to feel that they had a bit of the wedding that they contributed to; after all, this might be our love story, but a wedding is also about two families coming together. So we picked our battles, staying firm on the items that were most important to us and compromising where our families were more passionate. In the end, it all came together for a more beautiful and amazingly fun day for everyone.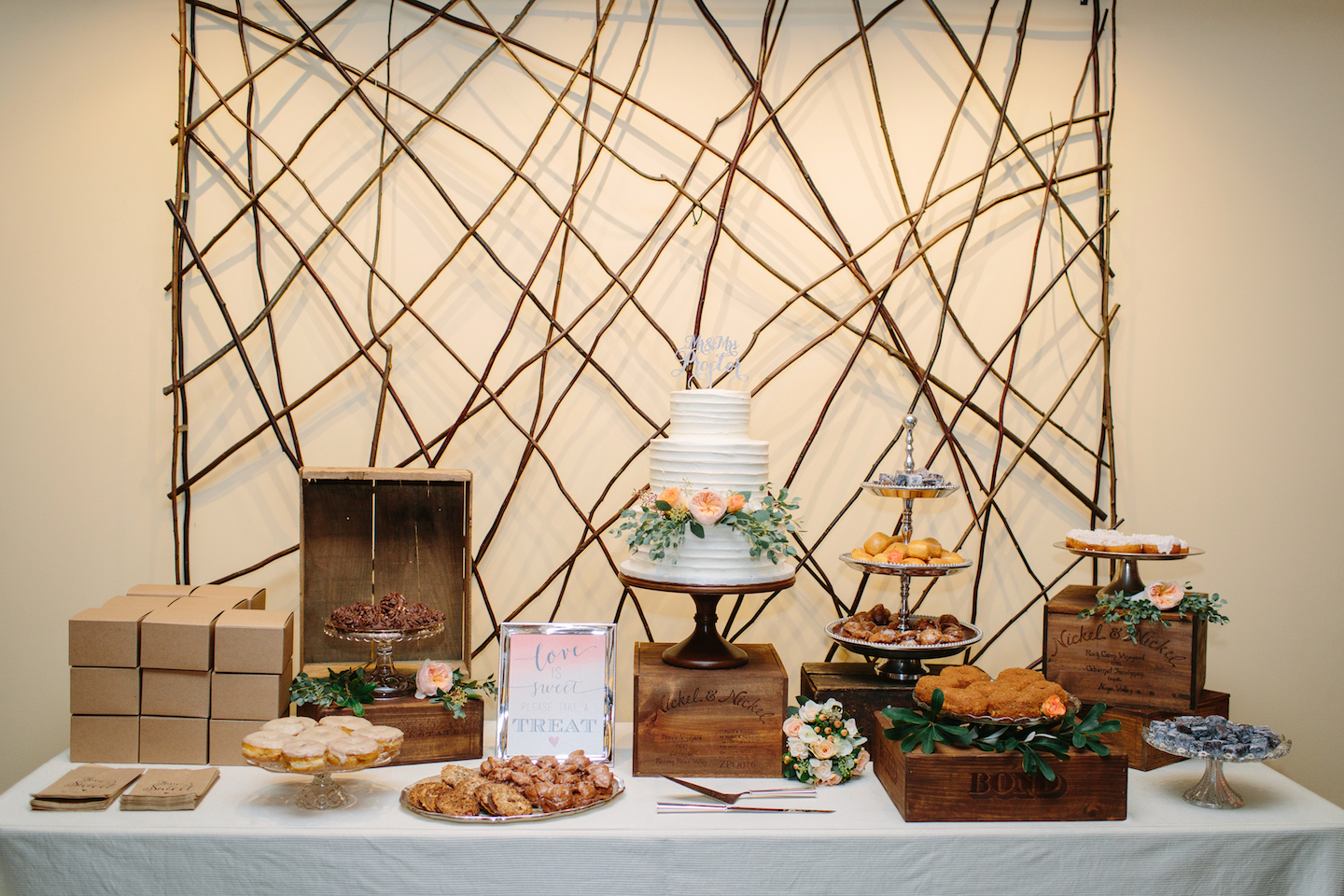 What was the number one piece of advice you were given about wedding prep?
Hire a wedding planner!! There are several services you can choose to hire a planner for, from day-of coordination to complete design. Our planner, Always Flawless Productions, was a life saver. I wanted a lot of say in the design of our wedding, but was looking for someone to help brainstorm and make final decisions when I ultimately was torn between all the beautiful inspiration that is out there. Ashley was a great partner, and when the big day came, I turned the keys over to her and she drove our vision to the finish line. Worth the investment over and over!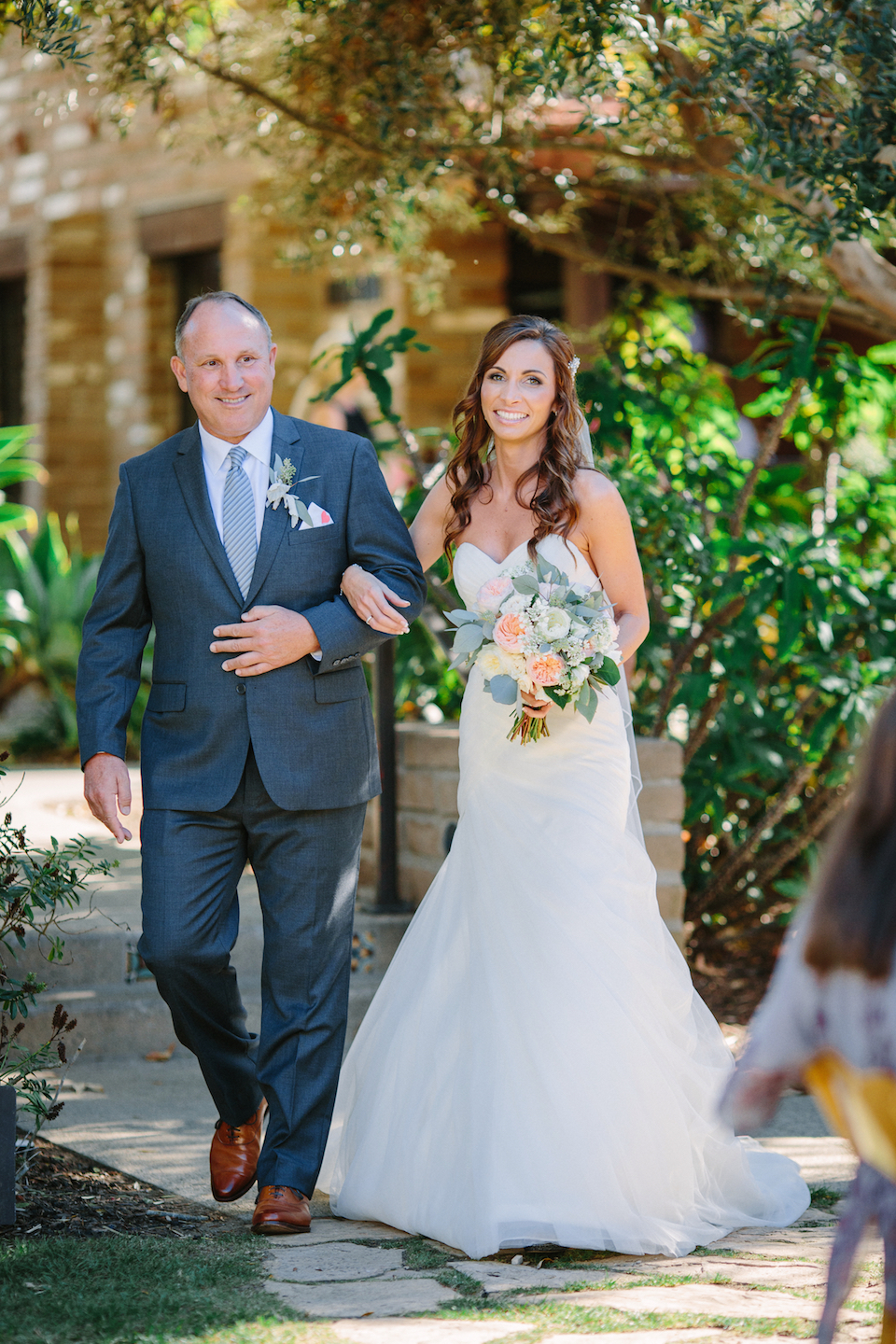 Any tips or tricks to help make the big day run smoothly?
We wanted our family and guests to be able to enjoy as much of this special day as possible, and did not want to complicate things by having different locations for the ceremony and reception. We only looked at venues that would allow for both the ceremony and reception on the same property and eliminate the need for wasted travel time.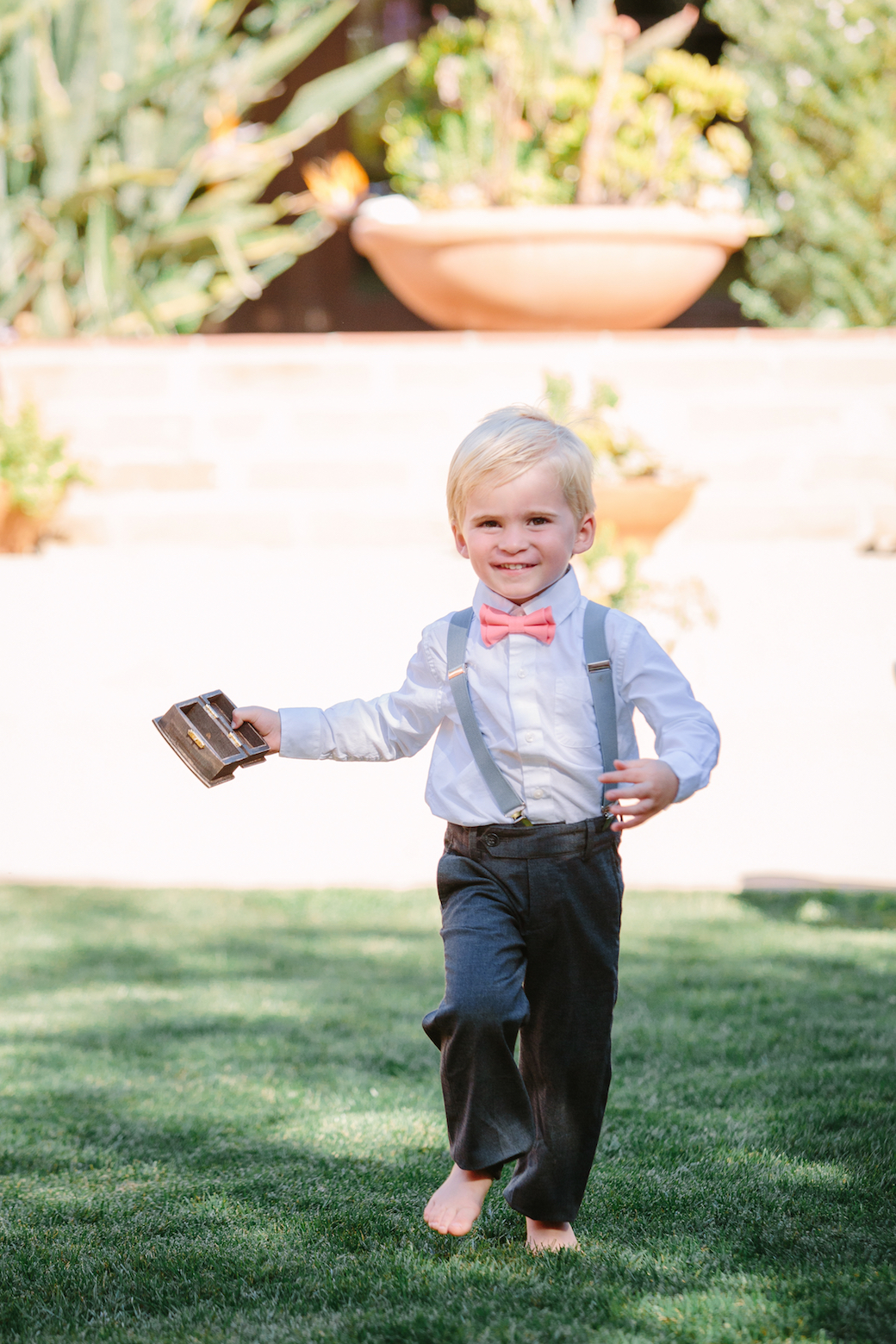 Similarly, we chose to do a reveal before the ceremony that would allow us to do the majority of photos before, and let everyone head to the cocktail hour immediately following the ceremony. This also gave Dan and I more time alone for bride and groom photos, as well as precious time to reflect on our day.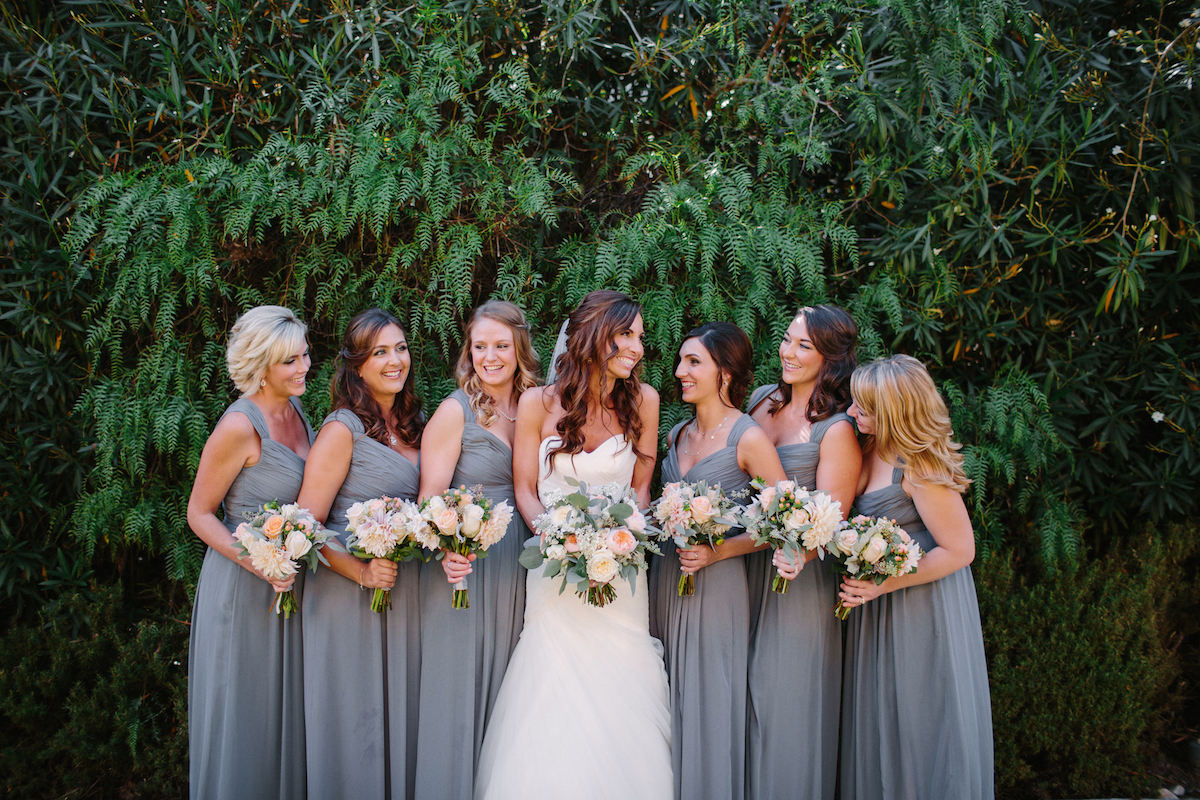 And now that you're on the other side of your wedding, what's one thing you think all nearlyweds should know?
Hire quality professional vendors that you trust. Your photographers are going to be with you all day, so be sure you are a personality match (we felt so comfortable with Shane and Lauren and it really came through in our photos). After months or years of planning, that one day (heck, the whole weekend) goes by in an instant! You want to trust that your vendors will do what you hired them to do, so you can just enjoy each wonderful moment of your wedding day.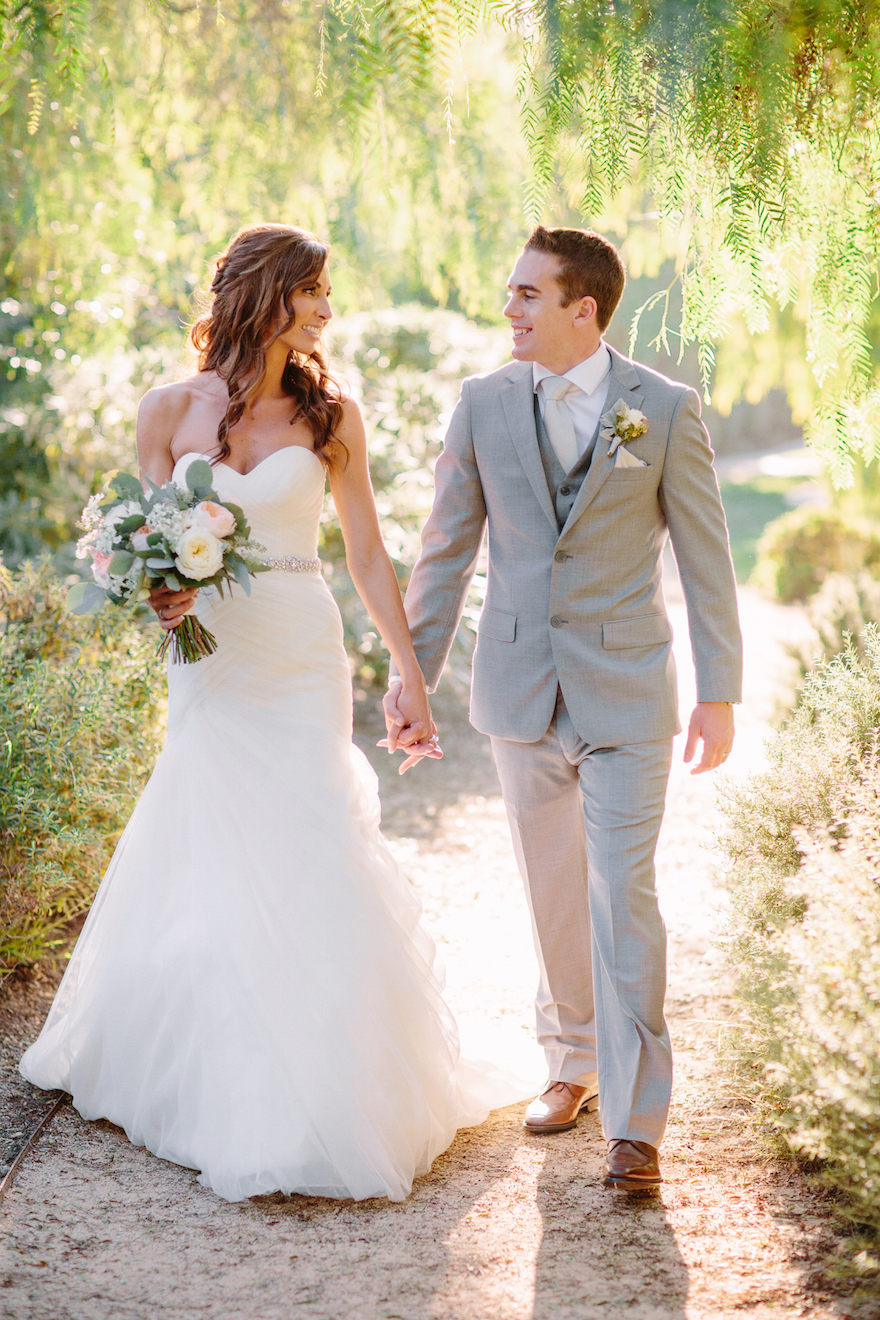 VENDORS
Wedding Planner: Always Flawless Productions
Photography: Shane & Lauren Photography
Venue: Estancia La Jolla
Videographer: Light and Memory Films
Floral: Lovely Stem Floral
Cake/Donuts: VG Donuts
DJ: Sage Productions
Hair: Call Me Beautiful
Make-Up: Lacey Haegen
Rentals: Raphaels
Want to see some more real weddings?
The Story Behind This Colorful Wedding is Like a Real Life Rom-Com
This Real Backyard Wedding in Nashville Is Music to Our Ears
This Perfectly Portland Real Wedding Was Anything BUT Basic