This Couple is Spilling the Story Behind Their Antigua Wedding (and It's Everything)
We love a good love story! And we're guessing you do, too… That's why every Wednesday, we're bringing you real life "I dos" that are sure to inspire (and give you a peek into couples' planning experiences). Want to share your happily ever after? Submit your wedding here! #realweddingwednesday
Alesha and Vini's destination wedding in Antigua was pretty much perfection, from the gorgeous historical sites of Ruinas de Santa Clara to the traditional Guatemalan drinks and hors d'oeuvres, and their love story is just as sweet! If the first hand account of their real life fairytale doesn't have you feeling all the feelings, the video reel from their big day is bound to have you weeping…
V: Maaaybe we're getting a little ahead of ourselves by starting with the engagement.
A: Yeah. Let's talk about how you fell in love with me first!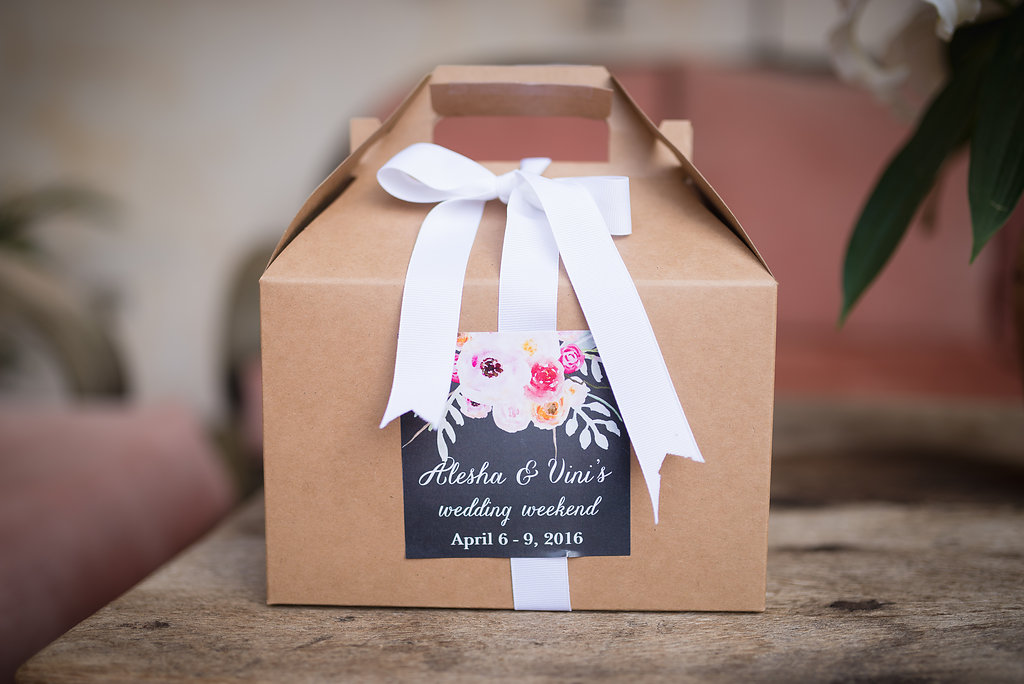 V: Ok. Easy. It was actually raining really badly, umm, like really badly and it was really dark out. I didn't have an umbrella but you texted me that you did. Aaaand, we were meeting in Flat Iron to grab a drink. I remember seeing you on the kitty corner but I wasn't sure if it was you or not. So I started running to you in what, I swear, felt like slow motion.
A: How romantic! Ok keeeeeep going.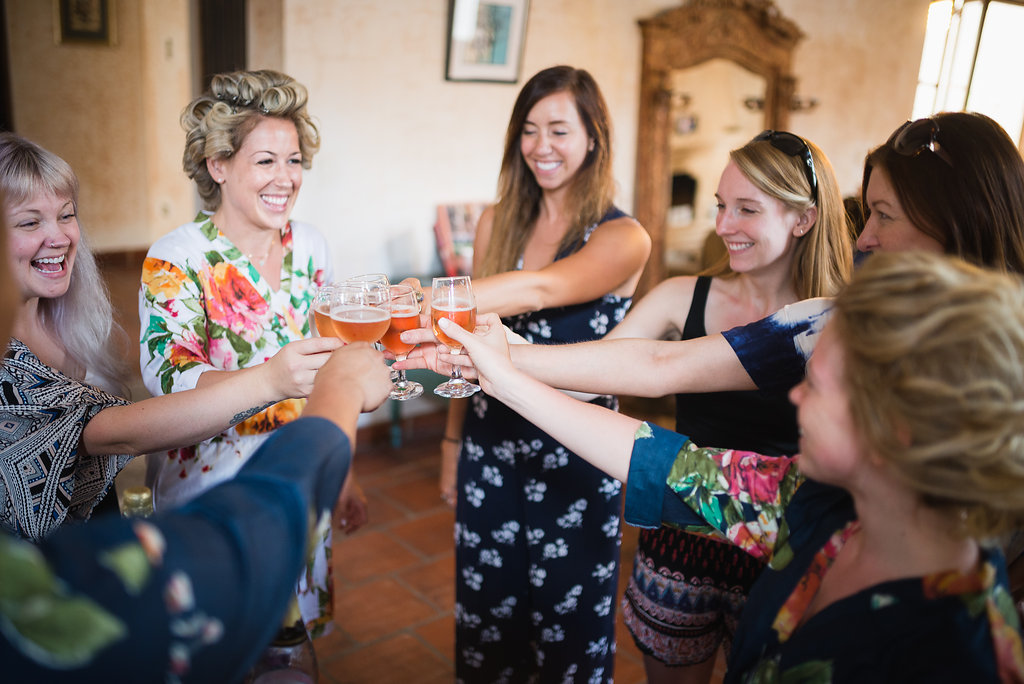 V: *laughs*, there was no music, just a bunch of angry honking. Anyways, I'm running and I'm running and I'm completely soaked and I stop halfway, cup my hands around my mouth, and just yell out your name.
A: Hoooow romaaa-!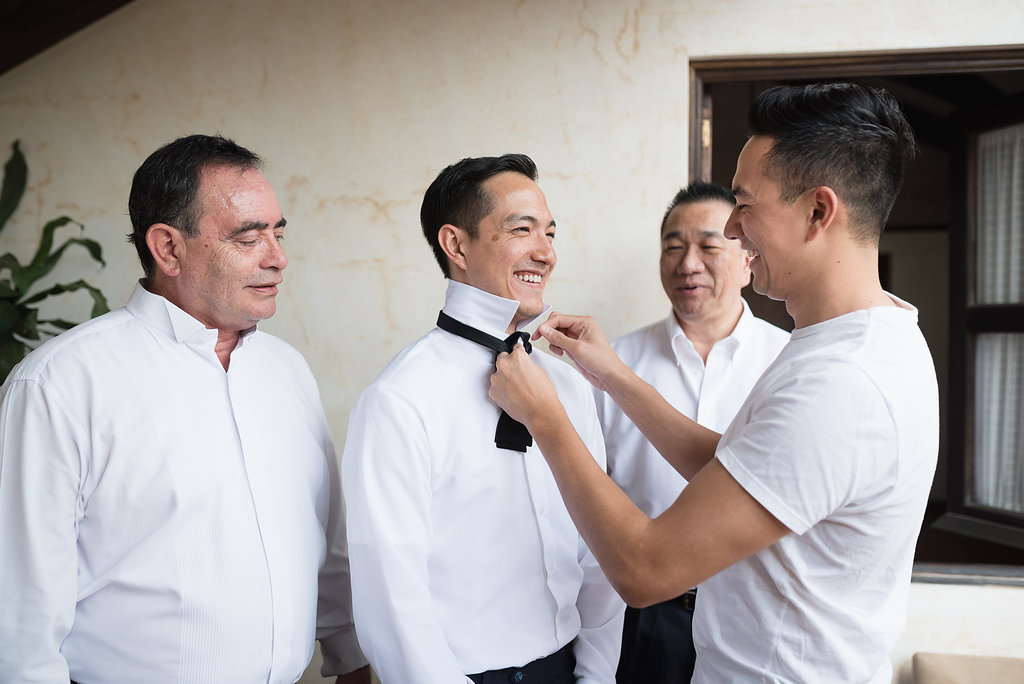 V: Wait! You didn't come to me, you just stood there under your umbrella. At this point I said screw it, I'm drenched, and I just kept running. Right as I worked up enough courage to run up to a total stranger, you tilt your umbrella just enough for me to see your big eyes smiling at me. That's when I knew I loved you.
A: Ohhhh booooooooy! Who wants another drink?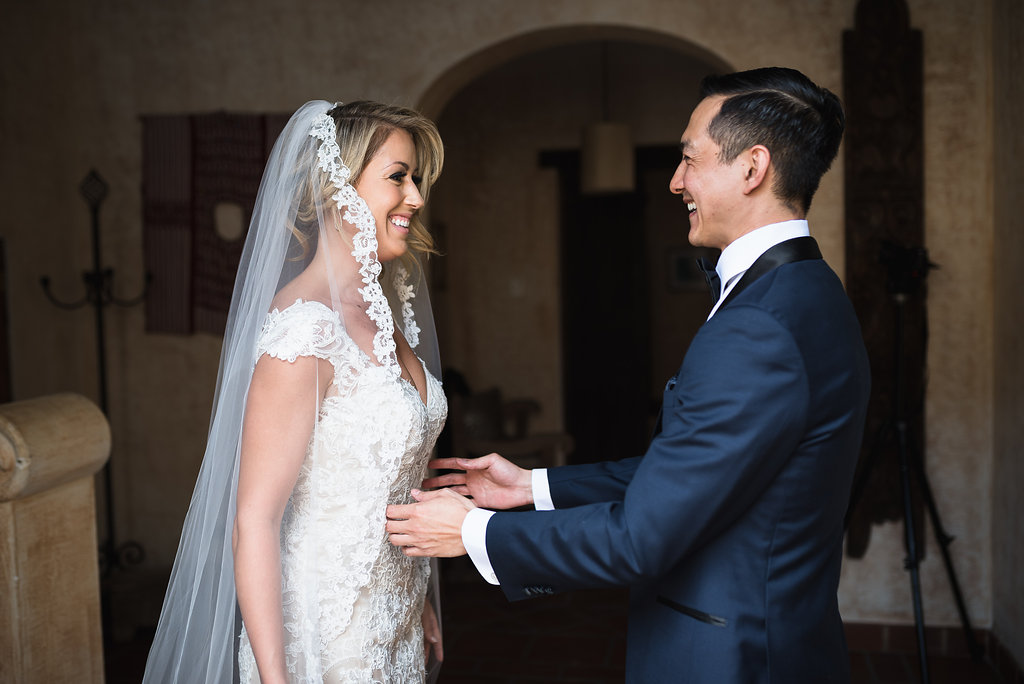 V: Ok, do you want to tell them about the proposal?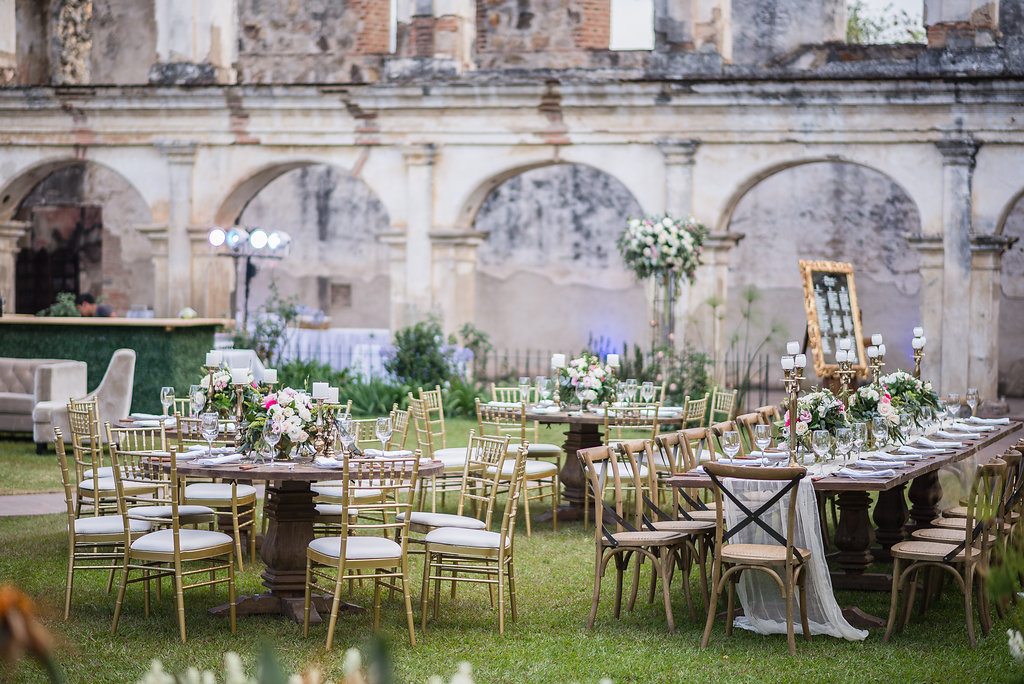 A: *nervous sound* Ok so… We were about to go on vacation and you told me that you wanted to treat me to a massage because of my [expletive] work week. God, remember those massages? *melts in her chair*
V: I actually fell asleep.
A: You took me to a bathhouse and they took us up to a fancy VIP area where we got massaged together. And, *laughs*, I remember thinking it was weird because you hate couples massages.
V: They're the worst!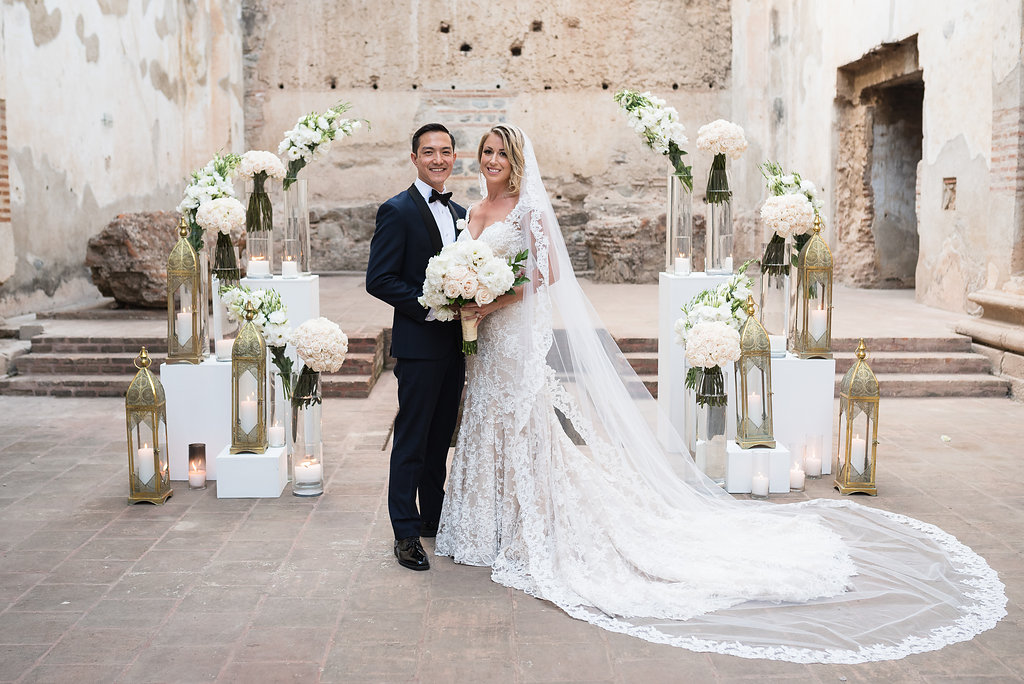 A: So, anyways, we're done with the massage and you're like "they want us to go to the next room because they have free drinks for us". Ok! So I open the door and there are hundreds of candles and two rose petal paths. One of the paths leads to a small box and the other one leads to a bottle of Veuve. I took a B line to the champagne.
V: *laughing*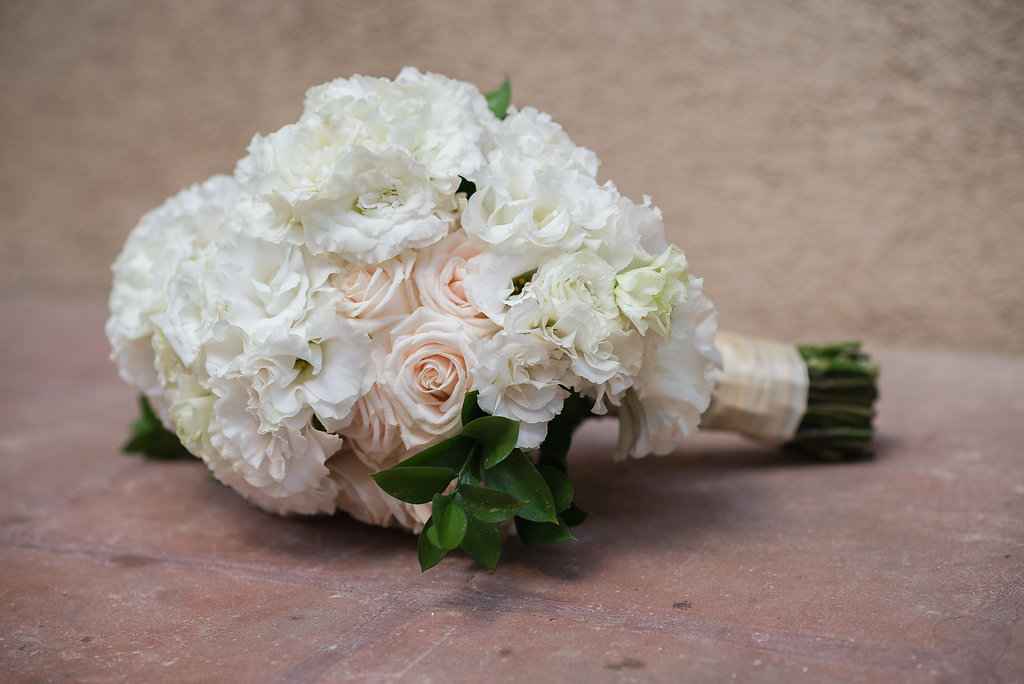 A: *that kind of laughing where she's sort of gasping for air but hasn't yet snorted* So you grabbed me by the shoulders and turned me to look at the box. There was a pink peony right next to the box. That's when I realized what was happening. You then started saying things, and got down on one knee, and I was crying.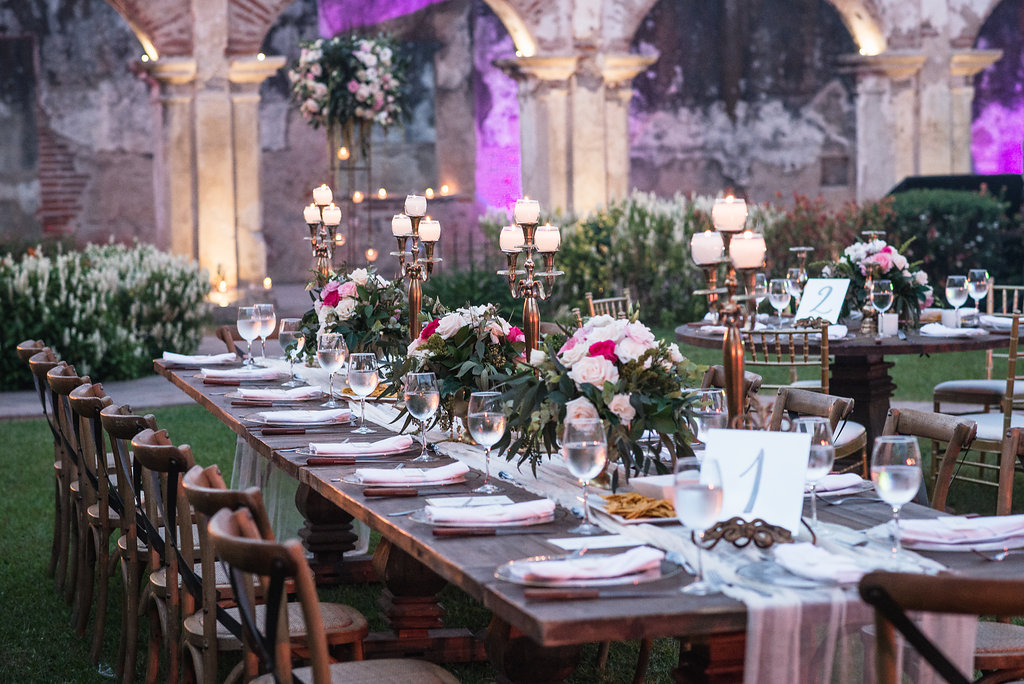 V: Noooooo. You were sobbing. Horrifically. You made me propose to you all over again because you missed the first one!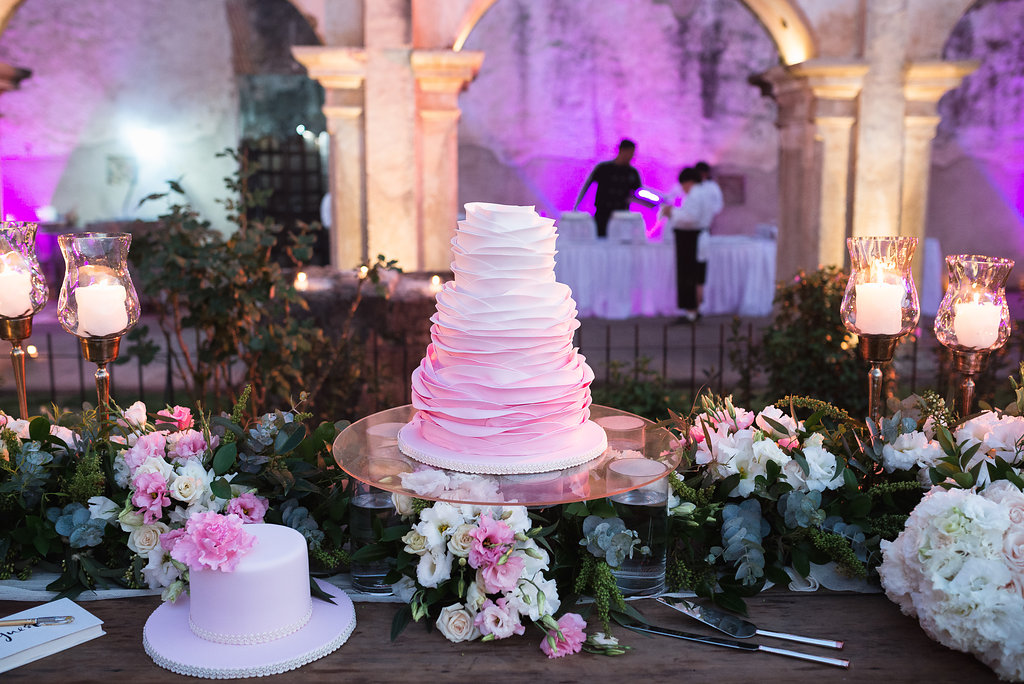 A: *snort laughing* It was perfect and I loved hearing it twice. *smooch*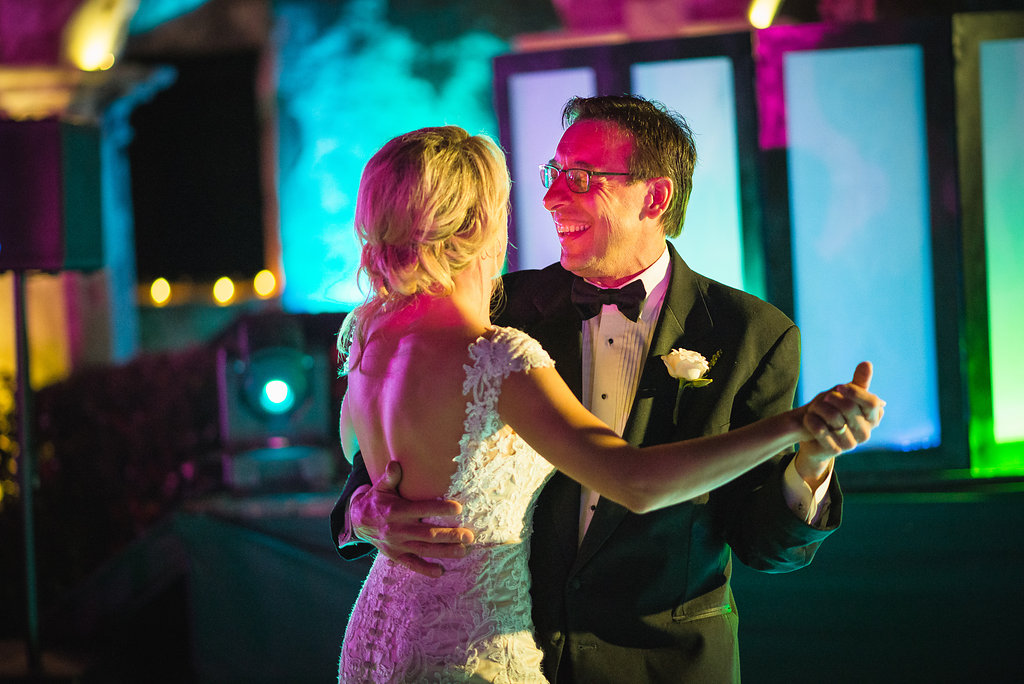 And like their love story…it really was a perfect wedding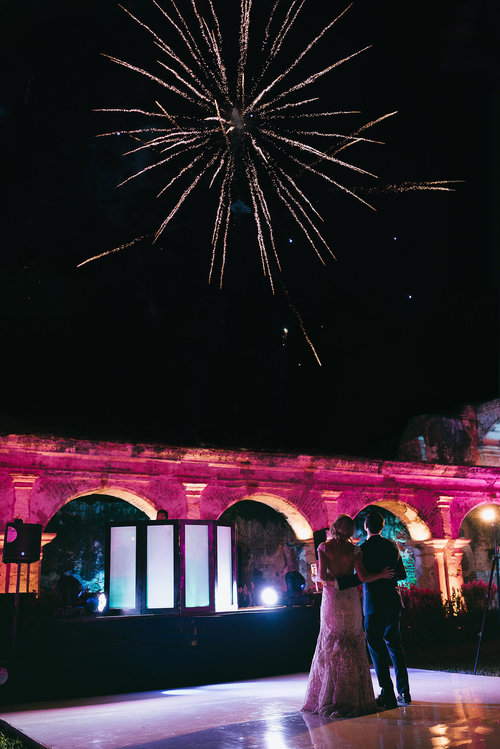 Want an inside scoop of how their dreamy wedding went down? Check out the video below:
VENDORS
Wedding Planners: Décor & Planning
Wedding Venue: Ruins of Santa Clara
Catering: AZADA Catering
Wedding Cake: Sofia Cobian
Spanish Guitarists (Ceremony Music) & Cocktail Jazz Band: IMOX Jazz
Make-up: Jorge Zayas
Hair of the Bride: Feliciano Baltazar (NYC stylist, at Timothy Johns Salon)
Hair of Bridal Party: Ana Guzman
After Party Location: Café No Sé
Guest Concierge (hotel, tourism, transportation): Monica Sosa of GETAWAY Travel
Videographer: Rodrigo Zadro
Photography: Daniel Lopez Perez
Fireworks: Fest Fireworks
Classic Cars: Delta Motors
Coffee Bags Souvenirs: Parma Company
These real weddings will give you major inspo:
This Perfectly Portland Real Wedding Was Anything BUT Basic
The Story Behind This Colorful Wedding is Like a Real Life Rom-Com
8 Great 'Star Wars' Wedding Ideas from Real Weddings