These Mind-Blowing Personalized Paintings are the Ultimate Off-Registry Wedding Gift
Can't bear to buy another place setting? If you're planning to go off-registry in order to give a wedding gift that's totally one-of-a-kind, Marco Santini has got you covered. The oh-so-talented artist's personalized couples portraits are pretty much wedding present perfection. Scroll on to see for yourself why his unique artwork is the sweetest surprise you could give to the happy newlyweds.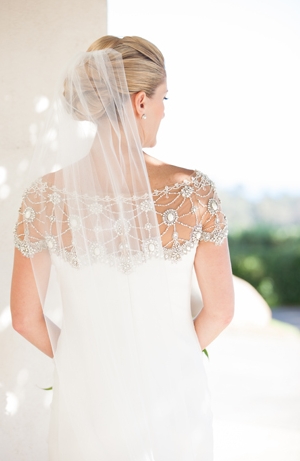 As a firm believer that love is an eternal dance between fantasy and reality, Santini uses his art to depict couples in a dream world that shows the powerful transformations of love. He came up with the genius concept when he wasn't able to attend a friend's big day, but wanted to create an extra special gift. Being a brilliant artist, he created a personalized wedding painting that helped commemorate the  day—and the newlyweds loved it.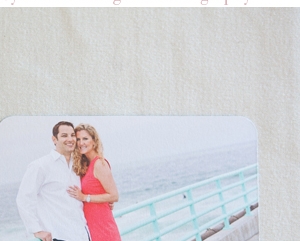 Santini creates the beautiful portraits by printing wedding photographs on matte paper and using paint markers to create fantastical backgrounds. Sometimes, he collaborates directly with the photographer to pick a favorite engagement photo and other times someone in the wedding party sends him a personal favorite. He can even personalize a photo from the wedding itself.
To print, paint, frame, and ship the 11″ x 14″ artwork, Santini charges $500, but custom sizes are also available are an additional charge. Last minute guests can breathe a sigh of relief too, because it only takes one to two weeks from the time he receives the image to the time the painting is delivered.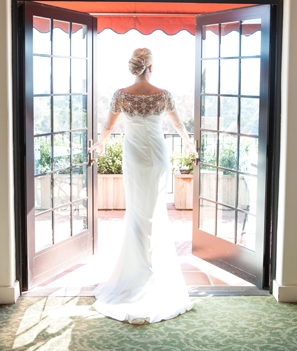 Having been commissioned by guests, wedding parties, brides, and grooms, Santini has found that everyone loves a truly personalized gift, and we couldn't agree more!
–By Rachel Fong
Check out more non-traditional wedding ideas below:
8 Non-Traditional Bachelor Party Ideas
14 Non-Traditional Ceremony Ideas You Need to Work Into Your Wedding
4 Quintessentially Quirky Wedding Ideas for Awesomely Alternative Couples