13 Items You Can Put on Your Wedding Registry Instead of Asking Santa
Today's couples are completely reinventing the wedding registry. From honeymoons and houses to experiential activities, you can pretty much ask for anything your heart desires. So, this year, instead of looking to Santa for that new high def TV and waterproof camping tent, consider adding them to your wedding wish list along with these "but-I-really-want-'em" items.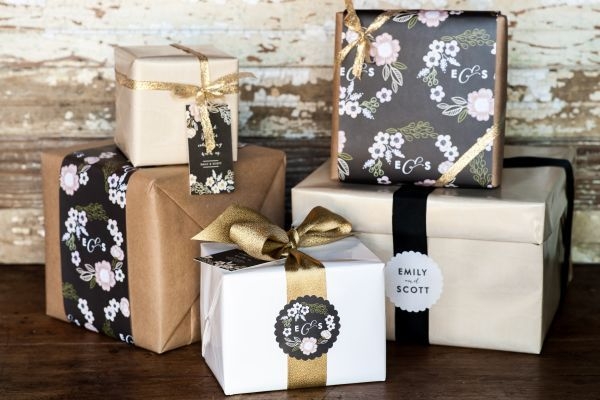 Photo by Melanie Duerkopp
13 Non Traditional Wedding Registry Items
1. A really good camera. Yes, it's pretty impressive what your smartphone can do. But you'll definitely want to ask for a top of the line camera to take photos during your honeymoon, the holidays, and other newlywed milestones. We suggest Nikon DSLR's like this one!
2. A big fancy TV. You register for other housewares, so why not register for a new television? If you're total Netflix addict, you've always got the game on, or you're all about hosting movie nights, then a nice TV is a must. Smart TVs like this one from LG are perfect for smart homes and allow you to use your voice to control light settings and check the weather.
3. Money for your honeymoon or a big trip. Set up a fund for your honeymoon using a site like Honeyfund or HoneymoonWishes. You can ask guests to contribute money for the trip in general or for a specific activity.
4. Sheets (with a seriously high thread count). Now is the time to invest in nicer linens! Register for luxury bedding or sheets you wouldn't typically buy yourself.
5. Some sturdy luggage. You'll need plenty of bags to pack for your honeymoon and all those fabulous trips you plan to take as a wedded couple. Opt for quality luggage that'll last for years!
6. A Fitbit or workout gear. You can absolutely ask for lifestyle accessories like a Fitbit, weights, yoga gear, and workout machines. Plus, guests will love that they can help contribute to your overall wellness.
7. Ultra-specific luxury appliances. From a panini press to a pasta maker to an espresso machine, your registry is the perfect opportunity to add appliances that are a bit of a splurge. They are "luxury" after all!
8. Home decor that wasn't made for a dorm. Beyond registering for kitchenware, you can register for new furniture and home decor. It's totally cool to ask for that bar cart you've been eyeing or all the frames you need to build that killer gallery wall.
9. Handy tools. Chances are that you'll need a few tools around the house, especially if you're getting your first place together or preparing to spruce up your current home. Don't forget to add a drill, a level, and other must-haves.
10. Gear for the great outdoors. If you like to get outside, register for a new tent, cooler, or camping equipment. Your friends and family will enjoy gifting you items that fit your favorite activities (especially if it means they might get an invite!).
11. Helpful (or just fun) online or local classes. As a couple, you can register for classes that'll school you on everything from cooking to wine tasting. It's a great date night activity and you'll walk away with a new skill.
12. Envy-inducing entertaining essentials. From cake stands and fancy serving trays, to flatware and dishes, all aspiring hosts and hostesses will want entertaining accessories that will have guests feeling way jealous at their next dinner party…
13. A food subscription service. Not too into cooking? Or just don't have the time to shop? Register for a food subscription like BlueApron, where all the ingredients and step by step instructions are delivered to your doorstep.
Want more registry ideas?
8 Off-Registry Gifts for the Hipsters In Your Life
10 Wedding Registry Items You'll Still Have in 20 Years
How to Set Up Your Wedding Registry (Because It's Totally Overwhelming)