How to Shop Flea Markets for Your Wedding
So you love the vintage wedding look but don't know where to start? Wake up early next Saturday, grab a cup of coffee, and head to your local flea market to get the best deals on vintage goods! With upcycled details and shabby chic decor making waves in the wedding industry, there is no better place to find wedding decor and favors than your local flea—plus repurposing is great for the environment! We've rounded up tips on the best flea market finds, estimates of what you can expect to pay, and general advice for antiquing. Check out our guide to shopping flea markets for your wedding.
Popular Vintage Goods for Weddings
1. Vintage china. Mix-and-match china is definitely having a moment. We love the look of serving dinner or dessert on a plethora of patterned plates or giving guests an antique tea cup filled with a gold frosted succulent as a wedding or shower favor. If your caterer has given you the green light on purchasing your own china for your wedding, make sure to buy a few extra pieces; you never know how many guests you'll end up having on the big day, or if pieces will get broken in the serving process. Also be sure to leave yourself enough time to collect all of the plates — it will probably take multiple trips to the flea to get the quantity you need, especially if you're particular about colors and styles.
Estimated cost: Depending on the city in which you're shopping, you can expect to pay between $1-$6 per dessert plate and $2-10 for a dinner plate. While this is a pretty big investment, you can use the dinnerware after the wedding or donate it to a local charity organization.
2. Cake stands and serving ware. Beautiful vintage cake stands made from elegant materials (like jadeite, pink depression glass, and milk glass) have been popping up at many weddings and wedding showers recently. Because of their popularity, these stands can be harder to find and can be pricey, especially if you are serving multiple cakes.
Estimated cost: For an authentic jadeite cake stand, expect to pay between $50-$125; other glass cake stands range in price from $20-$60. You may consider them investment pieces for future parties and events you'll host with your new spouse; if you don't think you'll have another use for them, you can plan to sell them after the wedding.
3. Keys and trinkets. We love the look of using vintage keys or small trinkets (think buttons, silverware, and printing press keys) as part of your escort card display.
Estimated cost: For these items, aim to pay as little as possible since you'll need a bunch. Find a dealer with tons of trinkets and try to bargain for a bigger lot. If you're going to buy 25 keys instead of just one, you're sure to get a better deal. This is a time to negotiate!
4. Vintage suitcases. Travel-themed wedding? Vintage suitcases can be perfect as part of your decor, or for holding cards and gifts. The key to saving money on vintage suitcases is to look for well-loved luggage. Find suitcases that are a bit tattered or aren't in mint condition. This will ensure that you aren't overpaying for the suitcase, you probably won't use it for anything other than decoration anyways.
Estimated cost: Expect to pay between $30-$100 depending on the size, condition, and era of the case. You may also have better luck getting a bargain if you hit Goodwill and the Salvation Army instead of flea markets and antique stores.
5. Vases, vessels, and crates. Looking for unique vessels for your centerpieces? At the flea you'll find everything from multifaceted vases and upcycled cans to wooden crates and Mason jars. Before buying anything, consult with your florist, caterer, or other vendors to make sure that they can accommodate your custom vessels and decor.
Estimated cost: Prices of these items can change based on what exactly you're buying, but be prepared to pay around $2-$10 for Mason jars, $10-$30 for vintage crates, 50 cents to $3 for cans, and around $10 for vases.
6. Armoires and dressers. Many couples opt for using vintage furniture in their weddings; dresses and armoires are often the perfect place to set out cards, desserts, or favors. If you're up for a DIY project, refurbish one of these pieces to fit your wedding style. Use the piece in your house afterwards as a sentimental reminder of your big day!
Estimated cost: For a piece that needs a little TLC, you'll pay between $50-$100. A refurbished piece will run $100-$400. If everything at the flea is out of your budget, check Craigslist for better prices.
7. Windows and doors. Windows and doors are perfect for DIY wedding signage and escort card displays, but they usually require a little work! An easy way to upgrade? Paint your salvaged door with chalkboard paint.
Estimated cost: Anywhere from $5 to $30 depending on the condition. If you're not up for the flea market, we recommend purchasing these items at your local Habitat For Humanity Restore, our go-to for thrifty construction finds.
8. Typewriters and cameras: These beautiful vintage pieces are a great addition to your wedding decor; if you're lucky enough to come across one of these gems, we suggest using them as decor for your guest book table or photo booth.
Estimated cost: Vintage typewriters and cameras are lovely, but pricey! Buying a working typewriter could cost you anywhere from $50 to $500, and a vintage camera can run around the same cost. Before you shell out, see if any older family members have one sitting in their attic.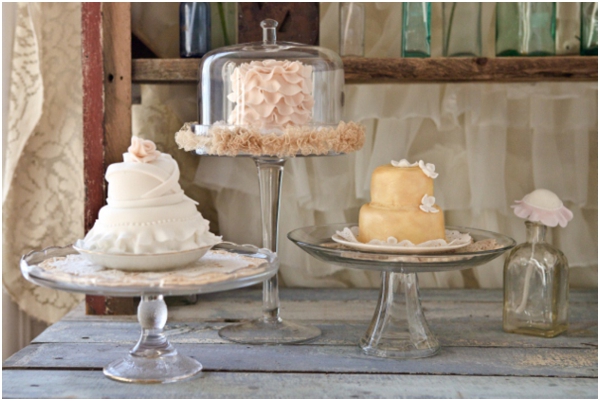 Photo by Kim Winey Photography on Heart Love Weddings
Ready to start shopping? Here's our nine pieces of advice for making the most of your day at the markets.
1. Do your research. If you're looking for something specific, see what it's going for on eBay or Etsy before you head out. (And don't forget to calculate the shipping costs!)
2. Get there early. The early bird gets the best swag!
3. Make it a date. Bring your significant other or a friend along; it always helps to have a second opinion, and rummaging through lost treasures is a fun way to spend a Saturday.
4. Bring cash. While some larger flea market vendors accept cards, most only accept cash, so come prepared!
5. Be ready to bargain. Most vendors are willing to negotiate, especially if the piece in question isn't a prized antique. Always politely try to negotiate for a lower price; your wedding budget will thank you.
6. Make the rounds before you buy. Walk around the flea before buying any big-ticket items; you might find something you like better at a cheaper price. Remember you can't return most flea market finds.
7. Arrange the right transportation. Thinking about buying bigger furniture items? Make sure you bring a large vehicle or can arrange for transportation of the piece.
8. Think beyond the big-city flea market. While urban flea markets often have amazing finds, they are typically much pricier than a small-town antique store. All of our editors make a point to hit the flea markets and antique shops when they head to their hometowns; the selection is typically great and the prices are better.
9. Make friends with the dealers. If there is a dealer who has a lot of items you love, get to know them, let them know what you're looking for, and leave them your name and number. Then they can give you a head's up if they come across that perfect piece you're hunting for.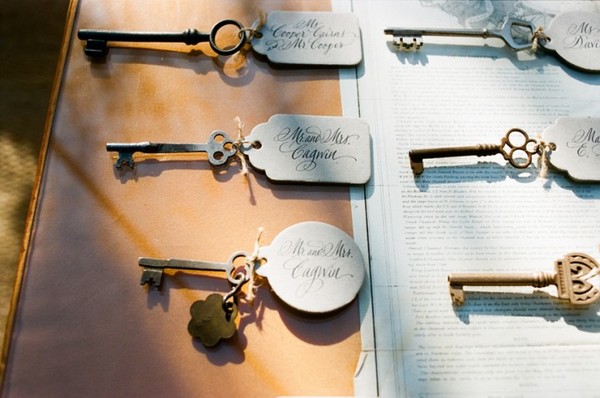 Photo by Laurel McConnell Photography on Inspired By This
–By Alexia Conley
Get more environmentally friendly nuptial ideas on Loverly
5 Eco-Friendly Takes on Popular Wedding Trends
7 Wedding Decor Items You Can Totally Reuse in Everyday Life
Farm-to-Table Wedding Ideas for the Budget-Conscious Couple
Planning a wedding? Get the step-by-step wedding planning guide.