3 Halloween Proposal Stories That Will Warm Your Heart
Happy Halloween! Halloween is a time of mischief, tricks, and treats. We asked HowHeAsked to share their favorite Halloween proposal stories.
Here are three halloween proposal stories that are sure to make you smile: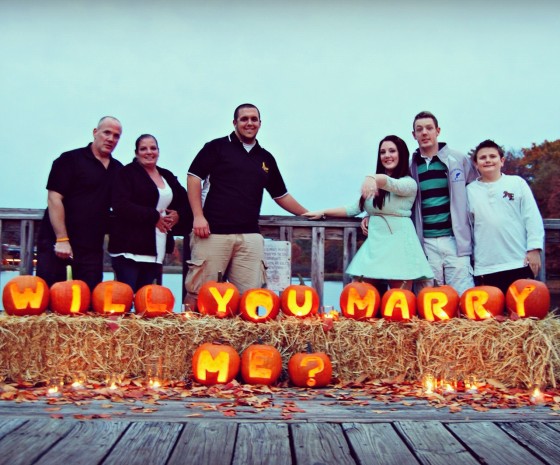 How He Asked: "Tyler and I had been dating for coming up on six years, and he proposed two days before our sixth anniversary (it was supposed to be on our anniversary, but Hurricane Sandy came along last year). The fall was always 'our season' — he asked me to be his girlfriend in the fall, he played football and I was on the cheerleading team in the fall, we loved pumpkin picking and haunted houses — it was just our thing. So my adorable fiancé thought up the perfect fall proposal. He and two of his friends took eight hours out of their lives and carved 'Will you marry me?' into pumpkins! Tyler had his best friend and my best friend set up the pumpkins on hay at our favorite lake, with candles lit up in the pumpkins as well as around them.
Tyler told me we were going out to a fancy dinner (so I would be dressed in my favorite dress, what a great idea!) and then rather than making the turn for the restaurant, we pulled into our lake. We walked around the whole lake and the whole time he was telling me beautiful things, and then I see it. 'Will you marry me' lit up in pumpkins and by the time I had time to scream, Tyler was on one knee. All he could get out was 'will you marry me' before I tackled him with a hug. After the normal kissing and gawking at my beautiful (dream) ring I said OMG I have to call my mom, and he said, 'No you don't, there she is!' He had our families there! AND a photographer catching everything! I know every girl thinks her proposal is the best… but mine is perfect to me!"
How he asked: "Jessica is a big Halloween fanatic. Every year on Long Island there is an event called 'The Rise of the Jack-o-Lanterns' at Old Westbury Gardens. Over 5000 carved jack-o-lanterns light up the gardens of this historic estate. Jessica is a huge Halloween enthusiast invited all of her friends to attend the event. She didn't know, but I was working with the staff of 'The Rise' to make this a very special proposal. As we walked through the dazzling display, everyone would stop and take pictures of the carved jack-o-lanterns. Jessica had stopped to take a picture of one display and when she turned back to the group she didn't see me anywhere…
It was very crowded and dark so she began to call my name. My brother Tommy pointed out a very special carved pumpkin by saying 'Hey, Jess, look at that pumpkin!' I was standing right in front of a pumpkin that read 'Jessica will you Marry Me?'"
How he asked: "Last October 2012 Jorge took me to a pumpkin patch for my first time, we had such an amazing time. So every year Jorge's family go to Donaldson Farm in New Jersey and this year he invited my family to go with them too. At first, my parents were saying no they couldn't go (because of church plans), but on Sunday morning my mom said that they were going to come and that she was so excited. We ended up being an hour late to the farm, and Jorge's dad had gotten a horse and carriage that waiting for us to get there! We all finally got there and were all excited to see each other – so we started to take pictures. My parents and his parents were holding a pumpkin and I was like 'oh let me grab my phone' while I looked down to grab my phone. I looked up and they turned the pumpkin around and it said 'WILL' and 'YOU' then I started to look around for Jorge and when I saw him he had the 'MARRY ME?' pumpkin."
Awwww! Good luck to anyone proposing this Halloween…and be sure to tell us all about it if you get engaged!