7 Unique Group Activities that Will Kick Off Your Wedding Weekend in Style
Your wedding rehearsal will be mostly business, but that doesn't mean you can't take a few hours before it to cut loose with your bridal party and close family! We love the idea of planning a fun and unique activity to partake in pre-rehearsal; it will help everyone get to know each other and will help you start your wedding weekend off right. Here are seven unique ideas to try.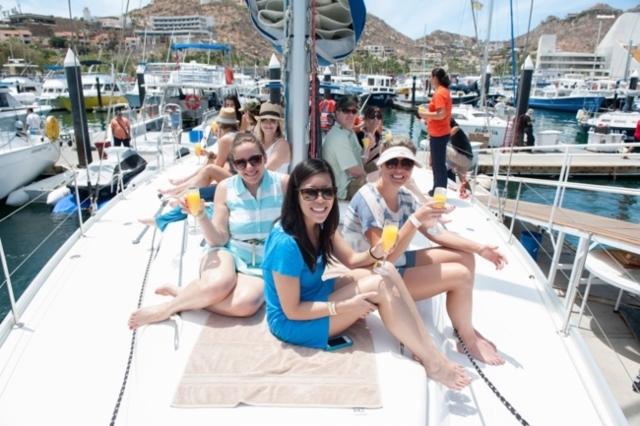 Photo by Mikkel Paige Photography on Fab You Bliss via Lover.ly
We recently heard of a bridal party who headed to a family country house where the couple had set up a skeet shooting range. Many of the bridesmaids and groomsmen had flown in for the event and were not well acquainted, but the couple aimed for the stars and won the day! For those not into gardens and guns, a mini-bar with fall foods was set up in the barn. We love the idea of choosing an activity that has meaning in your family; it makes everyone feel like part of your crew.
You can bet on the fact your family and friends alike will have a good time. This can be done cost-effectively, too; use seasonal foods or fake casino chips as currency to avoid friction—this way, everyone wins.
Photo by Esteban Lopez on Unsplash
Weddings have everyone looking to the future, so it can be a great time for fun predictions! If a psychic would go over well with your crowd, source a local one to see what's in everyone's futures hold.
4
Wine tasting or brewery tour.
If there's a winery or brewery near your wedding venue, invite your bridal party and their spouses to head there early on the day of your rehearsal. For bonus points, add in a "snack hour" to make sure no one gets too tipsy to get through the wedding practice run later.
Your nearest and dearest have put in the work to make sure you're feeling your best; now turn the tables and invite them to a day of manicures, pedicures, and pampering of their own. It will leave everyone relaxed and rejuvenated and can set a mellow tone for the entire celebration.
Photo by Chris Jarvis on Unsplash
Getting married near the water? Consider pulling up the anchor and organizing a group boat tour of the area. We love the idea of a boating brunch, which will give your bridal party a chance to dip into the water and get a dose of Vitamin D that's sure to put them in a good mood. The rest of the weekend will go swimmingly after this unique group hangout.