15 Food Trucks You're Definitely Going to Want at Your Wedding
Yes, wedding food trucks are in! And it's no wonder why. There's just something so satisfying about freshly cooked fare served out of a fun-looking truck. And whether you're relying on a mobile eatery for dinner or you're wheeling it out for a fun late-night snack, guests are sure to be lining up.
 So, what's the hardest part of bringing a food truck to your big day? Picking one! After all, there are so many wedding-worthy options across the country that it's hard to narrow down your selection. If you're looking for a little help, we've put together our top picks from 15 major cities in the U.S. Get ready for a delicious ride…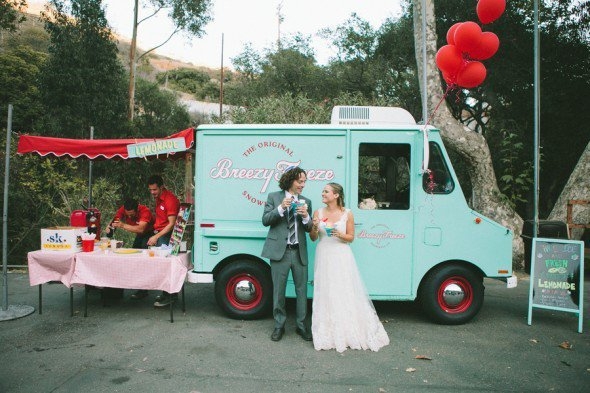 Photo by Laura Goldenberger on Rustic Wedding Chic via Lover.ly
1. New York: Kimchi Taco Truck
The Kimchi Taco Truck has been repeatedly touted as one of the top food trucks and some of the top tacos in the Big Apple. And for good reason — the fare is a little out of the ordinary. Instead of classic Tex-Mex flavor, Kimchi's tacos and burritos take on Korean flavors. From Korean Fried Chicken Tacos to BBQ Nachos, your guests will love the mix of flavors.
2. Los Angeles: Coolhaus
This food truck's motto? "Architecturally-inspired gourmet ice cream" so you know you're going to have some cool dessert photos in your wedding album! Guests will love choosing their own unusual ice cream flavors flavors (like "beer & pretzels" and "chocolate chipotle") and cookies (like "potato chip & butterscotch" or classic chocolate chip) to form a signature ice cream sandwich. Plus, the truck will print edible wrappers with your wedding colors, monogram, or another design. (P.S. Coolhaus trucks roam the streets in NYC and Dallas, too!)
3. Chicago: Chubby Wieners
Since deep dish pizza isn't exactly food truck- or wedding-friendly, you'll have to go with another Chicago favorite: hot dogs! The Chubby Wiener Wagon is famous for its classic dog — often cited as one of Chicago's best — but burgers, chicken, and more are crowd-pleasers, too.
4. Houston: Bernie's Burger Bus
First things first, this one isn't technically a food truck. It's a converted yellow school bus — how adorable is that? And the menu follows the school theme: Burger names include "The Principal," "The Substitute," and "The Cheerleader." Even better? All the condiments are totally homemade. While we LOVE this idea for a teacher's wedding, all guests will love the finger-licking-good burgers.
5. Philadelphia: SPOT Gourmet Burgers, Steaks & Pork
Of course, Philadelphia's many food trucks serve tons of different cuisines. But when in Philly… your guests are gonna want a cheesesteak. Fulfill their craving with Spot. This food truck's classic cheesesteaks have been named some of the best in Philly, and they'll make for a great casual dinner or late-night snack!
6. Phoenix: Mama Toledo's
This food truck won't bring dinner for your guests, but it's perfect for dessert or even a brunch wedding! Coffee is always on the menu, but it's the sweet and savory pies that customers rave about. Guests can order slices (a la mode!) or personal-size mini pies in tons of flavors — key lime, triple chocolate, banana creme, apple, the list goes on! Yum!
7. Miami: HipPOPs
Any Florida wedding calls for a cool treat. In Miami, call HipPOPs to the rescue! These gourmet (not to mention healthy and fresh) popsicles are far from what you get from an average ice cream truck. At your wedding, guests will build their own pops: They can choose from tons of gelato, sorbet, or frozen yogurt flavors, then dip them in chocolate and add toppings like crushed candies and nuts. The best part? Since the pops are all on a stick, they're easy to bring on to the dance floor!
8. San Francisco: Bacon Bacon
As if one helping of bacon wasn't enough, Bacon Bacon loads the stuff onto every dish on its menu, from the sandwiches to the sides and desserts. Just make sure there aren't too many vegetarians attending the wedding — even the veggie option is called "The Almost Veggie" and has a few strips of bacon. For the bride? Go with a bouquet of bacon — no really, that's on the menu.
9. Indianapolis: Der Pretzel Wagen
While this Indy food truck's claim to fame is its pretzel bun sandwiches, we're more drawn to the classic soft pretzels. Though the sandwiches could work for a casual wedding, the pretzels — either coated in cinnamon-sugar or salted and served with melty cheese — would make an awesome addition to a cocktail hour or the perfect late-night snack to fuel the dance floor.
10. Charlotte: The TIN Kitchen
This truck has had it's 15 minutes of fame: It was recently featured on The Food Network's "Diners, Drive-Ins and Dives" — so you know it's gotta be good. At this truck, your guests will enjoy fusion dishes, from classic chipotle quesadillas to Thai coconut shrimp tacos and Korean BBQ sliders. Needless to say, this truck will cater to all your guests, no matter how picky or adventurous.
11. Detroit: Mac Shack
When a pang of hunger strikes on the dance floor, you and your guests will be thrilled (and grateful) to have fueling mac and cheese at the ready. But the Mac Shack's classic dish isn't always traditional. You get to choose three innovative mac and cheese varieties — will it be the creamy five-cheese blend, the bacon-packed pasta, the buffalo version, or something else?
12. Seattle: Sam Choy's Poke To The Max
Bring a touch of the tropics to your wedding! At a summer soiree, this teal food truck will fit right in, and in the cooler months, the Hawaiian cuisine will warm your guests up. As for the menu? You'll get tropical sandwiches, salads, musubi, and, of course, poke.
13. Denver: Basic Kneads
Take our word for it: Nothing makes guests happier than a surprise slice of pizza halfway through the night. But don't just order a bunch of soggy pies — with Basic Kneads, you can serve fresh, delicious wood-fired pizzas. Choose up to five pizza styles — from margherita and veggie to buffalo and Thai, you'll have a hard time choosing just five.
14. Washington, D.C.: Sweetz Cheesecake Big Blue Truck
Cheesecake is a dessert favorite, but it's not super easy to serve at weddings (especially because traditional cake is expected). But if you're dying for the creamy treat in the nation's capitol, Sweetz Cheesecake's mobile truck is the way to go. With a ton of flavors (strawberry! cookies and cream! tiramisu!) and individual cakes or slices, this is the perfect way to serve the dessert you're craving.
15. Boston: The Cod Squad
A Boston wedding basically requires some amazing seafood — and why not serve it out of a food truck? Fans swear by the crab cake sandwiches and lobster rolls (we think you guests will gush over them too). But with chowders, salads, and more fresh seafood favorites like fish and chips and calamari, there will be no shortage to feed your guests.
Ready to book one for your big day? Don't miss our handy guide to having a food truck at your wedding!