8 Ways to Make Wedding Planning WAY Easier
Some people want to do as little wedding planning as possible — which totally makes sense considering how much time and energy it can take. If you and your fiancé dread dealing with the details, planning can make your big day feel more like a headache, not something to celebrate. Luckily, there IS a way to have a big day without the big effort — just have an un-wedding kind of wedding! Here are 8 things you can entrust to someone else, do easily or skip completely to help keep your prenuptial planning to a minimum.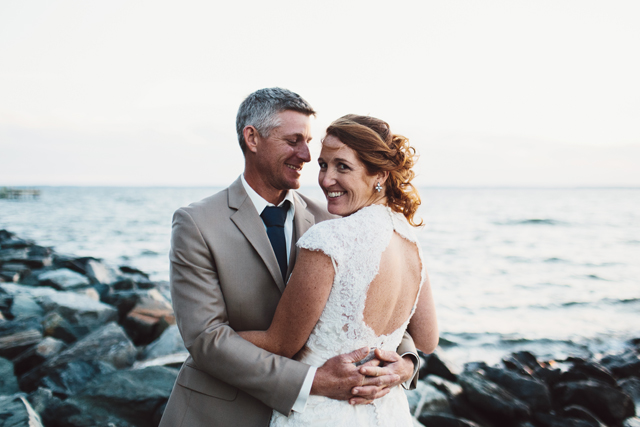 1. The bridesmaid dresses: You have enough shopping to do, so let your bridesmaids take care of their own attire. Mismatched bridesmaid dresses are not only the easiest, most laid-back approach to your wedding party's wardrobe, but it's also very on-trend! All you need to do is make a few specific decisions to help guide your girls — think about the color, fabric, and length, for example — and then let your bridesmaids get their shop on. This is also a good way to handle the groomsmen's attire, too.
2. The floral arrangements: Don't know the difference between peonies and garden roses? Not sure which flowers come in purple? You don't have to (and you don't even need to bother Googling this stuff). That's what talented florists are for! Just fill them in on what colors you like, some of your big day details, when and where you're having the wedding, and anything else that might help clue them into your style. He or she will probably ask a few questions and then be able to take the reigns and create the florals of your dreams.
3. The cake topper: Speaking of flowers, you can have your florist help with this little wedding detail, too. Instead of spending hours looking for the proper topper, just ask your florist to supply some flower to your baker for the top tiers of the cake. It's an easy way to make sure your cake goes with the rest of your wedding and means you can cross that item off your to-do list, stat! It's a win-win, really.
4. The transportation: Don't want to worry about getting your guests from the ceremony site to the reception? Then choose a venue that lets you host both portions of your day in one place, like a hotel, resort, or private estate. Not only do these venues usually have enough space for both the "I dos" and the dance party, but they also tend to provide at least some lodging. This will eliminate the need to provide transportation altogether. Obviously, this doesn't work if you're having a religious ceremony and need two different venues. In that case, you can opt to provide guests with the phone number for a few local cab companies (list 'em on your wedding website!). That'll save you time, money (no limo or shuttle fees), and quite a few potential headaches.
5. The shot list: Photography is the top priority for many couples — it's what you'll have to remember the big day by for years to come! So it's important to make sure you get all the pictures you'll ever want. But aside from the posed family shots, you don't really need to make a detailed list of photos you want throughout the day. A skilled and experienced photographer should already have a mental list of images to capture. If you're a little worried but don't want to think too hard, we've already done the legwork for you here, here, and here.
6. The wedding website: Personalized wedding websites totally help streamline the process of spreading the important information to all your guests. But making one from scratch can be REAL overwhelming, so why not use a customizable template? All you have to do is choose a style that fits your personality, change the font, add some photos and big day details (like your venue and registry info), and voila — you're all set.
7. The save-the-dates: While paper save-the-dates can be a cute way to announce your upcoming wedding, this is 2017. We're living in the digital age so consider sending out an email instead! Some wedding websites let you send out an electronic announcement to your guests letting them know about your big day. Plus, you can use some of them to easily collect mailing addresses via email and manage all your RSVPs online, too. Who needs a spreadsheet?! If there are any guests that don't use email (hey there, grandma!), you can always send them something the old fashioned way…or call 'em up.
8. The ceremony seating plan: While you definitely want to take the time to put together a seating chart for your reception, the ceremony is a whole different story. You can make a cute sign that reads "choose a seat, not a side" or just have your ushers ask people to sit where they please on the actual day. Tell your VIPs (mainly your family and anyone that's speaking during the ceremony) to sit in the first two rows if that's important to you.
Browse more wedding planning ideas on Lover.ly!
How to Talk to Your Spouse-to-Be About Your Wedding Budget
7 Hacks to Make Your Wedding Instantly Cheaper
You NEED to Invite These 10 Guests to Your Wedding