4 Creative Ways to Personalize Your Wedding Dessert You Haven't Thought Of
Weddings are all about showing off your personal style these days and a great place to let your creativity run wild is with your wedding dessert—especially because there are so many opportunities to break outside the box (er, traditional tiered cake).
Here are some new ideas for your dessert table that will give your guests—and you!—a sweet experience they'll never forget.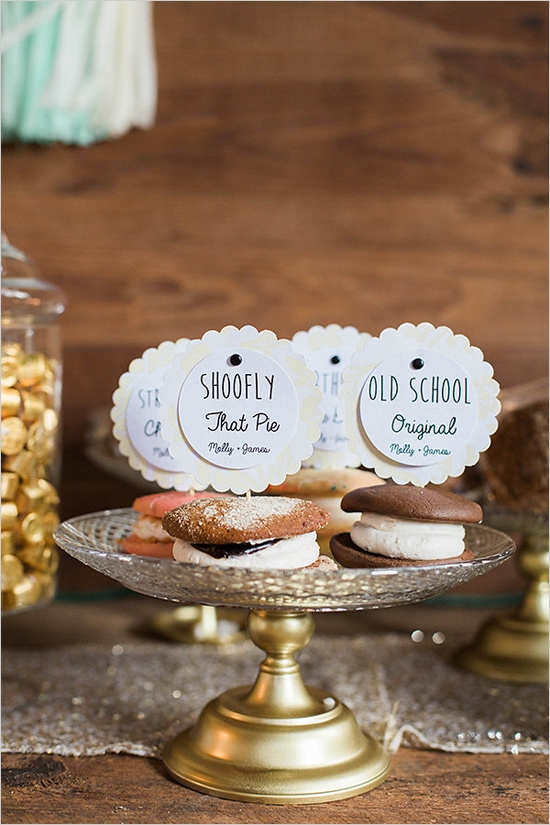 Photo by: Ashley Giffin Photography 
1. Use a family recipe.
Whether it's the chocolate chip cookies your mom made when you were a kid or the lemon spice bundt cake your mom-in-law-to-be makes every Thanksgiving, serving these memory-filled foods will allow you to include some family flair at your wedding. Not only will you make the person famous for the sweet treat feel special, but you'll get to share important food-related memories with your wider circle of family and friends via the dessert you serve, allowing everyone appreciate and share in the deliciousness of the treat.
2. Tell a story.
Serve something that's meaningful to you two. Maybe you ate ice cream sandwiches from a particular place in town on your first date or you've celebrated every one of your anniversaries with crème brulee. Be inspired by a sweet detail from your relationship and run with it for your wedding. Display your dessert alongside a framed written version of the story behind it, which will give your guests extra insight into your relationship and make eating the confection all the more special.
3. Show your story.
Still love the old-school tiered cake? (It is a classic, after all!) A new trend in cake making is to create a "blank" cake using white fondant and projecting images onto this canvas. You can actually play a slideshow of your relationship right on your cake, blending tradition with personal style.
4. Crowdsource your selections.
A fun RSVP idea of late has been to ask your invited guests to share songs they'd like to hear at your wedding on your reply cards. Here's a fun twist: Instead of asking for music requests, ask guests to share their favorite dessert, favorite cake flavor, or even take a vote among a few selections you've pre-selected. This involves your guests in the process and will make them feel super cool on the big day if they see their choice on your dessert table. (Not to mention, doing this can help you figure out how much of which types of desserts would get eaten, which might be key for your planning—and budget!)

Hungry for more sweet inspiration?
How to Save Some Serious Money on Your Wedding Dessert
This Disney Projection Wedding Cake Is SO Rad!