The BEST Wedding Dates for 2017 and 2018
Sporting a new rock on that finger? Um, congrats! Whether you're planning to get the show on the road with a 2017 celebration or you're taking it slow until 2018, here are some of the best wedding dates going down in the next two years (and the easiest to remember, too…). Just make sure to book these popular picks before someone beats you to 'em: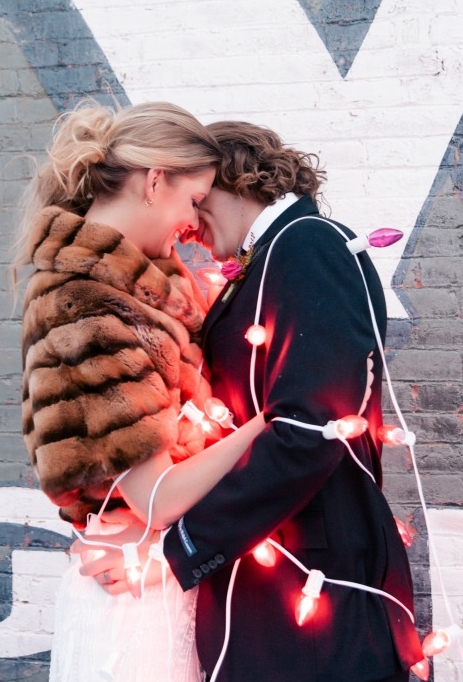 Photo by Oden and Janelle Photography
2017
February 11, 2017. Quick math pop quiz: What's the similarity between 2, 11 and 17? They're all prime numbers! For a truly prime wedding day, you could choose this date or 3/11/17, 5/13/17, 7/29/2017 or 11/11/2017 (all Saturdays).
Friday, March 17, 2017. Want to celebrate like the Irish do? St. Patrick's Day falls on a Friday this year, so you could have a wedding complete with green decor, Irish music, and plenty of Guinness to go around.
Saturday, April 1, 2017. If you love a good laugh and don't mind a few harmless pranks, you'll have tons of fun with an April Fool's Day wedding. But if the thought of something going wrong freaks you out, maybe avoid this date.
Friday, May 12, 2017. Another quiz coming your way: What's the relationship between 5, 12, and 17? Answer: 5 + 12 = 17. This subtle numerical pattern is one that many of your guests won't even notice, but you'll always remember it. (The same goes for October 7, 2017, which is a Saturday.)
Memorial Day Weekend. If you're imagining a weekend-long celebration of your wedding, make it over Memorial Day weekend! This year, Memorial Day is May 29th. Whether you make it official on Friday, Saturday or Sunday, you (and your guests) will get Monday to recover.
Friday, June 7, 2017. If 7 is your lucky number, consider this 7-filled date for your nuptials. It will look nice on your favors, a corn hole board, and on customized champagne glasses.
July 14 or 15, 2017. Want your anniversary to be a palindrome? Palindrome week starts 7/10/17, which falls on a Monday. Make your big day event on the 14th and 15th which are Friday and Saturday, and they're still palindromes. 7/1/17 is another fun option!
Labor Day Weekend. Relish in an extra day of post-nuptial relaxation before heading back to the real world. This year's Labor Day falls on September 4th — go for a wedding on the 1st, 2nd, or 3rd.
Friday, October 13, 2017. Maybe you love the spooky aura around Friday the 13th — or maybe you want to steer clear of the bad luck. Either way, keep an eye out on this date (and August 13 of 2018).
Sunday, December 31, 2017. How fun would it be to ring in 2018 with your new spouse and all your nearest and dearest?
2018
Friday, February 16, 2018. Last math quiz (promise!): What's the relationship between 2, 16, and 18? Answer: 2 + 16 = 18. If you and your S.O. enjoy numbers, this date would be tons of fun and an easy one to remember. The same goes for Saturday, April 14th, 2018, Friday, August 10th, 2018, and Sunday, September 9th, 2018.
Friday, May 18, 2018. How's this for a fun fact? May 18th is the only date in all of 2018 that the 18th day of the month falls on a Friday. While it's not super obvious, it is a cool factoid to keep in your back pocket.
Memorial Day Weekend. Dreaming of a long weekend wedding? In 2018, Memorial Day falls on May 28th, so celebrating on the 25th, 26th, or 27th would be perfect.
Friday, August 10, 2018. Remember the palindrome week we talked about in 2017? There's one in 2018, starting on the 10th of the month, which falls on a Friday.
Saturday, August 18, 2018. Not only is this the only date in 2018 to have the 18th day of the month fall on a Saturday, it's also a palindrome! The number eight is lucky in some Asian cultures because it sounds like the word for wealth and fortune, making this day even more special.
Labor Day Weekend. Labor Day is September 3rd, so you and your guests can spend Monday catching up on sleep. Plus, who doesn't love a September wedding?