15 Wedding Trends We're Grateful For Right Now
As we head into the Thanksgiving holiday, we want to take a moment to reflect on all the wonderful wedding moments that we've been lucky enough to witness this year. From mismatched bridesmaid dresses and two-piece gowns to wedding pies and wedding hashtags, there are so many trends we're grateful for making their mark on the wedding world. In honor of this season of giving thanks, here are 15 trends that all of us here at Loverly just can't get enough of.
1. Dog guests: Because they're way easier to please than human guests.
2. Wedding hashtags: Because they make it so easy to Instagram stalk your own wedding. Avoiding this trend because you don't feel witty? We've got the secret to creating a killer hashtag right here.
3. The ability to register for cool stuff: Because you want a fun things you can use for your hobbies, like a tent or a grill, way more than a new stick blender.
4. Engagement ring selfies: Because unapologetically showcasing your ring has never been more acceptable. Here are some tips for getting that perfect shot.
5. Mismatched bridesmaid dresses: Because not everyone looks great in a halter dress. We love the idea of letting your girls pick something that they'll actually be comfortable in on your big day! Just make sure the dresses they pick look good together…there is an art to the mismatched look!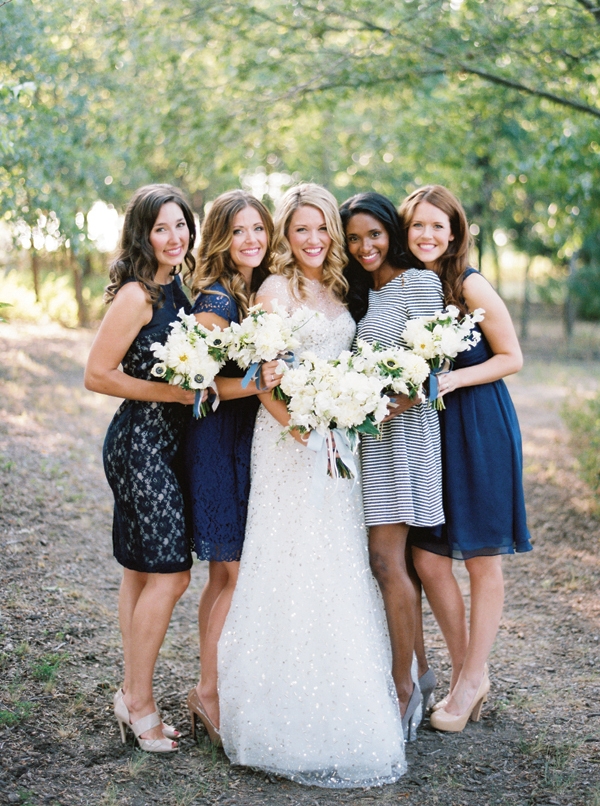 6. Adorable ring bearers and flower girls: Because little kids look awesome all dressed up. Here are 10 other reasons why you should consider inviting kids to your wedding.
7. Floral crowns: Because they're an oh-so-romantic take on the traditional veil. Have your florist craft one of these crowns to match your bouquet for a cohesive look.
8. The rise in surprise proposals: Because just popping the question isn't enough any more thanks to guys like this. Putting in that little bit of extra effort makes the "yes" (and the GIF) so much better.
9. Wedding pies: Because we can only eat so much fondant. This trend is a fun way to get creative with your dessert table. Plus, you can celebrate your family's heritage by having your loved ones contribute their favorite pie recipes!

Photo by Jessica Watson Photography on Inspired by This via Lover.ly
10. Surprise moments: Because weddings were made for tears of joy. Remember when this father of the bride asked another man to help him walk his daughter down the aisle?
11. Two-piece gowns: Because this look is oh-so-feminine and quintessentially bridal. Rocking a two-piece gown is a gorgeous way to embrace tradition without sacrificing your personal style.
12. Unique wedding foods: Because farm-to-table cuisine is so much more delicious than a cookie-cutter meal. Consider having a craft brew bar or source locally-made honey for your favors…it's those personal touches that your guests will remember.
13. The rise of the first look: Because there's nothing sweeter than capturing that intimate moment forever. Whether you hold hands around a corner or actually see each other, staging a first look is a great way to get rid of some of those pre-wedding jitters.

Photo by Andria Lindquist on Bridal Guide via Lover.ly
14. Braids on braids on braids: Because they take any hair do from drab to fab instantly. Find inspiration for your bridal braid here.
15. Inspired floral arrangements: Because there's more to wedding flowers than a bouquet. Yes, they're lovely but we absolutely acknowledge that not all brides want to carry a bunch of blooms on the big day. We think these floral alternatives are pretty special, too.