5 Uh-Mazing Alternative Bridal Party Outfits That Are NOT Dresses
So often, I hear stories about people who are forced to wear attire for weddings that they really aren't comfortable in. It seems like a lot of brides and grooms think that the only way to have a picture-perfect "I do" is by having a wedding party in matching dresses and suits…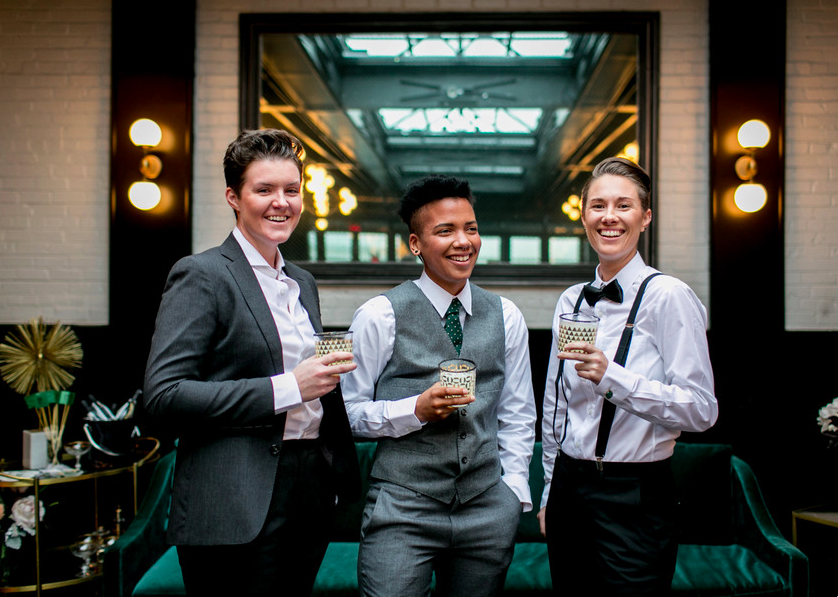 I recently had a sister-of-the-bride email and ask how to handle a situation with her sibling. The bride insisted that her masculine-of-center sister wear a dress on the big day or not be in the wedding at all. The sister equated wearing a dress with the bride-to-be forcing her brother-in-law to wear a dress. It was out of the question.
But, here's the thing… There are so many ways to make your wedding party look cool and cohesive, while still allowing everyone to feel comfortable! And if you're asking someone to take part in one of the biggest days of your life, don't you want them happy, beaming, and feeling like themselves?
Take a look at five alternative wedding party outfits that will have your crew looking and feeling their best:
1. The jumpsuit.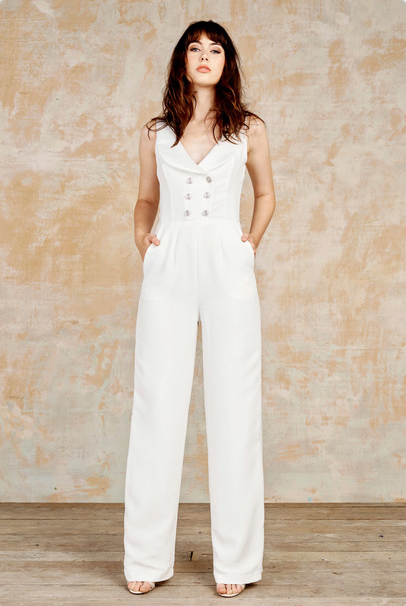 Photo via House Of Ollichon
One of my very favorite trends in weddings is the jumpsuit. It can be a little femme, a little masculine, and there is literally a jumpsuit to flatter every single body out there. House Of Ollichon is rocking my world lately, and I can't get enough of their designs. Every piece is made by hand and the details are just gorgeous. This blush number is perfect for a spring or summer big day.
2. Wide-leg pants.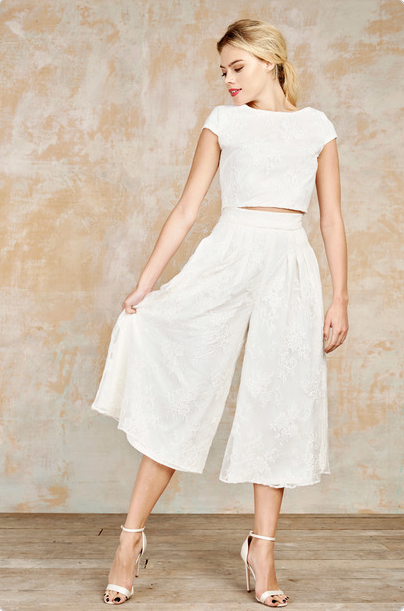 Photo via House Of Ollichon
If you're not keen on a one piece, culottes have been trending for the past year or so. I think they are a great way to add a little variety to your special party because they are versatile and super fun. This lace pair is too cute with a crop top.
3. Mix in bright florals.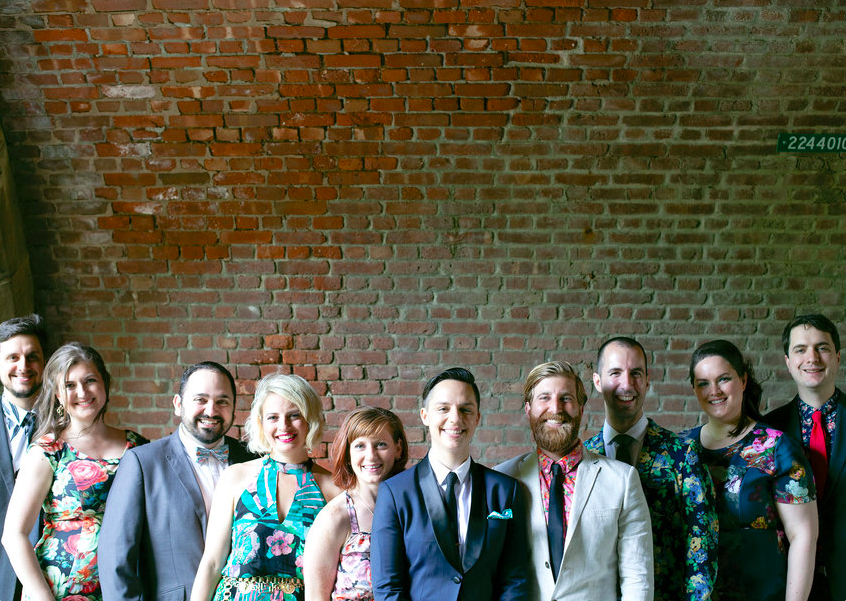 Photo via H&H Weddings
Want your wedding party to look like a rock band? Jen & Lauren told their wedding party to wear large florals. That was the only guidance the wedding party got. The mixed patterns look amazing together.
4. Try a chic blazer and a pair of shorts.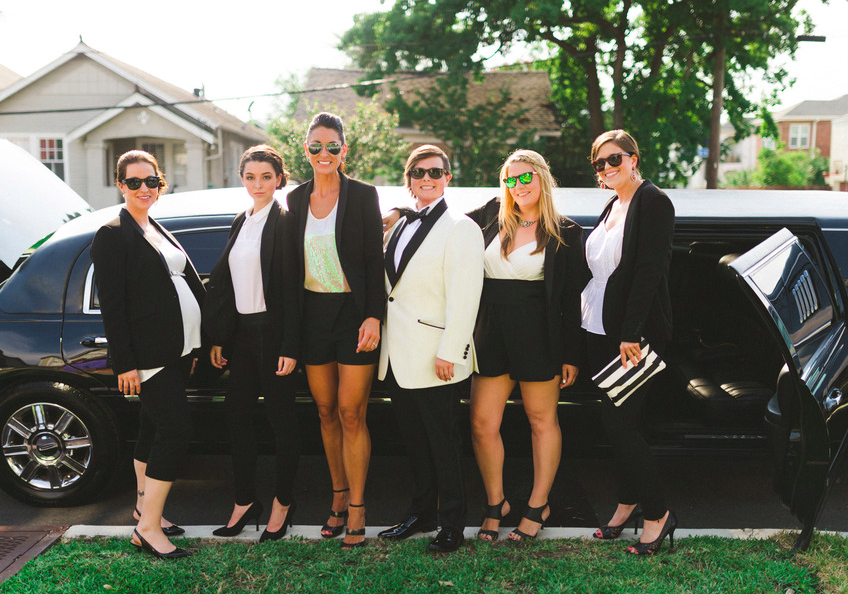 Photo via H&H Weddings
How chic are these ladies? I absolutely adore the mix of pants and shorts with blazers. These babes all opted for a feminine, suited look.
5. Go classic with trousers and suspenders.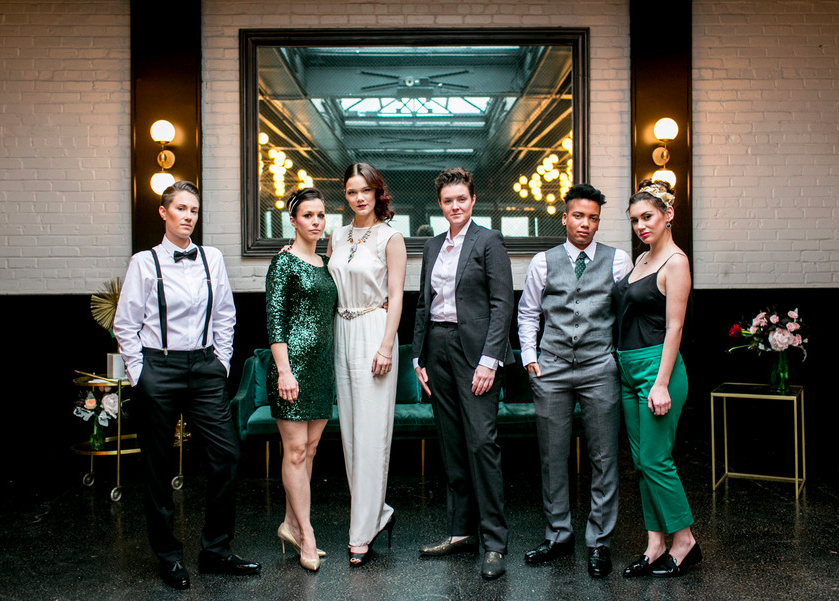 Photo via H&H Weddings
Want to lose the blazers? Pants and suspenders are a great option—a little edgy, yet kind of classic when you add in bowties. Mix in masculine suits (these are from Saint Harridan), jumpsuits, and vests, like this crew, for a look that's cohesive but allows everyone to wear something they're comfy in.
Personally, I love seeing wedding parties made up of mixed genders and all different attire. It makes things exciting, it ensures your big day is perfectly unique, and it allows everyone to celebrate your love as their very best selves!