8 Foods Your Wedding Guests Are Guaranteed to Love
What's one way to make sure your guests are happy? Serve up the food that they love! Whether it's hamburgers and fries, or oysters and champagne, we've come up with eight great menu ideas for your upcoming wedding.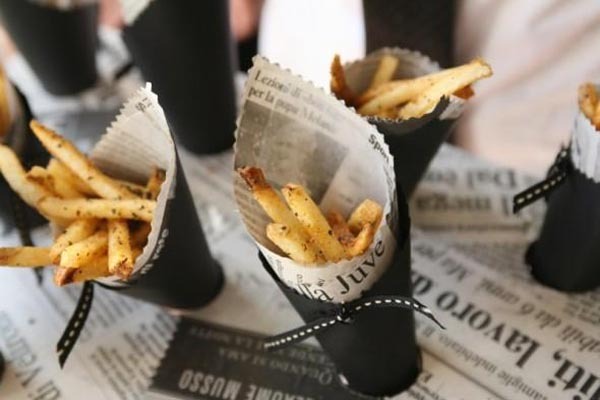 1. BBQ. Who doesn't love a good barbecue? From chicken and brisket to mac 'n' cheese and coleslaw, these backyard favorites are sure to please everyone. Just make sure you've got plenty of napkins or wet naps on hand – this is a roll-up-your-sleeves type meal.
2. Sliders. Chicken, beef, salmon, or veggie – these little sandwiches can be easily eaten with one hand at standing receptions, and guests can sample a few without feeling too full. Just make sure there are plenty of options for your non-meat-eating guests.
3. Pizza. This wedding favorite can be as fancy or as simple as you like. Top slices with proscuitto and fig and cut them into bite-sized squares, or order classic pies from your favorite pizzeria. Odds are, everyone will have a go-to slice that they like.
4. French fries. What's not to love? From waffle fries to shoestrings, serve them wrapped up in paper cones. Then, leave out salt, pepper, and spices and plenty of toppings to allow guests to dress their own. Think beyond ketchup to truffle oil, cheese, and aioli.
5. Interactive food stations. Think taco bars, DIY cocktail bars, and chocolate fountains. Guests will love the hands-on experience of creating their own treats.
6. Guacamole bar. Not ready to ask guests to take part in the cooking? Hire a chef to man a guacamole station, and let guests choose hot, medium, or mild levels of spice while someone else does the mixing.
7. Oyster bar. These beautiful seafood bars are definitely growing in popularity at summer weddings. Set atop a large table of ice, these tiny crustaceans can be shucked open by a server behind the bar, and served with a side of cocktail sauce or vinegar.
8. Late night milk and cookies. As a grand finale – and a reward for dancing the night away – serve up a classic, sweet treat of milk and cookies. Have a waiter carry a tray of chocolate chip cookies and small glasses of milk, and then watch your guests smile at the nostalgic and welcome finale.
Your next big task? Keeping all of this delicious food off of your wedding gown…
— By Kimberly Watson