6 Sweets That Make Great Favors
Food and sweets are a wedding favor favorite for good reason — unlike random trinkets, food is a gift your guests will actually enjoy. But even if you have your heart set on a yummy flavor, you can't necessarily hand out your favorite dessert. After all, it's pretty much impossible to give out ice cream or fondue as a favor. Instead, stick with these easy-to-package treats.
1. Peanut butter, jelly, honey or a mini-pie in a jar.
Anything packaged in a jar makes a great favor for a few reasons. First, it's super easy to dress up a jar and make it match your wedding style. Secondly, if you use an actual canning jar, whatever's inside will stay fresh for a while — which means you can assemble the favors well before the big day.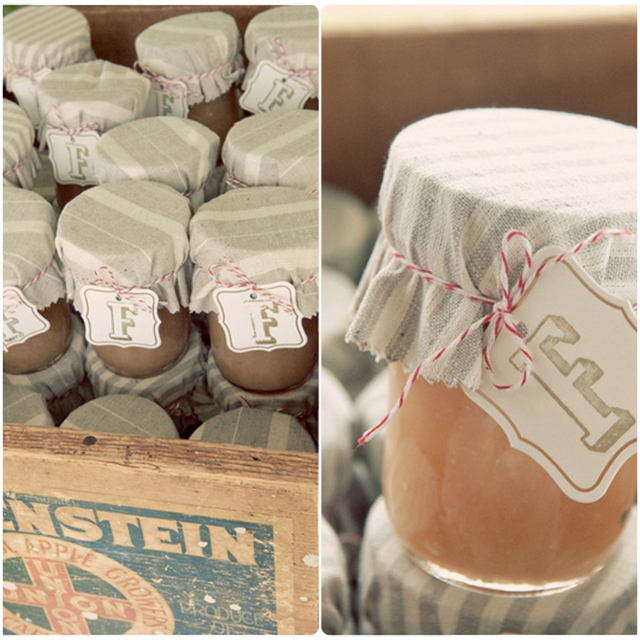 Photo by Steep Street on Engaged & Inspired via Lover.ly.
2. Rice Krispie treats.
How cute are these heart-shaped treats? Rice Krispie treats are easy to make if you're going the DIY route. However, if you're having a baker make them, they're also a great inexpensive option. Plus, you can shape them however you like — hearts are a classic option. Or, you can opt for you and your S.O.'s initials.
Photo by Evermine Occasions on Engaged & Inspired via Lover.ly.
3. A candy bar.
Candy bars do double duty: They're a form of quick entertainment at your reception, giving guests something to do between courses or while taking a dancing break. Plus, if you give guests a bag to hold their candy, you've got favors, too! We love the idea of picking candy to match your color scheme — then it even serves as a decoration.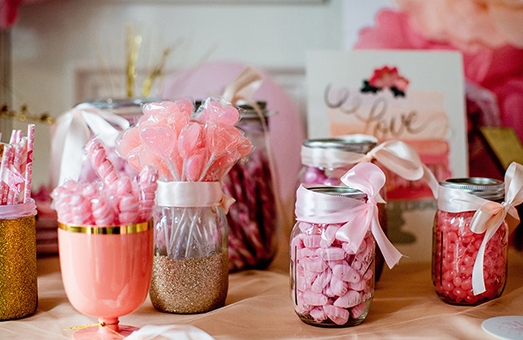 Photo by Eppel Photography on Wedding Chicks via Lover.ly.
4. Pre-packaged s'mores.
A totally assembled s'more would be a major mess on your favor table, but packaging all the ingredients is a fun option for a summer reception. Bonus points if you have a bonfire at your bash, so guests can get to toasting marshmallows right away.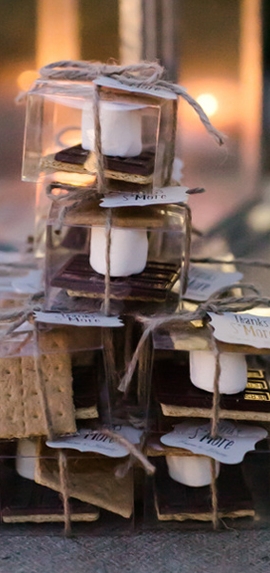 Photo by Brit Rene Photo on Oh Lovely Day via Lover.ly.
5. Macarons.
For a super trendy and super cute option, package up a few macarons in a small box. You can even pick colors to match your wedding palette. These cookies can get a little pricey, so you might want to save this idea for a bridal shower or a smaller event.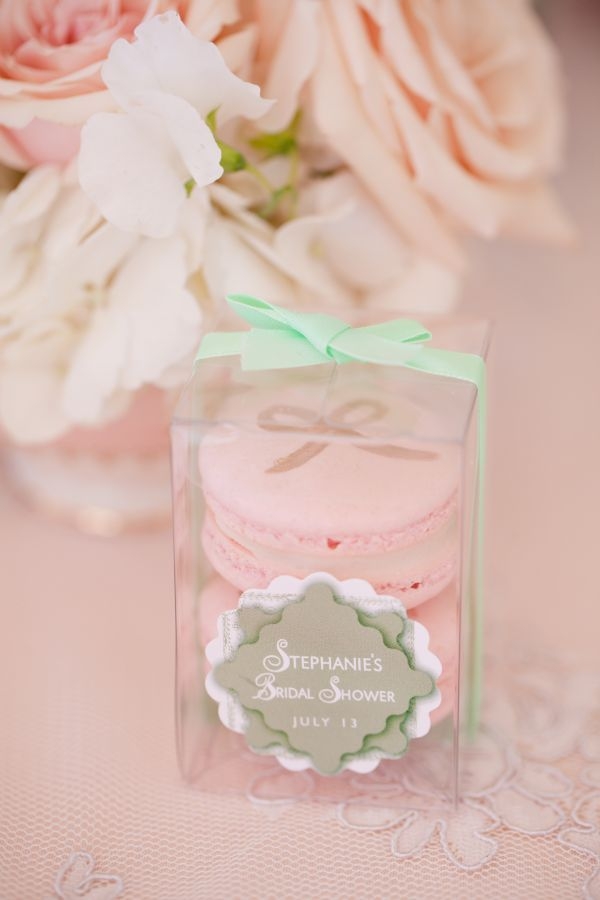 Photo by Chris & Kristen Photography on Inspired by This via Lover.ly.
6. Mini bottles of liquor.
Champagne, whiskey, wine… the party doesn't have to stop when the reception ends! Send guests off with a little extra dose of fun — although we can't promise people will save these favors for after the big day.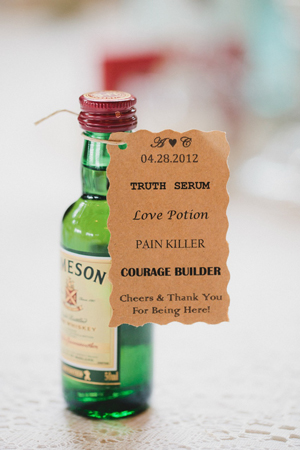 Photo by Paula O'Hara on Southern Weddings via Lover.ly.
–By Kristin Doherty
Find more creative favor ideas:
5 Easy and Edible Wedding Favor Ideas
8 Punny Phrases That'll Pair Perfectly With Your Wedding Favors
Got a tough wedding question? Download the Loverly app to chat FREE with one of our virtual wedding planners and choose from affordable planning packages.