Wedding Registry Perks You Probably Didn't Know Existed
While wedding planning is sometimes stressful (to say the least…), building your Bloomingdale's registry definitely doesn't have to be. Not only is "registering" code for "creating a wish list of totally-you gifts," but there are some serious perks about Bloomingdale's registry that you probably didn't even know about.
Wondering what to expect from the whole deal? The registry experts over at Bloomingdale's are breaking down seven sweet benefits you'll snag when you make your must-have list at the much-loved shopping destination (and you're not gonna believe they're real…). So here are some awesome Bloomingdale's wedding registry perks you didn't even know existed.
1. Exclusive discounts that'll save your big day budget.
How does 25% off on your engagement party dress sound? Or 20% off honeymoon-worthy lingerie? Yes, you'll get all kinds of special savings when you register with Bloomingdales that'll stop you from blowing your bank accounts. In addition to women's dresses and intimates, you'll even save on fine jewelry, men's suiting, and luggage…
2. The chance to win some serious prizes.
Bloomingdales registry is one of the only registries that offers prizes and enters you into sweepstakes when you sign up! Last year when you created a qualifying Bloomingdale's registry you were entered to win a Deluxe Monique Lhuillier Wedding Day Prize Package valued at $20,000! What could be sweeter?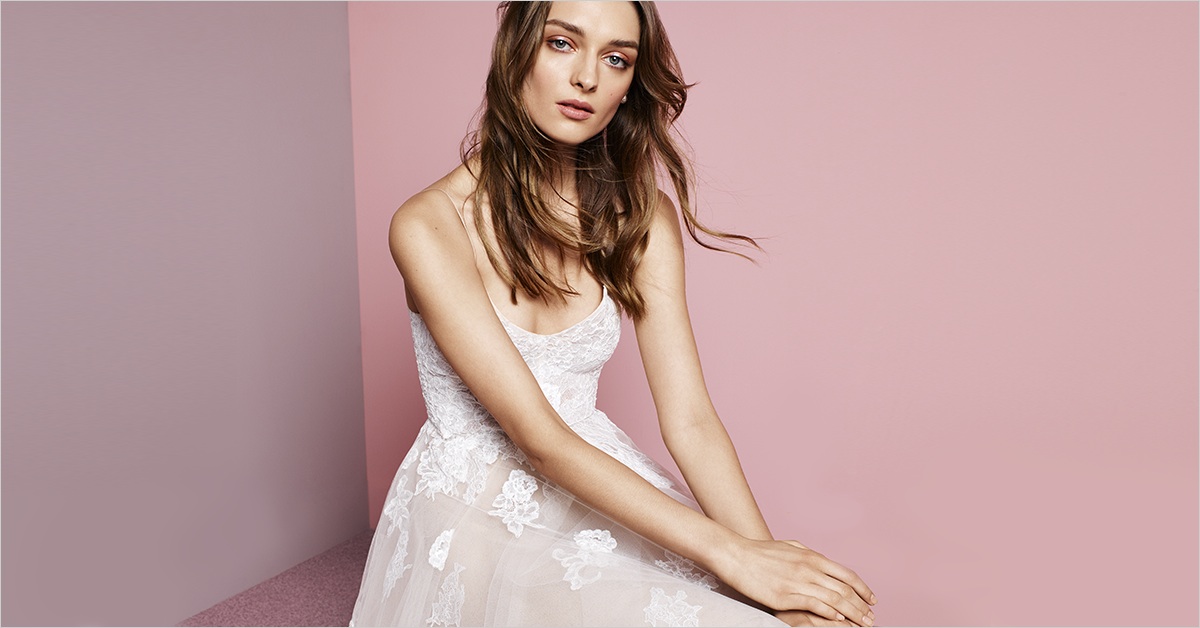 3. Splurge cards (that are as good as they sound).
Don't be bummed if not quite all the gifts are gone after the "I dos"! Spend $500 or more buying up the rest of your registry items, and you'll get a $100 splurge card to use on whatever your newlywed heart desires. You'll also get a 10% off completion bonus on home items (and a whopping 20% off during select storewide events).
4. A whole bunch of free gifts.
Add select brands to your wedding wish list and get some extra swag! Wondering what you'll snag? Add $150 worth of Cuisinart products to your registry and receive a complimentary flash drive full of 75 recipes. And get even more gifts when items are purchased from the registry.
5. Free monogramming on all the things.
Ready to show off that new name of yours? You can add your initials to almost all sheets, towels, and robes. And it's always FREE.
6. Envy-inducing honeymoon upgrades.
Get hooked up with a fabulous honeymoon package thanks to The Travel Siblings at Tzell Travel Group. Start with a free consultation, and enjoy added benefits and exclusive amenities on the big trip.
7. A little help with all those thank you notes.
Having trouble keeping track of who bought what? The thank you manager generates an organized, printable list of who got you what and when. So go ahead and tear into those pretty packages!
Want a stress-free registry? Build it at Bloomingdale's.
Bloomingdales Registry Top 10 Essentials Checklist
When it comes to building your Bloomingdales Registry, here are the essentials you DO NOT want to forget:
From everyday Dinnerware to Fine China, Bloomingdale's registry breaks down each section so you don't miss a thing. Everything from Drinkware to table linens, you are sure to get everything you need when you register at Bloomingdale's for the ultimate dinner party!
There is so much when it comes to the kitchen and it can sometimes become overwhelming, however Bloomingdale's registry makes it simple by breaking down your Cookware, Bakeware, Cutlery, and Electrics into separate categories.  Oh and let's not forget Coffee & Tea, because there is definitely a section for that too!
Registering for your bedding is so fun at Bloomingdales because there are so many beautiful options and you don't feel limited! Whether you're going for sleek and modern or comfy and cozy, there are hundreds of patterns, shams, pillows, and beddings to choose from!
From luxurious robes and slippers to your everyday towels, Bloomingdale's registry has everything you need for your bathroom!
Want a beautiful piece of art but it's just a bit pricey? Add it to your Bloomingdale's registry. From lighting to vases and pillows, Bloomingdale's has a vast collection of home decor so that you can create your dream home (and hopefully not have to pay for it!)
One of the biggest things couples forget to add to their registry is luggage, however, Bloomingdale's registry has a whole section dedicated to it! Break out your new carry on and toiletry bag on your honeymoon!
From vacuums and irons to organization and storage, it may not be the most fun essential but you cannot live without it! So don't forget to add home care items to your Bloomingdale's registry.
From security cameras, Bluetooth speakers, automatic fans, and record players, Bloomingdale's registry is a techies dream come true!
Don't forget to stock up your bar! From corkscrews to luxurious ice buckets, Bloomingdale's has everything you need to get the party started!
What's so great about registering is that it is your opportunity to snag some designer items that you might not be able to shop for on the regular. Bloomingdale's registry has hundreds of designers that you can choose from, whether its designer luggage, household decor, linens or more!