Delicious and Easy Lavender Lemonade Recipe
Whether you're stocking the bar for an upcoming bash or looking for signature wedding sips, we've got you covered. We have pulled together a super simple Lavender lemonade recipe you are going to love!
Lavender wedding florals have been on our radar for some time, but today we're bringing you an elegant new way to incorporate the delightful herb into your wedding events — a delicious lavender lemonade! While the fragrant herb may make you think of bath soap, it has a mild and delicate floral flavor, with hints of mint and rosemary. This homemade lavender lemonade is our go-to beverage for spring bridal showers; delicious with or without alcohol, it's an unexpected treat that guests will love.

Ingredients
(Makes one 64-ounce pitcher)
3 cups granulated sugar
3 cups water
1/4 cup dried lavender buds (available online or at some farmers markets)
4 cups fresh lemon juice (from 16-20 lemons)
Optional: 8-24 ounces of vodka (we recommend Absolut Ruby Red)
To garnish: lemon slices, lavender sprigs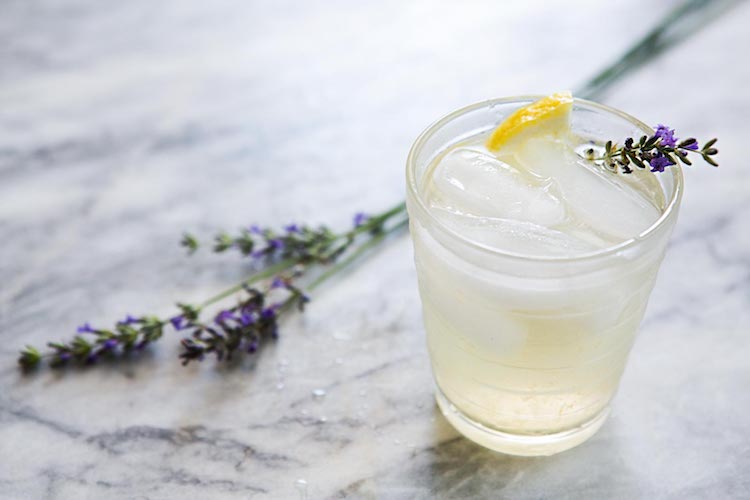 Instructions
1. Bring sugar and water to a boil in a saucepan, stirring until sugar has dissolved.
2. Stir lavender buds into sugar mixture, then remove from heat and let stand for 10 minutes. Strain, discarding lavender.
3. Let the lavender mixture cool, then stir in lemon juice.
4. Serve over ice, and garnish with lemon slices and fresh lavender sprigs.
Optional: add 1-3 ounces of vodka to each glass before adding the lemonade.
The lavender lemonade can be refrigerated in an airtight container for up to one week.
Enjoy!
–By Rachel Miller
Planning a wedding? Get your free 12-month wedding planning checklist.