How to Set Up a DIY Bar for Your Big Day
Move over, Mason jars! There's a new cool trend in wedding cocktails: the DIY cocktail bar. It's a great way to cut costs on your big day booze without sacrificing your big day style. All you'll need is a talented bartender (professional or amateur) and the right supplies to make whatever cocktail your guests desire — shaken, stirred or straight up. Here's everything you need to know to create a mix-it-yourself station that will blow your guests away on the big day.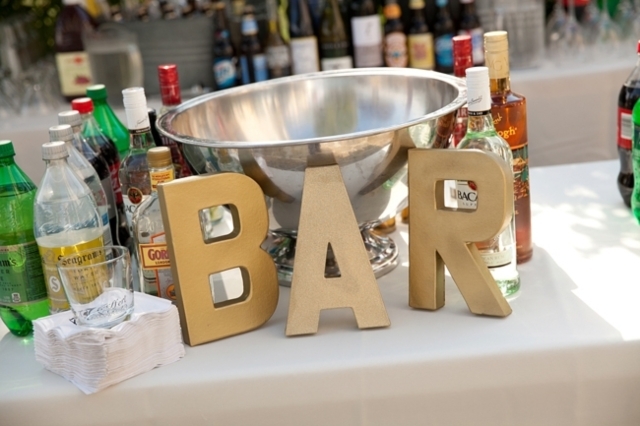 Photo by Richard and Tara Photography 
While it's not necessary to hire a professional to tend bar, you should definitely have someone behind the bar monitoring the scene. Ask your siblings' friends that aren't invited to the wedding to step in or hire a college student to do the job (just make sure they're 21 or over in case they end up mixing drinks). Have them pour water, assist with the recipes you've provided for your guests, and keep an eye on how much alcohol is being consumed to avoid over-serving anyone. It will be his or her job to gently remind guests that the wedding is an affair to remember (not forget).
2
Wine keys and bottle openers. 
We've all been there. You've got your favorite bottle of wine or a perfectly chilled beer in hand, and not an opener in sight. To keep the lines short and your guests from harassing that one guest who actually carries an opener on his keychain, remember to stock the bar with these essentials. Consider having two or three of each on hand to keep the line moving and the party going strong all night long.
If you're serving up a signature cocktail or two, you're going to need copious amounts of ice. So stock up on some pretty buckets that fit on the tabletop; galvanized steel or metal buckets will blend nicely with almost any big day decor. Once you've got your hands on those the pretty containers, now you need somewhere to store all the extra ice so that you never face a shortage during the reception. Pick up some heavy duty buckets that are large and durable (big plastic coolers should do the trick). Find something that can hold at least 30 beers and a few bottles of wine in addition to several gallons of ice at once. Plan accordingly based on how much alcohol you're buying, how many guests are attending, and how long you want the party to last. Have your barkeep refill the smaller containers throughout the night.
We can't say it enough: you NEED ice if you're serving cocktails. Ice for the small buckets, ice for the large buckets, and even more ice for restocking each as they run out. Nothing is worse than warm beer on a hot summer night, after all! Have a separate station (away from the bar) where bags of ice are held in large containers. Make sure that they're kept in the shade, freezer or in an air conditioned space so that they don't melt before their big moment. Also, be sure to research ice providers in your area. They can fill you in on all the essential ice information you'll ever need to know (like how much you'll need for the night).
With all that ice on your hands, you're going to need something to get it from the bucket to the glass, right? Invest in a proper scooper…and no, your guests' hands are NOT an okay option. Many ice buckets are sold with matching scoops, but if yours wasn't, just invest in a restaurant-quality scoop that fits easily into the bucket. And make sure you have a scooper for every ice bucket so your guests can get ice as needed.
Whether cloth or paper towels, be sure to stock the bar with 10-15 of these for use over the course of the evening. Spills happen, ice melts, shots get taken…and having these on hand will help keep the bar space looking spick and span.
7
Shakers, stirrers, and other essential tools — oh my! 
For those fans of craft cocktails, be sure to have a couple of shakers on hand. This will allow your friends and family to whip up THEIR signature drink, whether it's a margarita, martini or some other creative concoction. For those who like their drinks straight up? Get some stirrers so they can mix their spirits right up.
Want to get fancy? Pick up some fresh basil, skin some oranges, display some raspberries, whatever you think your guests might want to put in their cocktails. Sticking with simple? Lemons and limes are a must. Be sure that they are washed and cut into small slices ahead of time so that your guests aren't cutting and drinking. That's just begging for trouble. Also stock the bar with any mixers, including sodas, fresh-squeezed citrus juices, fruit-infused simple syrups, and anything else your heart desires.
Going with disposable or glass isn't all that important, unless dishwashers aren't readily available or you're hosting an eco-friendly wedding, of course. Your guests really just want something to house their drinks. Many rental companies will provide glassware if you request it, and plastic cups are easy to find and very budget-friendly. Just get enough for everyone…running out of cups and having to wait for a drink is just the WORST.
If you leave your guests to their own devices, chances are they'll come up with some confused cocktails. You goal is to make sure everyone can make a drink they'll actually want to, well, drink. So give them instructions (recipes are a GREAT idea — they provide guidance while still giving people the thrill of doing something themselves) and a way to measure the ingredients. Put out some measuring utensils that fit into the directions to make everyone's life SO much easier.
Get more drink inspiration on Loverly:
3 Ways to Bring Spring Flowers to Your Wedding Menu
5 Seasonal Drinks to Serve Up at Your Fall Wedding