6 MORE Ways to Guarantee Your Guests Love Your Wedding
Your guests are one of the most important parts of your big day — it wouldn't be a party without them, after all! So make sure you consider all the ways to ensure they have a good time. We've already given you a few ideas of how to host an epic wedding your guests will still be talking about for years to come, but can you ever have too many suggestions? We think not, which is why we came up with a couple more ideas to guarantee your guests have a blast at your big day bash.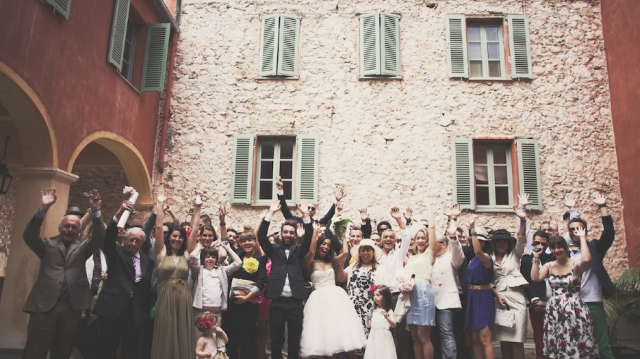 Photo by Claire Eliza 
1
Make transportation easy. 
Your guests want to come celebrate with you, so make it simple for them to arrive at the party (and return home safely). While an off-the-beaten-path venue may seem like a unique idea, it can be inconvenient for guests who are driving to the soiree. So consider arranging a shuttle bus to take guests to and from nearby hotels. That will make the whole process move more smoothly (there will be one place for everyone to meet up) and will take care of that whole parking issue. Guests will really love you if you keep your ceremony and reception at nearby venues…or better yet, at the same venue! Less travel time after the "I dos" means more party time!
2
Create a personalized ceremony.
It's likely that your guests have been to many a wedding over the years, so they know a thing or two about how they work. If you're okay nixing the traditional ceremony, find a way to avoid a cookie-cutter ceremony. Make yours stand out by creating a ceremony that really fits your personalities as a couple! Maybe that means including rituals from your faith, writing your own vows or including unusual ceremony readings. Whatever it may be, guests will love seeing something that helps them get to know you as a couple.
3
Offer plenty of food options.
You and your beau may be seafood fans, but that doesn't mean all your guests are. Don't leave your guests hungry! The gracious thing to do is to have a couple menu options that'll please picky eaters, vegetarians, people with food allergies, and any other dietary restrictions. You don't need a full restaurant menu, but whether you're having a plated dinner or buffet, two to three selections will suffice. Or, if you have a guest with lots of limitations, ask your caterer to arrange something special just for them. It's the little details will go a long way!
If you're planning to serve alcohol, that is. (But it's also totally okay to not serve any booze if that's more your style.) Since you're hosting the party, your guests are expecting that you'll provide food and drink unless told otherwise. Worried about the cost? Just offer beer, wine, and a signature drink instead of a full shelf of top-notch liquor.
5
Prepare them for the weather. 
Guests might not be prepared for a super hot, rainy or surprisingly chilly day. Help them out when any unexpected weather hits: offer sunscreen, paper fans or blankets to avoid temperature tragedies. And make sure you have a backup plan if you're planning an outdoor wedding — don't force your guests to suffer through the elements!
6
Plan a smart seating chart.