5 Easy and Edible Wedding Favor Ideas
If you like giving gifts (and we certainly do!), figuring out your favors can be a really fun part of wedding planning. It's a chance to share a little something about you and your partner with your guests, whether it's a hobby, a favorite food, or something tied to your town. But because it's so fun to think of favors, it can be easy to get carried away and be tempted to spend loads of cash and time on them. But really, there's no need to overthink it — there are plenty of simple favors you can put together in a snap that will still have a big impact on your guests. Here are five to try: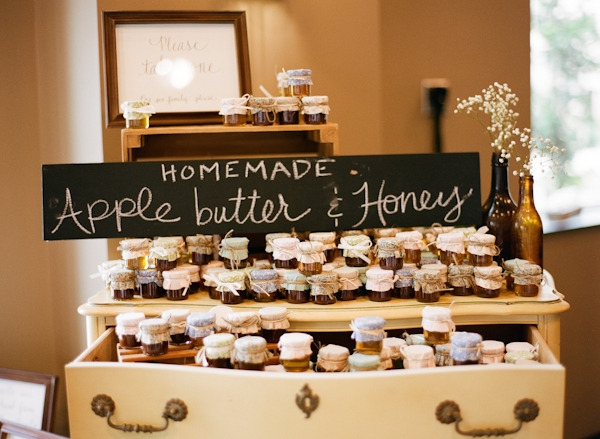 Photo by Nathan Westerfield Photography on Southern Weddings via Loverly
It doesn't get much simpler than some tasty local honey in a mini jar with a cute "love is sweet" tag. Honey alone is a well-liked classic and, given the fact that edible honey has been found in the pyramids, it's definitely something you can put together ahead of time. If you're feeling fancy, you can send guests home with delicious biscuits to go with the honey.
Cookies are a pretty universally-loved treat. To make things really easy for yourself, place an order from your favorite bakery with the intention of picking them up 1-2 days before the wedding. Then set them out at the wedding with bags (bonus points if you have brown paper bags printed with a "thank you" message!) and invite guests to help themselves.
Local coffee beans are a great choice for a destination wedding. Your guests will thank you when they get home and brew it…or when they have something besides hotel room instant coffee to take the edge of their champagne-induced hangovers the morning after your wedding. And if coffee isn't your cup of tea, then, well, you can easily substitute tea instead.
Candy makes for a fun favor because it's an indulgence that most adults don't enjoy very often. You can go for a chic, upscale candy, get a foodie-friendly candy like beer-and-pretzel caramels or do a beloved childhood candy.