7 Ways to Save Some Serious Dollars on Wedding Travel and Accommodations
The cost of traveling to a wedding adds up—fast. Between getting there and staying there, attending a wedding can easily cost a couple hundred bucks, if not more! Already feeling stressed? Here are seven cheap wedding travel tips that will help you  save some serious money on wedding travel and accommodations: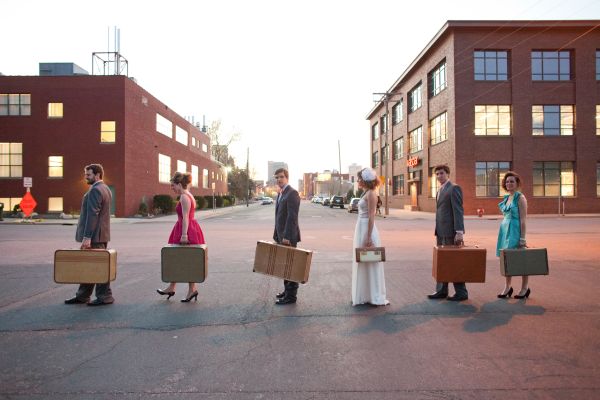 Photo by Erin Johnson Photography 
1. Carpool.
Depending on your car's gas mileage and how far away the event is, driving can be the most affordable option. To make it even more cost-effective, pack your car full of people. Splitting the cost of gas (and car snacks!) will make the trip feel more manageable for your wallet. Plus, having friends in the car is way more fun.
2. Take a bus or train.
It may not be the most glamorous or the fastest option, but a bus or train can sometimes be the cheapest option. Look for trips on Greyhound or Megabus—if you book far enough in advance, you can get tickets for crazy cheap. Just be sure that you can get from the bus or train station to your hotel without spending a fortune.
3. Use a discount ticket app.
The biggest mistake you can make is failing to shop around for plane tickets. While booking a flight through an airline's website far in advance can save you some money, you can score even bigger savings with discount travel sites. Try bookit.com to save on flights, hotels, and car rentals.
4. Look beyond the hotel block.
The to-be-weds likely set up a hotel block for all their guests—which can be a lot of fun and a great deal. But sometimes, a different hotel down the street will offer an even better price. Don't feel tied to the pre-set accommodations — pick the place with the most reasonable price tag.
5. Share a room.
A hotel room to yourself sure sounds swanky, but it'll cost you. If you can make it work, split a room with friends. You can fit 4+ people in a standard hotel room with two queen size beds! Split the price between friends and you'll be sitting pretty.
6. Think outside the hotel.
Hotels are only one option for accommodations. Depending on your location and the number of people you're staying with a room-sharing service like Airbnb can be the best way to go. Or, consider a hostel, which can be super affordable. If the wedding is in the woods, on the beach or in the mountains, see if you can find somewhere to camp.
7. Be flexible with location.
It can be super convenient to be right next to the wedding venue, but that might be the most expensive part of town. By finding a place to stay that's a little farther away (and then taking public transportation or a shared cab service, like Lyft, to the venue), you could save in the long run.
–By Kristin Doherty
Planning a wedding? Get your free 12-month wedding planning checklist.
Get more travel advice on Loverly:
What Your Favorite City Says About Your Ideal Color Palette
5 Summer Travel Ideas for Cheapskates