7 Lies Society Tells Us About Finding Your Wedding Dress
The media and pop culture paint a picture of what wedding dress shopping is "supposed" to look like, but the reality of finding the gown is often nothing like what you see on television.
Before starting the search for your dress, it's important to understand what actually will happen on the hunt and which details are totally fabricated. Here are seven things you shouldn't expect while wedding dress shopping.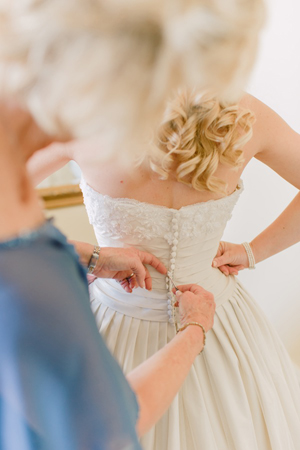 Photo by Pasha Belman 
1. The bridal salon will have the exact style you're looking for. Not every bridal salon carries every style or designer. It's important to go into your bridal appointment with a general idea of what you want, and not an exact dress. That way, you won't get your hopes up only to be let down when the gown you want isn't in stock.
2. The gowns will fit perfectly. First of all, not every style is for every body. You may think a particular gown will suit your body type, but you never know until you try it on.
Another thing to consider is that most bridal salons only carry a sample of each dress. Meaning that if you're not a true "sample size," then the dress might be too big or a little snug when you try it on. The bridal salon will be able to clip and adjust where needed, but don't assume you'll be able to try on your exact size.
3. Your family and friends will all love your selections. Let's face it, you'll never be able to please everyone!
4. You'll find your gown in one appointment. Some brides just get lucky. Others will most likely need to have multiple appointments to find the dress. Remember, by the time you change in and out of dresses and the bridal stylist adjusts the gowns, you might only have time to try on a few dresses during the course of one appointment.
5. You'll only have to visit one bridal salon. You may have to visit more than one salon to find what you're looking for.
6. You'll know it's the dress. Not everyone has that "this is it" feeling. It's okay if you don't! Just go into the appointment knowing yourself and setting expectations for your emotions. If you never cry, don't expect yourself to tear up when you're trying on gowns.
7. The salon will change the price of the dress to accommodate your situation. Sometimes on TV shows, the salon will adjust the price of the gown if the bride's financial circumstances restrict her from purchasing the dress. This most likely won't happen IRL…