6 Sneaky Ways to Save on Your Wedding Day Accessories
Once you've budgeted for that dream venue, your perfect gown, and catering for – oh, you know, just 200 of your closest friends and family – you're probably looking for places where you can save a pretty penny. Well, if you can't scale back on the big things, it's time to turn your attention to the smaller things that drain your bank account. Take a look at these six sneaky ways to save big on your wedding day accessories, from pearls to purses…
Save Money on Wedding Day Accessories  – 6 Sneaky Ways to Save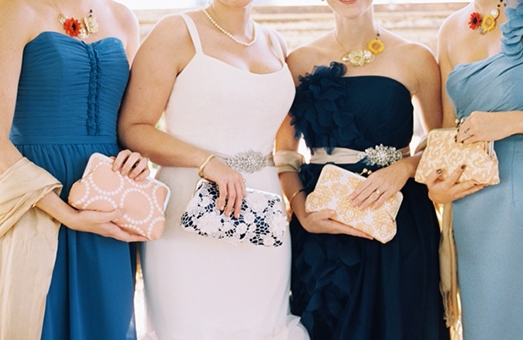 1. Skip the designer shoes. Do you really need those pricey pumps? With the vast majority of brides wearing floor-length gowns, it's likely that not many people will even get a good peek at your feet! Try shopping discount brands and scouring sale racks, so you can spend those savings where people will really take notice.
2. Borrow, borrow, borrow. Why stop at something borrowed? Talk to your mom, your 'maids, and other close pals, to see if anyone can lend you a wedding veil, jewelry, and other accessories. It's wallet-friendly and super eco-chic, plus borrowed items are meaningful in a way that off-the-rack stuff can't match.
3. Be careful with bling. Before you drop a chunk of change on earrings to rival your engagement ring, think about how often you'll wear them (and whether anyone will really see them on the big day). Consider shopping for well-constructed costume jewelry, or buy from a discount brand. No one will know if your diamonds are truly forever – but they'll be sparkling for a lifetime in your photos!
4. Be practical about your purse. Changes are, you'll hardly even hold it! If you've got somewhere on-site to stash your license, credit card, and lipstick, skip it altogether. If you need to carry a clutch, try a discount website and snag something you'll be able to wear again.
5. Shop now, save later.  Even if your wedding feels like it's a lifetime away, don't wait to buy accessories! Shop sales with your wedding in mind, and get the look locked down before the big day. This way, you'll avoid splurging on a last-minute necklace because you've got nothing in your jewelry box.
6. Hit the sample sales. If you've just gotta have designer everything, do your best to plan ahead. Most brands have sample sales or end-of-season blow-outs where you can snag some good stuff for great prices. Keep your ears low to the ground, and you could walk away with some seriously high fashion.