This Ambush Elopement Trend Might Convince You to Cancel Your Wedding and RUN
Are "do not play lists" haunting your dreams at night? Does the thought of your just-turned-21 cousin hitting the open bar make you start to sweat? Did you just realize it's been two months since you and your S.O talked about anything but the wedding…?
Photo by Angelo Lacancellera
We love a good blowout bash, but the most important part of the big day is undoubtedly celebrating the love between you and your partner. That's why we're wondering if these newlyweds had the right idea with this new "I do" trend… More and more couples are skipping the serious headaches (and big price tags), and opting for epic elopements and even more epic surprise social media announcements. Take a look at a few of our faves:
Jeff Platt proudly posted this sweet Boomerang video of his now-wife in a wedding dress to announce their elopement.
Meanwhile, this couple paired a wedding photo with a pretty clever caption…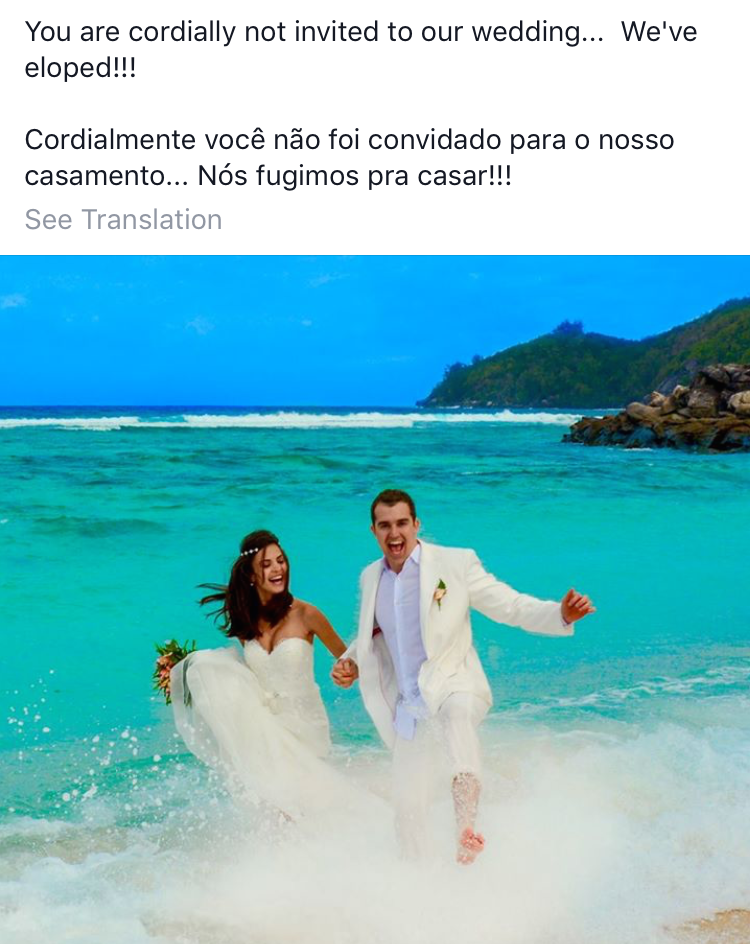 And Hollywood stars have been getting in on the trend, too. Earlier in the year, actress Chelsea Peretti of Brooklyn Nine-Nine and actor Jordan Peele of Key & Peele revealed the news of their elopement on Instagram. And their only witness? Their precious little dog in a festive Hawaiian shirt.
Would you dare to bail on your big day plans and tie the knot just the two of you? We're expecting to see way more surprise wedding announcements popping up on our feeds!
Thinking about eloping?
Everything You Need to Think About Before Eloping
Quiz: What Does Your Dream Destination Wedding Look Like?