How to Match Your Makeup to Your Wedding Style
You've landed a dress, locked down the decor, and mercifully secured the venue. Before you know it, it's time to think about your beauty routine… So what's a girl to do when her usual makeup just doesn't seem to fit the bill? We've got seven tips to have your look matching perfectly with the vibe of your wedding.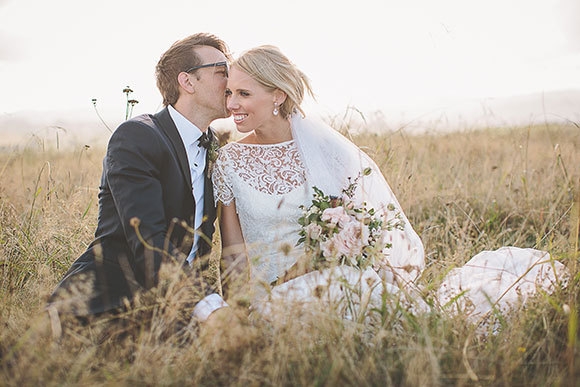 Photo by Coralee and Alex
1
Embrace your color scheme.
Okay, so you chose hot pink and turquoise for your wedding colors, and they don't necessarily work with your skin tone. Not to fret! Take muted versions of your wedding hues and work them into your look—from your lipstick, to your eyeshadow, to your nail polish. Staying in the same color family can tie your whole look together without being too bold.
2
Incorporate the elements.
Having a destination wedding? Why not take a local flower or leaf and tuck it into your hair? Having a wedding on the beach? Consider a sand-colored eyeshadow or lipgloss, with light-pink sun-kissed cheeks. You'll be looking like a local in no time!
Is your beaded gown reminiscent of a Great Gatsby-era gala? Go with a red lip and long, dark lashes. Donning more of a 70's vibe? Keep your makeup more muted, and you'll be right in line with your theme.
If your wedding is right around the corner in the autumn months, embrace browns, plums, and deeper colors for your makeup. Are you a springtime bride? Consider light pinks and purples.
5
Too much may be just enough.
Even if you feel like you're going overboard with the makeup, don't put that brush down just yet. While the colors may be bolder, or you may be wearing more than usual, remember that it's important to ramp it up for the camera. Your wedding is a louder expression of your style, so its natural that your makeup will be too.
Whether it's a barn or the beach, your venue comes with a soul of it's own. Work with the feeling of your location. Is it rustic? Keep things natural. Is it a grand ballroom? Go glam. Considering elements like your location will help your makeup look like a match made in heaven.
7
Stay in sync with your wedding party.