6 Bridal Worthy Red Lipsticks that You'll Love
For a bold bridal look, you can't go wrong with a red lip! A bright lip can look retro, classic, sexy or sweet, all depending on your personal style. But you can't use just any red lipstick — this is your wedding day, after all!Consider donning one of these six bridal-worthy reds..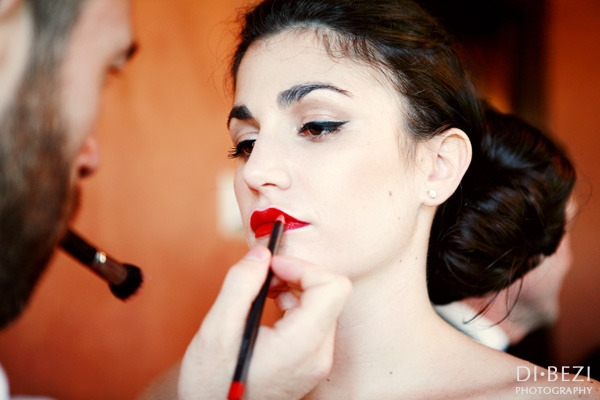 Photo by Di Bezi Photography 
Many beauty fanatics agree that M.A.C makes the quintessential red lipstick. If you're convinced you'll forget to reapply lipstick throughout the day or are stressed about fading color, you can put those thoughts to rest with a tube of color. This stays on for along time. "Ruby Woo" is a favorite matte hue, but there are hundreds of shades to choose from, like "Brave Red" (with just a hint of yellow), "Cardinal" (which leans more toward burgundy), "Dare You" (a bit of brown), "Mac Red" (a satin red), and countless more.
2. Clinique High Impact Lip Color SPF15 in "Red-y To Wear."
One of the most overlooked "I do" beauty products is SPF, which can be a major bummer for brides who are having the ceremony or the reception outdoors. Luckily, this long-lasting lipstick from Clinique has the sun protection built in—one less thing to worry about The "Red-y To Wear" color is a close to classic red as you can get.
3. Revlon Just Bitten Kissable Balm Satin in "Romantic."
Does lipstick make your lip curl? Don't worry because even if you don't love the texture, you can still rock a red lip. Just opt for a saturated balm, like Revlon's. Since it's a stain instead of a stick, it'll barely feel like makeup. As a balm, it's got even more moisturizing power, so you'll make it through a day full of smooches without feeling chapped at all.
4. Giorgio Armani Lip Maestro in "400."
Photo by The Nichols
This splurge-worthy makeup made it onto the "Best Red Lipstick" lists of beauty mags like Elle, Cosmopolitan, Harper's Bazaar and more, so you know it's gotta be good. The "400" shade—called "the red"—is utterly timeless, but there are plenty of subtle variations that might work better with your skin tone, such as the "406," the dark ruby "Orient," or "503," a red-fuchsia color with an extra dose of pink.
5. Dolce & Gabbana Classic Cream Lipstick in "Devil."
Having a summer or early fall big day? A red with just a hint of orange will fit in with the season, and that's just what this D&G color is for. Its moisturizing formula will keep you feeling fresh and kissable all day, and a super subtle rose scent makes this color unlike any other. Of course, this lipstick comes in plenty of other shades if an orangey hue isn't quite you.
6. NARS Velvet Matte Lip Pencil in "Cruella."
More deep than bright but still undeniably red, this is the perfect shade for a girl who's classic with a twist. The matte finish looks edgy, chic, and totally put-together. Plus, the crayon-like texture of a pencil can be easier to work with than a traditional tube. One reviewer wrote, "The color was so rich and the pencil went on like butter." What more do you need?
Want more beauty tips?
15 Big Day Eyeshadows That Will Make Your Wedding Sparkle
8 Foods to Eat for Complexion Perfection