3 Essential Ways to Treat Your Feet Before Your Big Day
While your bridal beauty prep – skin, makeup, hair – may have kept you on your toes, what about your actual toes? A little wake-up call here, foot cream every night and the last minute mani-pedi the day before the wedding is not going to cut it. That's why we tapped beauty and skin experts,  Christine Nell and KarriAnn Khalil, (the Skin Sisters™️) for their tips on how to prep your feet for your wedding day.
Because to render previously neglected feet, sandal or slipper worthy it is going to take some tough love.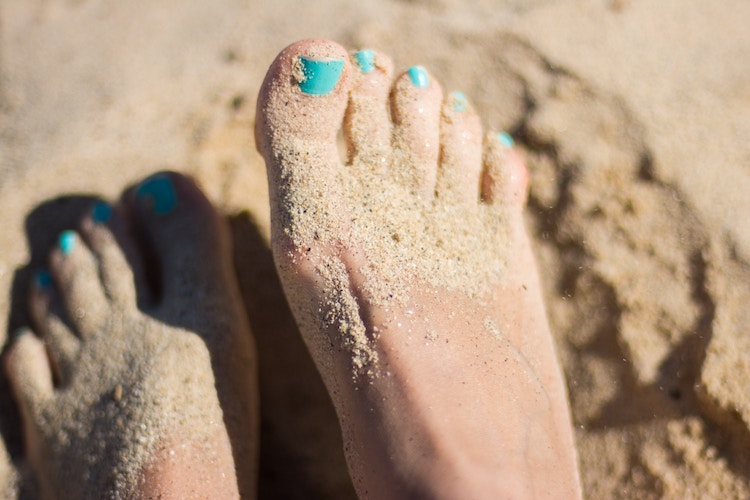 Photo by Juja Han on Unsplash
1. Peeling Pretty

Moisturizing is all well and good but once you've got stubborn calluses and cracked heels, you've got to get rid of the old before you can renew. We love the amazing Japanese glycolic and salicylic foot mask called Baby Foot (available on Amazon) that exfoliates away dead skin unlike anything else; a few days after application, watch out, you'll be shedding in sheets.
TIMING:  Plan on doing the first foot mask about 3 months before the wedding, and a second one about 3 weeks prior. Do NOT under any circumstances do it closer to the date unless you want to look positively reptilian on your honeymoon.

2. Smoothing Grooves

 Even after Baby Foot and nightly foot cream you still may have cracked heels and harder areas like the back of the heels. Get yourself a packet or two of Dr. School's Blister Treatment.  After using a pumice stone while bathing, apply the patches on the tough spots while skin is still damp. Leave the patches on 24/7, even in the shower.  As soon as a patch starts looking funky, replace it.  After a few weeks, you'll be delighted to see that even the most stubborn cracks have disappeared.
TIMING:  As late as a month before the wedding but we suggest the 3-month point to begin.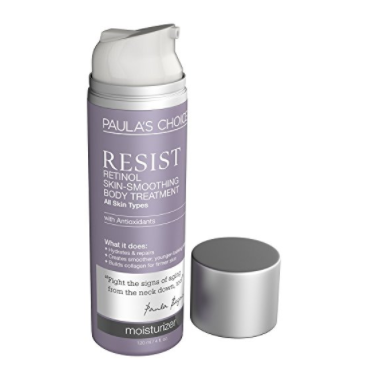 3. Color matching

Unless it's winter or you wear shoes and socks every day, start applying a heavy sunscreen – which will do double-duty as a moisturizer – on the tops of your feet whenever they're exposed to the elements. The Baby Foot will help to even out the pigment but be warned, if you exfoliate without SPF protection, you're more prone to sun damage and discoloration. Then each night, apply a glycolic acid, salicylic acid or retinol skin lotion atop your arches.
TIMING:  Fading uneven pigment and tan lines takes time so start on the cream and sunscreen the minute you set a date.
So there it is, your ultimate wedding beauty timeline for your feet! Now get going so your feet will be picture perfect on your big day.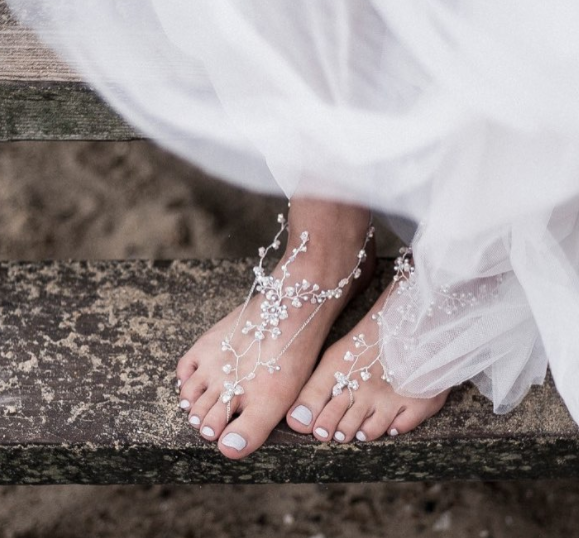 Photo by Katie Watts Photography
About the Experts:
The Skin Sisters™️ – and they really are sisters – Christine Nell, F.N.P. and KarriAnn Khalil, F.N.P. are seasoned nurse practitioners who work with dermatologist Dr. Ava Shamban of AVA MD in Beverly Hills, CA; are co-founders with Dr. Shamban of the innovative skin tech studio SKINFIVE in Pacific Palisades, CA. These two wholesome ladies from Wisconsin whose own incredible skin is proof positive they practice what they preach.  Learn more at SKINFIVE.com or follow the Skin Sisters on Instagram.