When it comes to choosing your wedding flowers, there's a LOT to learn — names and colors, care and costs, even seasonality concerns. But when starting the search for those perfect petals, you should look to your dream wedding details for inspiration. So, if you're planning a big spring fling, here's everything you need to know about what beautiful blooms are available!
<a href="http://lover.ly/read/flowers/gerbera-daisies-wedding-bouquets-flowers-centerpieces">Gerbera daisies.</a> These vibrant flowers are sure to add a little cheer to your wedding. Gerbera daisies bloom year-round and come in a range of colors. Great for casual spring ceremonies, we suggest a bouquet of white Gerbera daisies, yellow roses, and billy buttons. Daffodils. Signifying new beginnings, daffodils are the quintessential spring flower. Most commonly seen in shades of yellow, daffodils also come in white, orange, and soft shades of peach. We love the look of daffodils paired with white hydrangeas and anemones.
<a href="http://lover.ly/read/flowers/peonies-wedding-flowers-bouquets-centerpieces">Peonies.</a> Romantic and fragrant, these blooms signify good fortune and a happy marriage -- perfect for a wedding bouquet. Peonies range in color from red to white, but only bloom in the spring, so they tend to be pricey. Our favorite peony bouquet is a soft mix of light pink peonies, white garden roses, and sprigs of dusty miller.<a href="http://lover.ly/posts/peony-perfection/6087/images/151142/" target="blank">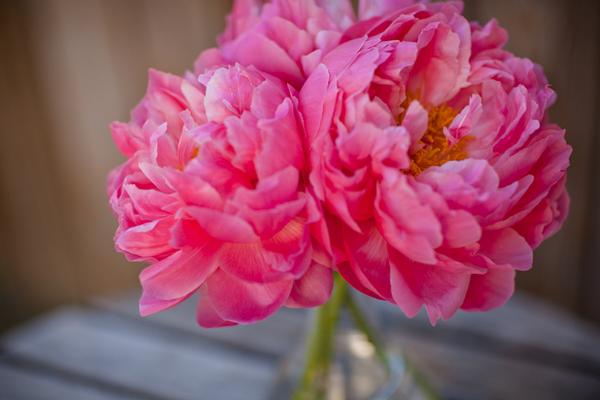 </a>
<a href="http://lover.ly/read/flowers/calla-lilies-wedding-bouquet"> Calla lilies. </a> Ever-popular among brides, calla lilies signify divinity, true devotion, and marital bliss. Even when they are in season in the spring and winter, calla lilies can be expensive. We recommend carrying a simple bouquet of just a few calla lilies tied together with an elegant ribbon.
<a href="http://lover.ly/read/flowers/best-buds-everything-you-need-to-know-about-hydrangeas-for-your-wedding">Hydrangeas</a>. Ranging in color from white and pink to purple, blue, and green, hydrangeas are extremely versatile. We love that these blooms are bountiful and full, giving you more for your money. Our ideal bouquet? White hydrangeas with dusty miller and Virginia bluebells.<a href="http://lover.ly/read/flowers/garden-roses-weddings">Garden roses.</a> These hybrid roses are one of the most highly cultivated flowers available. Elegant and romantic, garden rose varieties have fuller blooms than traditional roses, so they make a more plentiful bouquet. We're fond of mixing garden roses with peonies, lamb's ear, and garden vine.<a href="http://lover.ly/read/flowers/best-buds-everything-you-need-to-know-about-ranunculus-for-your-wedding">Ranunculus.</a> These bold and colorful flowers always put us in a good mood. And the elegant white variety is a perfect pick for your wedding! Our favorite ranunculus wedding bouquet? A mix of white ranunculus, garden roses, anemones, and jasmine vine.
You May Also Like