When it comes to choosing your wedding flowers, there's a LOT to learn — names and colors, care and costs, even seasonality concerns. But when starting the search for those perfect petals, you should look to your dream wedding details for inspiration. Are you a boho bride who wants an outdoorsy affair or are you leaning towards something a little more modern? The vibe you want for your wedding should come through in your floral arrangements. So, if you're a hopeless romantic at heart, you might want to consider building your big day bouquet around the ranunculus. Here's everything you need to know about this beautiful bloom!
Flower name : Ranunculus (Scientific name: Ranunculus )
In season: Winter and spring
Colors available: White, pink, peach, red, orange, and yellow
Care: The stems of ranunculus plants are usually weak, so exercise caution while arranging. Once cut, place ranunculus in a vase with warm water and plant food. The vase life of ranunculus is usually short (4 to 5 days) so make sure to replenish water daily.
Fun fact: We love that these playful blooms signify charm and wit! But beware: ranunculus are poisonous, so keep your furry friends away.
Average wholesale cost: Around $2.50 a stem.
Why we love: These bold and colorful flowers always put us in a good mood. We also love how elegant white ranunculus can be for your wedding! Our favorite ranunculus wedding bouquet? A mix of white ranunculus, garden roses, anemones, and jasmine vine.<a href="http://lover.ly/posts/hello-ranunculus/6243/images/151535/" target="blank">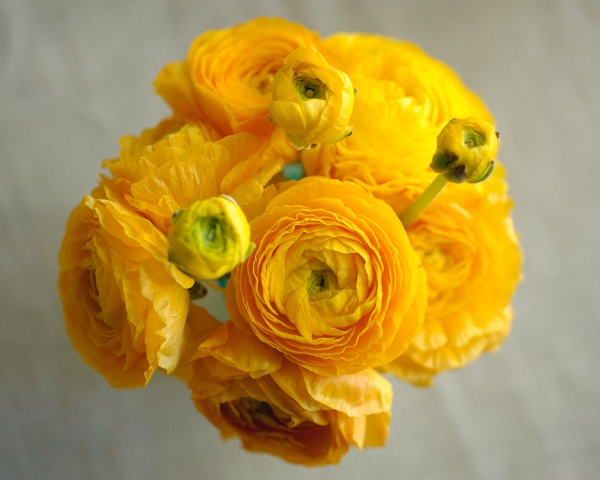 </a>
You May Also Like